SXU Psychology Student Presents at Research Symposium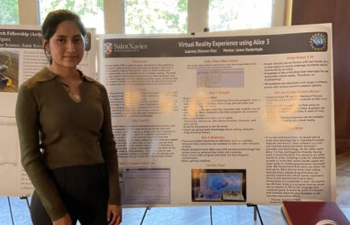 Saint Xavier University (SXU) psychology student Gabriela Olivares-Diaz recently presented her project, "Virtual Reality Experience Using Alice 3," at SXU's 2023 EXPLORE STEM Research Fellowship Symposium.
Olivares-Diaz's project involved learning about Alice 3, a block-based programming environment that helps students learn the basics of computer programming using characters that interact in a virtual world. She found that use of virtual reality has diminished over time due to the lack of accessibility and users' poor knowledge and sought to increase the use of virtual reality with little or no cost. Through her experiment, she found both technologies could become practical for users by creating fun and interactive animations.
"Learning about virtual reality was a bit outside my comfort zone but both enjoyable and educational. I was pleasantly surprised to discover that I could even learn basic coding through this topic. Moving forward, I'm excited to explore newer software that can help me create even more realistic animations. Ultimately, I want to share virtual reality's fun and exciting potential with even more people," said Olivares-Diaz, who was mentored by computer science professor James Vanderhyde, Ph.D.
Olivares-Diaz, who's minoring in criminal justice, enjoys learning about human mental processes and behavior. She finds that psychology and criminal justice go hand-in-hand and is grateful for the resources and accommodations SXU provides to students.
"My professors have helped me to become a better student. I enjoy studying and reading and cultivating my critical thinking skills, which will prepare me for graduate school. Participating in the research symposium was challenging and productive. I enhanced my skills and met new people, and I was eager to share my experience," said Olivares-Diaz.
Olivares-Diaz is currently a member of the Psychology Club. She plans to enroll in graduate school and looks forward to participating in future research projects.
---