SXU Ranked Most Affordable by Colleges of Distinction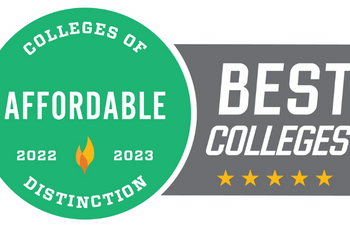 Saint Xavier University (SXU), ranked a College of Distinction for six consecutive years, has earned a new badge for 2023. The Affordable designation recognizes an institution's affordable programming in relation to its peers. As the nationwide conversation about college tuition and student debt continues, the Affordable Colleges of Distinction award guides cost-conscious students and parents through the world of college financing, which can be difficult.
"How to pay for college is a near-universal question at the top of new students' minds," said Tyson Schritter, chief operating officer at Colleges of Distinction. "Saint Xavier University has demonstrated to us that its students are graduating with manageable debt and careers that help them thrive."
Being named a College of Distinction highlights the quality and breadth of the hands-on experiences SXU offers, and this new ranking is notable, as SXU is one of fewer than 150 institutions across the United States who were ranked within the affordable designation.
Colleges of Distinction's calculations look at a number of factors related to cost, keeping in mind that not all students come from the same socioeconomic background. They incorporate weighted variables that adjust for family income relative to net price. The methodology is informed by institutional data published by the U.S. Department of Education. SXU was considered for its low net prices directly proportional to student household income.
Colleges of Distinction also considered SXU graduates' median debt and median earnings data, as well as the location, size, private affiliation status, and percentage of Pell Grant recipients.
"Our Affordable Colleges of Distinction are not just those with a low sticker price; they exemplify a solid return on a student's investment," Schritter said. "SXU has shown us that an engaging, real-world education doesn't have to break the bank."
To view SXU's Colleges of Distinction profile, visit the Colleges of Distinction website.
---