/
/
/
SXU's MSN Program Ranked No. 5 Best Online Graduate Program by U.S. News & World Report
SXU's MSN Program Ranked No. 5 Best Online Graduate Program by U.S. News & World Report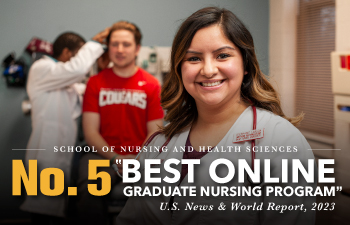 Saint Xavier University's (SXU) Master of Science in Nursing (MSN) program has been ranked No. 5 out of over 200 universities across the United States for "Best Online Graduate Nursing Program" by U.S. News & World Report. This year's ranking marks a remarkable milestone – SXU has consistently appeared in the top 10 for the last 10 consecutive years.
"This year's ranking is exceptional – we're so proud to be recognized within the top 10 programs for 10 years straight! This acknowledgement is demonstrative of the dedication SXU's School of Nursing and Health Sciences has to offering high-impact learning opportunities that prepare nurses to advance their nursing knowledge and skills to enhance the profession of nursing," said Charlene Bermele, DNP, RN, CNE, associate dean of SONHS.
U.S. News & World Report's 2023 ranking methodology is based on five main categories: an institution's engagement, faculty credentials and training, peer assessment, services and technologies, and student excellence. Within those categories, the methodology considers graduation rate, best practices, class size, retention rates, time to degree deadline, and the student experience. U.S. News & World Report chooses institutions who provide strong collaborative opportunities, rigorous curriculum, and diverse online learning technologies that commensurate with campus-based programs.
U.S. News selects factors, known as ranking indicators, to assess each program, assigning a score out of 100. SXU's score is 98, in the top 5% of scores among schools.
"Our nursing program has a long history of innovation, and we strive to meet the needs and demands of the health care field through advanced nursing practice and transformative leadership. Our easily accessible, affordable and quality-driven online MSN program fosters scholarship, compassion and lifelong learning in our exemplary nurses, who go on to truly make a difference in the lives of their patients," said Bermele.
The online MSN program at SXU is ideal for nurses who want to continue to work directly with patients while gaining tools and techniques that support superior patient care. Nursing students can choose from three tracks: Clinical Leadership, Nurse Educator, and Family Nurse Practitioner. The program is designed to help students refine their leadership skills, engage in high-impact learning practices and build experience in a practicum.
"Our expert faculty provide students practical experience where they are truly part of a learning community that is well-prepared for the changes and challenges of the 21st century health care workplace. Our students develop into strong clinicians with a focus on health and wellness across diverse populations," said Bermele.
SXU's School of Nursing and Health Sciences is one of only 95 nursing programs across the country that is designated a Center of Excellence by the National League for Nursing.
For more information about U.S. News & World Report's rankings, visit U.S. News & World Report's website. For more information about SXU's School of Nursing and Health Sciences, please visit SXU's website.
---