SXU Recognized as a 2024 College of Distinction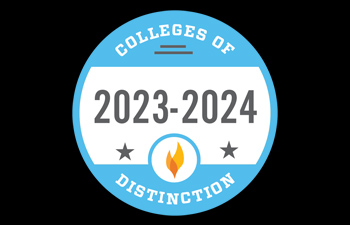 Saint Xavier University (SXU) has been recognized nationally and regionally among the 2023-2024 Colleges of Distinction for the seventh consecutive year. Honored for its mission-driven, student-centered transformational educational experience, SXU is recognized in the areas of affordability, nursing, education, career development, business, equity and inclusion, and military support. SXU is also recognized as a Catholic College of Distinction and an Illinois College of Distinction.
The recognition marks SXU's commitment to providing a high-quality undergraduate education that focuses on hands-on learning, strong student-faculty relationships, a vibrant campus life, and successful outcomes. Colleges of Distinction's selection process entails a sequence of in-depth research with the institutions, accepting only those that exhibit those four distinctions.
Colleges of Distinction's criteria goes beyond traditional ranking models and calls for innovative institutions that meet individual student needs and create an environment that allows students to flourish and have an enriching undergraduate experience.
"It's an honor to be recognized as a College of Distinction for the seventh consecutive year, a strong testament to the transformational impact of the SXU experience. We are grateful to our talented faculty and staff who collaborate each day to educate for competence, character, and career success and foster a supportive, spirited learning community that will prepare students for success throughout their college years and beyond," said interim president Rebecca Sherrick, Ph.D.
To be named a College of Distinction in the areas of Business, Nursing and Education, the institution must demonstrate within its respective schools stability, accreditation, multidisciplinarity, practical experience, collaborative learning, high mastery rates, liberal arts exposure, ethics, dedicated advising and counseling, high-impact practices, and industry connections.
A College of Distinction that is recognized for its outstanding Career Development initiatives exhibits integrated career exploration and preparation, accessible programs and training, and dedicated, career-centered staff.
The Military Support designation is awarded to institutions whose supportive initiatives include comprehensive educational benefits, a military and veterans affairs team, flexible and accessible options, faculty training, and campus activities and support.
A College of Distinction recognized for Equity and Inclusion efforts demonstrates a diverse population of students and faculty, food and housing security, physical and mental care, Pell Grants and financial aid, and academic inclusion.
The Affordability designation is awarded to fewer than 150 institutions across the U.S. The prestigious distinction considers an institution's quality and diversity of hands-on experiences, notable financial costs, and positive outcomes that epitomize a significant return on a student's investment.
Learn more about SXU's undergraduate programs on the SXU website. To check out an in-depth profile of SXU on the Colleges of Distinction guidebook, visit the Colleges of Distinction website.
---