SXU Senior Bids Farewell to 15-Year Softball Career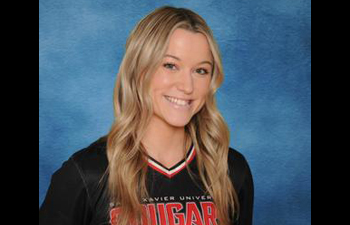 The Saint Xavier University (SXU) softball team recently ended their season with a second-place finish at the National Association of Intercollegiate Athletics (NAIA) tournament. For some players, it was not only the end to the season, but an end to a lifelong career. Senior Lyda Robinson, a sports and fitness administration major, had to heartbreakingly bid adieu to her 15-year softball career.
"Being a Cougar at Saint Xavier has been one of the hardest and most rewarding things I've ever done. Knowing that I will never wear a Cougar uniform again hurts. I wore that jersey with pride. Saint Xavier has been home to me for the last five years, so it's hard saying goodbye," Robinson said.
At the age of 10, Robinson knew she wanted to play college softball. While in the recruitment process in high school, Robinson always had her heart set on continuing her academic and athletic career at SXU. Upon her first in-person visit, she saw her future pan out and believes it was one of the best decisions she's ever made.
"I chose SXU because it felt like home. I just knew that this was the place for me. My coaches and the team were so welcoming," Robinson said.
While playing with SXU for five years due to COVID-19 NCAA eligibility, Robinson boasted big numbers with the Cougars. She even landed on the National Fastpitch Coaches Association (NFCA) All-Region Honors list in 2023. This season, she played and started in all 51 games for the Cougars, hitting a remarkable .365.
"It's an honor. I know that there are so many talented players in the NAIA, so for me to receive that award is amazing. I've worked so hard my whole life playing this game and I am grateful to be recognized for my hard work and dedication to softball," Robinson said.
During her time at SXU, Robinson has taken to social media to post video diaries on TikTok and Instagram of what it's like to be a student-athlete, with some posts even going viral.
"Vulnerability is what brings people together. So when I post relatable content for other people online, it gives them a sense of understanding and community, specifically the student-athletes. If my 30-second TikTok video can change someone's perspective or give them encouragement, then I know I'm using my platform to the best of my ability," Robinson said.
Looking back on her athletic career as she closes this chapter of her life, Robinson has some advice for incoming freshmen.
"Take every moment and opportunity in. I feel like for most of my career, I was searching for the next big thing -- the next big award or the next big play. It took me until my fifth year to really sit back and enjoy the moment of whatever was going on. The friends you make and the impact you have on people is what they're going to remember. They won't remember the awards, the GPA or the honors, but they will remember how you made them feel," Robinson said.
Robinson is not quite ready to be done with softball, so she isn't ruling out future paths for staying involved with the game, like coaching. As for her academic career, she will go on to North Park University in the fall, where she will pursue a master's degree in mental health counseling.
---