SXU Student Awarded Yard Runner Scholarship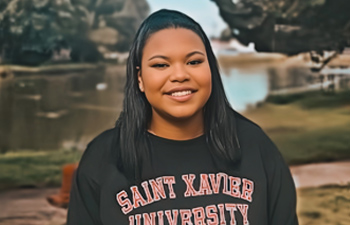 Saint Xavier University (SXU) biology senior Mia Cox has been awarded the inaugural Yard Runner Scholarship sponsored by the Raydiant Awards, part of Raydiant Splendor, a nonprofit created to help transform the world into a brighter, more equitable place through service and advocacy for historically excluded communities.
The "Yard," terminology derived from historically Black colleges and universities, refers to an outdoor gathering place on a college campus. The Yard Runner Award scholarship is a $1,000 scholarship awarded to a college junior or senior who radiates by showing up and showing out. The award recipient values excellence, possesses autonomy and responsibility in leadership positions on campus, and is involved in the local community, possessing at least a 3.0 GPA.
"Receiving this award means a lot to me because I value the experiences and opportunities I've had at SXU. The scholarship took some financial burden off, which has allowed me to focus on my studies and all of the great work and service I do on campus daily. As a first-generation college student and the first and only sibling to attend college, it means even more to receive support from my community," said Cox.
Cox always knew she wanted to pursue a career in health care and science has always been a passion of hers. Her late grandmother attended Saint Xavier and graduated with a master's degree in nursing, inspiring Cox's passion for health care.
"My grandmother was the epitome of what SXU stands for. I knew the biology pre-health program at SXU was the right fit for me. It has offered me so many unique opportunities to expand my learning. From learning about cells and anatomy to even visiting Yellowstone National Park this summer through the EXPLORE STEM program, I have been able to gain knowledge and create amazing connections," said Cox. Cox finds that the classes she's taking at SXU are giving her the knowledge and experience she needs to pursue an advanced degree in health care.

Cox is an incredibly involved student on campus, serving in a variety of student leadership positions. She is a resident assistant (RA), peer minister and campus ambassador and she also serves on numerous executive boards for student organizations including the American Red Cross Club, Spectrum Alliance, and UNIDOS. She is secretary of the Pre-Med Society and a member of TriBeta, Black Student Union, Emerging Scholars, and Service Club. Cox is also a student-athlete on the Saint Xavier Paw Prints Dance Team and has been a two-time NAIA Scholar-Athlete.

"I have always valued service and helping my community in every way I can. I host blood drives, create service opportunities, promote diversity and inclusion on campus, am involved in programming, and mentor and guide my peers," said Cox.
Some of Cox's favorite memories at SXU include traveling the country and meeting new people. She's formed wonderful relationships with friends she now considers family and has had great mentors who have guided her along the way. She is especially grateful for staff Shavonn Nowlin, Katy Thompson, Isaac Torres, Brytish Thomas, CrisTina Edwards and Katie Syzmczak and faulty Tatiana Tatum, Ph.D., and Rick Monzon, Ph.D., who worked with Cox on a research project on epigenetics.
"I have the fondest memories of my time at SXU. Dr. Tatum was here to welcome me as a prospective student, and I will never forget how she inspired me to come to SXU by greeting me with a snake around her neck!" said Cox.
As a rising senior, Cox plans to apply to graduate programs this year to pursue a master's degree in public health and policy. She ultimately hopes to forge a career working on improving health equity for underrepresented communities with a concentration in reproductive health care.

---