SXU Student to Host Book Signing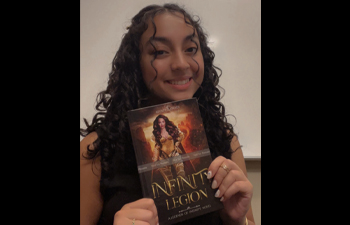 Saint Xavier University (SXU) political science student Myah Bawadi will host a book signing for her debut novel, "Infinity Legion," on Tuesday, February 28, from 3:30 to 5 p.m. in the Scholars Den located on the second floor of the Warde Academic Center on the Saint Xavier University campus.
Bawadi, who published "Infinity Legion" in late 2022, has found much success since releasing the novel, guest-starring on podcasts and earning rave reviews on the Barnes and Noble and Amazon websites. Within her book, she is thrilled to both turn the "lose her power" trope on its head and promote representation with a Middle Eastern main character.
"I am so thankful for the support of the SXU community and thrilled that my book was in the top 40 on Amazon's Top 100 Fantasy Releases, next to some of my favorite books and series of all time!" said Bawadi.
This event is sponsored by the College of Arts and Sciences, Political Science Forum and Office for Mission and Heritage. Snacks and drinks will be provided. "Infinity Legion" will be on sale at the event for $20.
Read more about Bawadi and her journey to publishing on SXU News.
About Infinity Legion
At the beginning of time, seven books with infinite power were scattered about the universe, each one forming a realm to call home and an immortal Knight sworn to protect it. For thousands of years, the Knights led the realms and used their power for good. But now, an ancient prophecy looms and the Infinite Knight Court is crumbling.
Eighteen years ago, Soleil Yamanu was found orphaned in the unforgiving realm of Lex. Now, plagued with dreams of deep blue eyes and defiance in the Knight Court, Soleil is a soldier in The Academy of The Undying Army, and she wants power. When the gray-eyed Lord Acastus announces his search for a new second in command, Soleil sees her opportunity for what she has always craved.
But Lord Acastus won't consider her.
When Soleil interrupts his speech, convincing him to allow her to compete for the position, she is forced to participate in battle stimulations to prove her worth. As twenty-eight days of battle unravel with Lord Acastus watching her every move, the two grow infinitely close. But as they do, Soleil will learn that life near a Knight of Infinity is one of politics, deception, and unexpected love that she never could have imagined. As her new status bears down on her, Soleil will learn exactly how much she stands to gain, and how much more she could lose, in her search for power.
---