SXU Students Participate in Belize Immersion Experience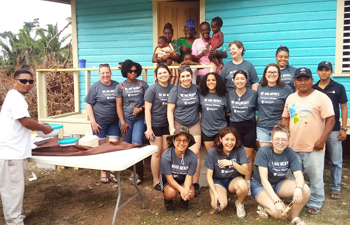 Just after the spring semester, 11 members of the Saint Xavier University (SXU) community and one Sister of Mercy traveled to Belize City to build a home for a Belizean family through Hand in Hand Ministries.
After a tour of Belize City and an evening at church, the group began their work picking up materials from a local woodshop. With assistance from a construction team, they created walls, set up the site and painted wood. Over the rest of the week, they continued to build the structure by securing the floor on concrete pilings, installing a tin roof, building a porch, and placing windows and shutters on the home. The group also participated in a blessing of the house.
The SXU community worked alongside the homeowners, their family and friends, and other members of the community to ensure the home was built within that week. While they were able to visit the Altun Ha ruins and explore the islands on the coast of Belize, the most important part of the trip for the group was knowing that they changed a family's life forever.
The weeklong immersion trip provided students with an opportunity for cultural exposure and service. In perpetuating Saint Xavier's Mercy mission, students found that the trip helped them to learn about their own strengths and faiths and gain an appreciation for things they take for granted. They also believed that getting out of their comfort zones to test their physical and mental limits prepared them for standing out within their future careers.
"Though it was physically and mentally draining, we benefited from that aspect because it shows how much work it takes not only to build a house, but a home. It was great to see how a community helping one another from different parts of the world contributes to assembling a sentimental structure," said student Stephanie Duran Martinez.
"Our immersion experience was an amazing opportunity to learn more about a different culture and about ourselves. I am grateful that I was able to provide support for such a loving family and make many friends and unforgettable memories along the way," added nursing student Janeth Landeros-Macias.
The four pillars of SXU's Campus Ministry were represented in the community's work in Belize.
"We live Mercy by engaging in direct service to a community in need. We educate ourselves and each other about the conditions in society, the world and humanity that result in great injustice of poverty and homelessness. We cultivate spiritual growth by grounding ourselves in the Christian and Catholic belief that to love neighbors and help people live lives of dignity is inseparable from our love of God. Finally, we cultivate authentic community by doing all this with others who share our effort and vision. This service trip is a powerful way to engage our mission fully," said Katie Szymczak, TRIO support student specialist and chaperone of the 2023 trip.
The next International Mercy Service Belize Immersion Experience will take place Sunday, May 5, through Saturday, May 11, 2024. For more information and to apply, visit the Campus Ministry webpage. Applications are due by Monday, January 15.
---