SXU to Host WXAV Alumni Takeover on Homecoming Week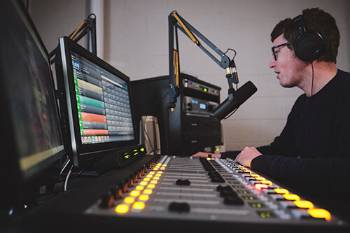 Saint Xavier University (SXU) will celebrate Homecoming with a special weeklong event this year – an alumni takeover of the University radio station, WXAV 88.3FM, and the University student newspaper, The Xavierite. The takeover will take place Sunday, October 1, through Saturday, October 7, and will feature SXU alumni who will resurrect their old radio shows and write articles for the paper for the week.
So far, over 18 participants have signed up to take over, including Mia Guevara Morgan '18, "All That Jazz," Gina Pantone-Urwin '05, "Ubiquitous Radio," Brian Condon '10, "The Jungle," Mike Maslanka '81, "The Mike Maslanka Show," among many others.
Pete Kreten, director of Student Media, is coordinating the event after the success of a similar event he put together several years ago, where more than 50 alums showed up to share stories, meet with students, and enjoy camaraderie.
"Last year, the WXAV studios were completely remodeled with new carpet, paint, a broadcasting desk, and audio console. We had some pieces we weren't using, so I got the idea to have them mounted to the wall and have DJs sign it. The response from alums was massive, and Homecoming seemed like the perfect opportunity to invite them back to see the remodel, sign the desk, and do their shows one more time. The station holds a special place in the hearts of so many people who passed through its doors, and to have them come back and relive those memories will be absolutely wonderful," said Kreten.
Kreten hopes listeners will enjoy some of their old favorite shows and build a sense of community among new and old friends.
"We have so many listeners who call in and will mention when they used to listen. I'm looking forward to seeing our students connect with our alums, many of whom work in the broadcasting industry, which creates the perfect networking opportunity. For so many of us alums, being a part of WXAV was the best part of our college experience, and being able to share that experience with current students will help them connect more to each other and our campus," said Kreten.
Be sure to tune in all Homecoming Week to catch some flashbacks from your favorite shows and visit the Student Media website for more information.
---