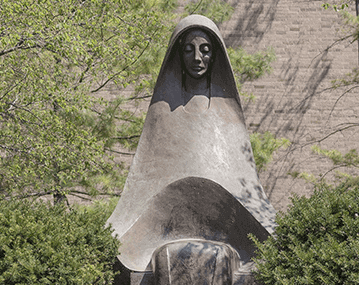 At Saint Xavier University, we are committed to coming together to serve and welcome all, regardless of creed or religion. Faculty, staff and students are engaged in creating a climate of purposeful inclusion by cultivating equity literacy, engaging in rigorous conversations about the human life, spirituality and philosophy and providing opportunities for meaningful connections and service among diverse people, ideas, and perspectives all in search of truth and the common good. We offer many opportunities for community members to connect with the University's Mercy tradition of enriching spirituality.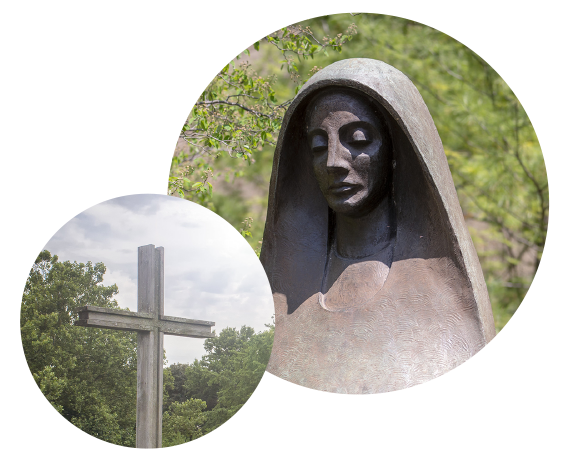 Spiritual Life
A Catholic university exists for one purpose: to help students become better human beings. Yes, they may know more, be fitter and have more friends when they finish college. But if they are not better people, we have failed. "Where Success Meets Purpose" means taking what you learn here and using it for your success and for the good of the world.
CONTACT US
Meet the Mercy Ministry Center Staff
Jenny DeVivo, OblSB, Ph.D. is the Executive Director of Mission and Heritage and is responsible for advancing and supporting the Catholic and Mercy identity of Saint Xavier. Dr. DeVivo holds a Ph.D. in New Testament and Early Christianity from Loyola University Chicago. Before coming to this position, her previous experience was as faculty in various Catholic institutions of higher education, teaching biblical studies. Her primary area of research is in the Catholic Epistles, especially 2 Peter.
As a proud summa cum laude alumna of SXU's Religious Studies Department and Pastoral Ministry Institute, she is thrilled to be back at her alma mater and to be called upon to know SXU's history well and to share it with others. She is always looking for ways to enhance our Catholic and Mercy identity and to keep it vibrant.
The Sisters of Mercy were the first religious community Dr. DeVivo ever met. Their charism and history have been foundational in shaping Dr. DeVivo's theology, approach to ministry, and Christian life. Several other congregations she met subsequently have also contributed to the continuing formation of her academic and personal formation. Dr. DeVivo is a Benedictine Oblate with St. Benedict's Monastery in St. Joseph, Minnesota.
Contact Dr. DeVivo at devivo@sxu.edu or 773-341-5734.