/
/
/
Runners and Walkers take to the pavement for SXU's 16th Annual Cougar 5K Run/Walk
Runners and Walkers take to the pavement for SXU's 16th Annual Cougar 5K Run/Walk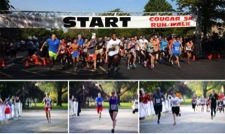 For the 16th time, Saint Xavier University's (SXU) Annual Cougar 5K Run/Walk will take over the streets in the Evergreen Park neighborhood of Chicago's South Side on Saturday, Oct. 8. For some, it'll be the first time participating; for more seasoned participants it's the signature race of the South Side – one that includes competition, community and Champ, the Cougar. This year's theme is "Sweet 16," as local community members celebrate 16 years of cheer-filled competition. The race begins and ends at SXU's Chicago campus, 3700 W. 103rd St, and travels throughout the local community.
Pre-registration is $35 for runners/walkers, $30 for SXU faculty, staff and alumni and $30 for SXU students. Prices increase to $40 for all entries on Race Day. The Cougar 5K family rate is $75 for three people from the same immediate family. The cost to register each additional family member is $25. The family rate registration fee will not be available on race day, so visit www.sxu.edu, keyword: cougar 5k to register as soon as you can!
All participants will receive a long sleeve performance moisture wicking t-shirt. Shirts are 100% polyester and feels like cotton. Stop into the Shannon Center after August 15 to try on sizes.
Participants can receive tickets to the Homecoming Football game at 1 p.m., where they can watch Saint Xavier University take on Concordia University. Tickets can be picked up at the Gear Check area between 7 a.m. and 11 a.m. on race day.
Prize money for the top three overall male and female runners will be sponsored by Axion! First place overall male/female wins $150 each, second place overall male/female wins $100 each, and third place overall male/female wins $50 each. Also, break the current male or female record and win Axion's $100 award! Males must break 15:21 and females must break 18:52.
Some of the Cougar 5K highlights include post-race massages and stretching, free blood pressure checks for participants, children's activities such as face painting, inflatable, balloons as well as visits from SXU's cougar mascot Champ. Free refreshments will be provided by the following sponsors: Country House, Jimmy Johns, Barraco's, Mariano's, Calabria, KIND Bar and Aquafina.
Also, join us in celebrating the Cougar 5K by posting old Cougar 5K pictures on Facebook, Twitter or Instagram using #Cougar5K and you could win prizes!
Cougar 5K sponsors include presenting sponsor Meijer, Gallagher Investment Services, Axion, Jimmy Johns, Accelerated Rehab, Running for Kicks, Go Promotions, Sports and Ortho, Kohl's Cares, Gilhooley's, Matrix, Barraco's, The Beverly Review, Aquafina, Core Fitness, Jackson Capital, McDonald's, Devine Nutrition, Mariano's, China Gel, Home Advisor, Saint Xavier University Alumni and Parent Relations, and Shannon Center Member.
For more information or to register, visit the Cougar 5K Run/Walk website or call our Cougar 5K hotline at 773.298.3592.
---