SXU's Fall 2016 Concert Schedule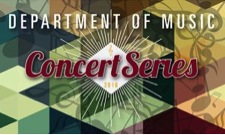 Saint Xavier University's (SXU) Department of Music will host a series of concerts during the fall 2016 semester. All performances are free for SXU students, faculty and staff with a current ID, as well as prospective students. General admission is $6 and admission for senior citizens, visiting students and members of the military is $5. All performances will be on our Chicago campus, 3700 W. 103rd Street. For more information, please contact the Department of Music at (773) 298-3421 or visit SXU Website.
Wind Ensemble and Symphony Orchestra
7:30 p.m., Saturday, Oct. 29, SXU Performance Space
SXU's Music Department starts off the year with combined forces, featuring the Wind Ensemble and Symphony Orchestra together in an evening dedicated to instrumental music through song. The Wind Ensemble will present repertoire that explores creative ways in which composers have stolen and repurposed folk tunes throughout history. Those composers include: Percy Grainger; Gustav Holst; Alfred Reed; and others. The Symphony Orchestra will feature Brazilian-American Composer Clarice Assad. Works include her unique concerto Scattered, for piano and scat singer. In addition, Assad will perform on voice and percussion for her delightful song, Tico-Tico no Fuba!
OkTUBAfest
7:30 p.m., Sunday, October 30, McGuire Hall
Please join SXU for an evening of polka and other low brass music. Following a day of lessons, master classes, and rehearsals, the participants in the OkTUBAfest workshop will present a free evening concert in McGuire Hall. Members of the performing ensembles will include SXU faculty and students, as well as high school students and other community members. For more information regarding participation in the day's educational event, please contact Dr. Josh Thompson at jkthompsonFREESXU or 773.298.3422.
Jazz Guitar Workshop
9 a.m. to 1 p.m., Saturday, November 12, Warde Academic Center Room G-113
Open to all guitarists from high school students to adults. This year's workshop is dedicated to the great jazz guitarist Charlie Christian on his centennial birthday year. Guitarists will get a chance to examine some of Christian's signature riffs and melodies, as well as his incredible improvisational style. There will be a $10 registration fee, which includes lunch for participants.
Chamber Singers and University Chorale
7:30 p.m., Saturday, November 12, Morgan Park Baptist Church, 11024 S. Bell Avenue
Join the University Chorale and Chamber Singers as they musically reflect on facets of peacemaking. The University Chorale will sing Faure's Requiem, a setting of the Catholic burial Mass that stands out for its gentle and peaceful character; this reflects the composer's perception of death as a passing from the sufferings of the world into a place of eternal peace. The Chamber Singers will share other settings of texts that highlight other facets of peacemaking, encouraging us to continue striving and working for greater peace in all things.
This musical group is composed of an elite 14 voice choir selected from the membership of the University Chorale. The Chamber Singers are an auditioned ensemble, where any member of the Chorale is eligible to audition. Singers are selected based on their vocal technique and ability, as well as musicianship and interest in learning more about small ensemble singing.
SXU Chamber Ensemble
7:30 p.m., Sunday, November 13, McGuire Hall
Come enjoy a night of music from the SXU Saxophone Quartet, Horn Ensemble, and Guitar Ensemble. Selections will include music from Bach to The Beatles.
Flute Choir
7:30 p.m., Friday, November 18, McGuire Hall
SXU's Flute Choir will feature the Chicago premiere of Robert Edward Smith's Pavane. The program also includes Concerto No. IVby Boismortier, an arrangement of Louis Moreau Gottschalk's Souvenir de Porto Rico, as well as a medley of famous Russian melodies arranged by Judy Nishimura.
The Flute Choir is comprised of students and community members. Flutists in the ensemble have the opportunity to play a variety of different flutes: Piccolo, E Flat Flute, C Flute, Alto Flute, and Bass Flute. The ensemble plays a variety of music ranging from the Renaissance period to contemporary music and music composed specifically for flute choir as well as transcriptions of music originally written for different instruments or instrumental ensembles.
SXU Jazz Night II
7:30 p.m., Friday, December 2, McGuire Hall
SXU Jazz Night II will feature performances from SXU's Jazz Ensemble and Jazz Combo with special guest trumpeter Roger Ingram, renowned lead trumpeter and educator who began his career in jazz at the age of 16 in the great Louis Belson big band. From 1985 Ingram performed lead in the legendary Woody Herman Big Band until Woody's death in 1987. He has gone on to play lead trumpeter on Wynton Marsalis' Pulitzer-prize winning album "Blood on the Fields" and has worked with other musical giants such as Frank Sinatra, Maynard Ferguson, Ray Charles, Tom Jones, and Harry Connick Jr. Ingram is a Jupiter XO artist and his performance is made possible by a grant from the Jazz Education Network Jazz2U and The Herb Alpert Foundation. SXU is honored and delighted to have Ingram perform on its Chicago campus!
Christmas Spectacular
3 p.m., Sunday, December 4, SXU's Performance Space
SXU's Christmas concert will include performances from the entire Department of Music. Performing groups will include the Wind Ensemble, Jazz Ensemble, Chorale and Chamber Singers, as well as a variety of chamber ensembles. Repertoire will include contemporary works, as well as holiday standards, with something for the whole family to enjoy!
---