SXU Creates New Lab in Shannon Center for Students and Community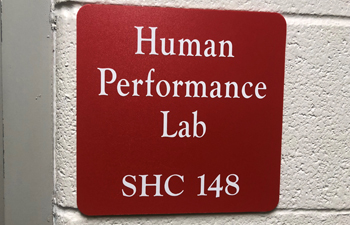 Saint Xavier University (SXU) is dedicated to continuously evolving the ways in which it educates its students, which has recently included the creation of the new Exercise Science and Sports and Fitness Administration programs. These programs are designed to prepare students for the theory and practice of physical activity and operating athletic businesses. In both of these programs, students gain knowledge about health and physical preparedness in the setting of the recently renovated Human Performance Lab in the Shannon Center.
Many of the exercise science and fitness administration core classes have labs associated with them and getting students practical hands-on experience will allow them to further understand the academic material and, more importantly, prepare them for work when they leave Saint Xavier University. Not only understanding the theory but know how to practically apply it is key in the scientific fields and having the chance to perform research in a realistic environment is what makes SXU's programs so valuable.
"The overall goal is to get our students involved in the Shannon Center and the community," said Brad Leshinske, coordinator of exercise science and sports and fitness administration programs. "This involves having our students working at the Shannon Center their junior year as personal trainers for the community, offering free evaluations, training programs and re-evaluations. This is really in line with the core values of the University. Not only will we be giving the students the ability to work on their craft as future health professionals, but more important understand how vital health and wellness is to the community."
SXU plans to open the Human Performance Lab to the public for evaluations and various training and health programs starting in the Fall of 2019.
---