Happy Thanksgiving From SXU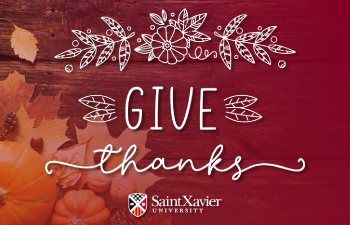 Saint Xavier University (SXU) is filled with gratitude as faculty, staff and students come together to celebrate Thanksgiving. Though the year has been full of challenges, the University has been abundantly blessed, not only in welcoming students back to campus for the fall semester, including the largest incoming freshman class in the history of Saint Xavier, but in celebrating the institution's 175th anniversary with a number of special events that brought the entire community together.
In celebrating our 175th anniversary, the University is most grateful for the mission stewarded by our founding Sisters of Mercy in 1846, a mission of service and compassion toward one another that propels us forward today. This Thanksgiving, departments all across campus held numerous service projects, including collection of non-perishable goods, toiletries and clothes to help keep our communities healthy and safe this holiday season.
In working together to keep our mission and community thriving, Saint Xavier faculty, staff and students have found much to be thankful for.
"This year I am most thankful for the return of our students to campus! I am also grateful for the various opportunities throughout the year with food drives and toy collection drives that some of our amazing students put together. In raising three young girls, some of the lessons I teach them daily is kindness and appreciation for those that are not as fortunate. This year, in the spirit of giving back and appreciating our men and women in uniform, I will be sending thank-you cards to active members of our military oversees and here at home. The hand-written notes are part of a class service project in collaboration with Professor Gina Rossetti. This type of giving back is very meaningful to our troops that often spend most of their holidays away from their families."
- Gricelda Gonzalez, Veteran Compliance and Advisor
"I am thankful for the small faith group, Be Formed, that I joined at the start of the year. These 10 women – my BFFs (Be Formed Friends) have helped me explore and deepen my faith and provided me with such great friendship and joy."
- Debbie Buczkiewicz, Director of Recruitment CRM
"I am thankful for the COVID-19 vaccines so the death rate from the pandemic can be reduced."
- Kathy Rohan, Director of Clinic Operations
"This year has been a very stressful one, but I'm very fortunate for everything I have. I'm thankful for my family that has always supported me. I'm thankful for my crazy Labrador retriever, Sam, even when he steals wrappers from the recycling bin. More than anything else though, I'm thankful for the care God provided to my late grandfather and for the new home God provided to him in Heaven."
- Sarah Driscoll, Biology Pre-Health Student
---