SXU Celebrates Valentine's Day With Acts of Love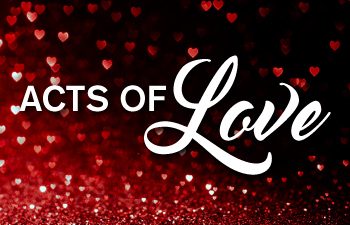 Saint Xavier University (SXU) is celebrating Valentine's Day this year with acts of love. Our Mercy mission calls for us to serve others all year long, but challenges posed over the last year make our mission of service more purposeful than ever now.
The Catholic Church recognizes three different saints named Valentine, and all three were working within their communities to help those in need and fight against injustices, much like the Sisters of Mercy did upon their arrival to Chicago and what our community continues to do today. All across the Saint Xavier campus, there are a number of opportunities to show love and compassion to others.
Volunteer: There are volunteer opportunities for students, staff, faculty and alumni all year long! Volunteering is an excellent way for you to be of service and show extra care for those in need, and it's also a great opportunity to make new friends and discover new passions.
Listen: Nothing shows your love more than being a good, empathetic listener and making sure your friends know they are cared for unconditionally. For tips on practicing wellness and being aware of the signs of unwellness, visit the Counseling Center and watch one of their on-demand videos, attend a webinar or talk to a counselor.
Donate: Though COVID-19 restrictions have made in-person events more challenging, taking the time to donate to a cause you believe in can make a huge difference in your community! You can also help support underrepresented students at SXU.
Make a Friend: Many of our alumni rave about the lifelong friends they've met at SXU. Take the time to branch out and meet some new people through one of our many Registered Student Organizations (RSO), attend a student activity or participate in one of our campus traditions!
Be a Mentor: There are many excellent student leadership opportunities on campus. There are also many tutoring opportunities. Taking the time to lead and assist peers who need help and guidance is integral to the success of our community, so show some love and make a difference today!
Pray: Every Tuesday, Wednesday and Friday, the Office for Mission and Heritage leads a virtual prayer. Attend the prayer to pray for those you love and support our community in their prayers.
Care for the Environment: The Sisters of Mercy care deeply for working toward environmental sustainability. A simple way to show love to the earth is to recycle, clean up trash, spend some time learning new things about the environment or joining the Green Movement, SXU's environmental organization.
Be an Advocate: The Sisters of Mercy make a commitment every day to five critical concerns that they address through prayer, education and advocacy. Join organizations, get educated and take a stand when it comes to earth, immigration, nonviolence, racism and women, or get involved in something else you're passionate about! The love and support you show these movements is powerful.
"I am very excited to support the SXU Food Pantry. Cooking (and eating) brings me great joy, especially with friends and family. The pandemic has posed its challenges, and being able to have team meetings, retreats and celebrations with food is something I quite miss and look forward to being able to do again safely," said Deb Rapacz, associate vice president for marketing and strategic communications. "University Relations loved including our student workers in those activities as a way of bringing them into our tribe. The idea that those with any food insecurity will be able to comfortably eliminate that worry so they may focus on other priorities, including their education, is something I am delighted to be able to support."
"This year, I will work with Do Good Inc., an organization that helps the homeless, veterans and children with disabilities in need. I will be donating clothing, food and personal hygiene items which will be used to build care packages for their Hope for the Homeless event," said Cindy Diaz '11, '15, assistant director of digital strategy. "We will be able to provide those less fortunate with a little bit of warmth and food, basic necessities we take for granted. Once the packages are assembled, I will help to deliver them to homeless communities in Chicago. I want to make a difference in the lives of others. Everyone deserves compassion and to have their basic needs met and feel cared for."
There are many different ways to show love to the community this holiday season, so have a heart and give back -- with these simple acts of love, you can help to change the world!
---