Saint Xavier University's 175th Anniversary
celebrating 175 years of Mercy Education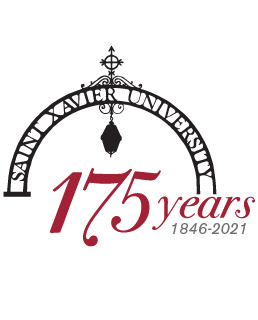 Saint Xavier University is proud to celebrate 175 years of providing a Mercy education. Founded in 1846 by the Sisters of Mercy, Saint Xavier is Chicago's first Catholic university, the first Mercy institution of higher learning in the world, and one of the oldest operational educational institutions to remain in the metropolitan area.
Grounded in the ministry of the founding Sisters who were inspired by their Catholic faith to serve the poor, the sick and the uneducated, Saint Xavier has endured, continuing to serve through epidemics, the destruction of the Great Chicago Fire and many other challenges. The school transformed from Saint Xavier Female Academy to Saint Xavier College for Women in 1915, launching the first integrated baccalaureate nursing program 20 years later. In 1969, the college became coeducational, achieving university status in 1992.
Akin to our founding Sisters, we take great pride in educating the underserved and underrepresented through our continued commitment to inclusive excellence. In 2014, we became a federally-designated Hispanic-Serving Institution (HSI) and were named one of the most diverse regional universities in the Midwest1 a year later. We have been designated a College of Distinction for the past decade and were named one of the most affordable Catholic universities in Illinois2.
Mercy Founded. Mercy Forward.
In 1919, Saint Xavier College held its first commencement for a graduating class of two students. In 2020, despite the challenges of COVID-19, we welcomed the largest freshman class of our 175-year history. With more than 40,000 alumni in 50 states and eight foreign countries, we are thrilled to celebrate 175 years of transforming the world through a Saint Xavier education and excitedly look to the future to continue our mission for another 175 years.


1 U.S. News & World Report (2021)
2 Federal Website: CollegeNavigator.gov
Saint Xavier University 175th Anniversary Christmas Ornament
Manufactured by the creators of the Official White House Christmas Ornament, the SXU 175th Anniversary Christmas Ornament features the 49th Street Gateway Arch.
Join Us in Celebrating This Momentous Occasion!
Significant Milestones
Explore a timeline of significant milestones in Saint Xavier history.
Explore SXU History
Social Media Toolkit
Discover resources you can use to share your Cougar pride in celebration of our anniversary.
Explore Toolkit
Faculty and Staff Resources
Discover how to add the 175th anniversary into your email signature and your next Zoom meeting.
Explore Resources