Saint Xavier Catholic and Mercy Identity
Saint Xavier University, a Catholic university founded and sponsored by the Sisters of Mercy, extends the teaching ministry of Jesus Christ to those seeking higher education.
As an officially recognized ministry of the Catholic Church, the University grounds its core activities of teaching, learning, scholarship and service in Catholic theological principles that affirm the goodness and value of all creation and posit a view of all human persons as created in the image of God and thus free, rational, relational and endowed with inherent dignity.
As a Catholic university, Saint Xavier University challenges all the members of its community to search for truth, especially religious truth, and to engage in a dialogue between faith and reason that ultimately leads toward the contemplation of God's creation and social action for the common good.
Mercy Higher Education Covenant
Learn more about the Mercy Higher Education Covenant that describes the intentions, aspirations and assurances that enliven and inform the relationship between the Sisters of Mercy of the Americas and SXU, with the Conference for Mercy Higher Education acting on behalf of the Sisters of Mercy.
Saint Xavier University Founders
Mother Frances Xavier Warde
In 1843, Mother Frances Xavier Warde and six sisters braved the Atlantic Ocean to establish the Sisters of Mercy in the United States. She and her companions disembarked in New York in December 1843. Among those present was Bishop William Quarter, recently appointed to the newly created diocese of Chicago. An educator himself, Bishop Quarter wasted no time asking Frances Xavier Warde to send sisters to his frontier diocese to open schools for children and young women. Bishop Quarter's renewed requests brought the Sisters of Mercy to Chicago in 1846. Mother Frances Xavier Warde accompanied the group of five she had chosen to serve in this western outpost, all who were under age 25.
By the time of her death in 1884, Frances Warde had established over 82 Mercy convents, schools, hospitals, orphanages, and other institutions of social welfare in some 20 cities across nine states, more than any other religious leader in the Western world. It is probable that no woman has lived to whom the church in the United States owes more than it does to her.
Frances died at age 74. Attending her funeral were the bishops of Manchester, Providence, Springfield, Hartford, Burlington and Portland, along with more than 100 priests and Sisters of Mercy from across New England, a testament to the immense and lasting impact of her life and service. She was laid to rest in St. Joseph's Cemetery in Manchester.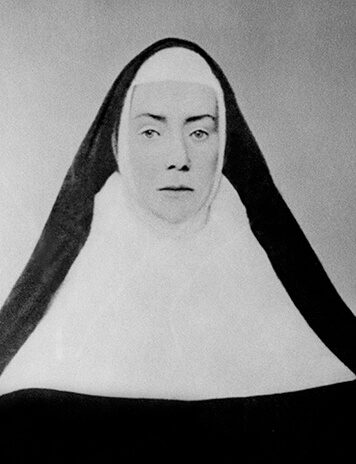 Mother Agatha O'Brien
Agatha O'Brien entered the Sisters of Mercy in 1843. As she traveled from Ireland to the United States, Bishop O'Connor noted that she was "capable of ruling a nation."
She was the first Sister of Mercy to be received as a novice in the United States on February 22, 1844, and made her final vows on May 5, 1846. Just a few months later, in September 1846, she became Mother Agatha, the first superior of the Sisters of Mercy in Chicago, at the age of 24.
Mother Agatha O'Brien was described as a woman of remarkable judgment, quick apprehension and piety, with a keen business sense, an appreciation for property values and a direct and straightforward manner in appealing for monies for whatever was needed.
While serving the sick during a terrible wave of cholera, Mother Agatha and three other Sisters of Mercy all died from the disease within a few hours of each other on July 8, 1854.
Mother Agatha's 200th Birthday