These style guides were created to provide accurateness, consistency and cohesion across all print and digital communications from the University.
All print collateral and digital platforms (i.e. email blasts, e-newsletters, the public website, etc.) follow our Content Style Guide and Graphic Standards Style Guide.
University Relations can assist in the promotion of campus events and programs by producing marketing materials, such as fliers, posters, postcards, etc. All requests must be submitted through urprojectsFREESXU and include project details, desired delivery date (see Project Timelines), complete text/information regarding the event, and contact information for the department, including the point of contact person and email address/phone number.

The Athletics Style Guide (PDF) serves as a guide to ensure that the SXU Athletics brand is consistently applied across all communication platforms -- from our newsletters and website to the uniforms and vehicle decals. We take pride in our teams, and our teams take pride in the brand they help to build year after year.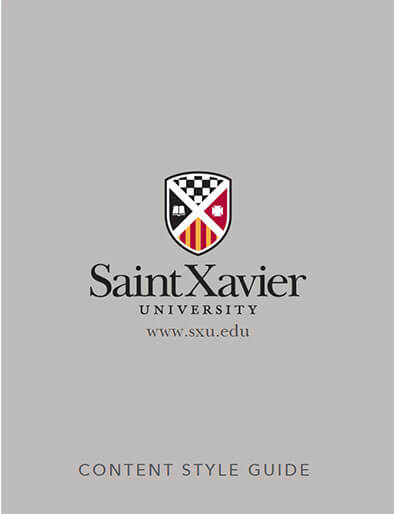 The Content Style Guide (PDF) is an abbreviated collection of style points that provides preferred standards and definitions for expressions and constructions found in Saint Xavier publications. Please also use the Content Style Guide when updating web pages on the public website.
Graphic Standards Style Guide

The Graphic Standards Style Guide (PDF) details graphics standards for the logo, institutional colors, letterheads, business cards and email signatures.