Student Media Summer Camp
It's the summer to let your voice be heard! At Saint Xavier University's Student Media Summer Camp, you'll gain the skills needed to create dynamic, engaging content that will help you connect with an audience and give you a head start to a future in radio broadcasting.
This year, SXU is pleased to offer a weeklong session in radio broadcasting.
Monday through Friday, June 27 - July 1, 2022
10 a.m. to 3 p.m. (each day)
Saint Xavier University
3700 W. 103rd Street
Chicago, IL 60655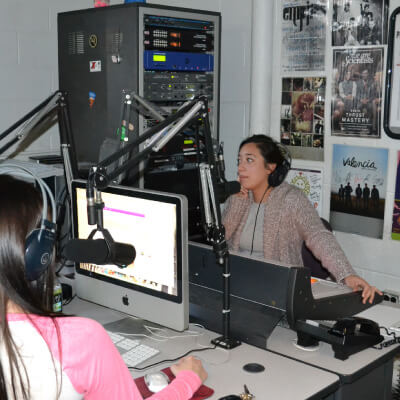 Camp Facts
Camp is open to all incoming high school freshmen through graduating seniors.
Students will create their own radio broadcasts.
Students will participate in sessions with media industry professionals along with Saint Xavier University communication professors, staff and students.
After participating in the SXU Student Media Summer Camp, students will be able to:

Describe and identify broadcasting terminology.
Develop radio broadcasting skills.
Identify ethical concerns in broadcasting.
Produce original on-air programming.
WXAV Facts
Since 2003, WXAV 88.3FM has won more than two dozen Illinois Broadcasting Association's Silver Dome Awards, including first place in "Best Radio Live Game Sports Broadcast" in 2012.
In 2013, WXAV took second place in the Illinois Broadcasting Association's Silver Dome Awards for "Best Radio Series or Documentary" for an episode of "Veteran Matters."
In 2010, WXAV was named by Paste Magazine as one of the 40 best low wattage radio stations in the country.
In 2011, WXAV was one of the first stations to participate in the annual and international College Radio Day.
In 2015, the Chicago Tribune named WXAV one of the best local alternative radio stations in Chicago.
In 2022, WXAV took first place in the category for "Best Underwriting Spot" from the Intercollegiate Broadcast System's Student Media awards.
WXAV has between 15,000 and 40,000 unique listeners online every month.
Registration
Registration cost is $150 per student and will be accepted until Saturday, June 25, or until the camp is filled. Students can dress casually and are asked to bring a bag lunch Monday through Thursday. Lunch will be provided on Friday. Any questions can be sent to summercampsFREESXU.
Online registration will be open soon.
Refund Policy
Cancellations made 14 days prior to the camp start date will receive a refund less a 25% administrative fee. No refunds will be made for cancellations received less than 14 days prior to the camp start date. In the event the camp is canceled by SXU, a full refund will be provided. In order to request a refund, please send an email with the subject line "Refund Request" to summercampsFREESXU.
Please note: SXU will continue to follow all state and city-mandated COVID-19 guidelines to protect the health and safety of our community.