Philosophy Department
The Philosophy Department is proud to serve the mission of Saint Xavier University, offering classes directly related to the core values of our institution and its students. Coursework and faculty research in both programs advocate critical thinking, thoughtful engagement with historical and current questions about the common good, practical skills in writing, reading, and information literacy, as well as dedication to the spirit of life-long learning.
Graduates of the department have gone on to pursue work in a variety of fields, including:
Teaching, after entering M.A. and Ph.D. programs in philosophy, religious studies and related disciplines
Law
Environmental policy
The Seminary
Social-justice work
Programs of Study
The Philosophy Department offers a Religious Studies minor.
Apply Now!
Please visit Admission's Apply Now page to find the appropriate application or request more information.
Alumni Spotlight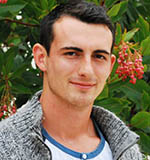 Chance Cutrano
Philosophy and Political Science Major
Chance Cutrano, a 2015 SXU graduate with a B.A. in Philosophy and Political Science, was recently awarded the Sierra Club California's first annual Emerging Leader Award for outstanding contributions to conservation and politics by someone under the age of 30. The Sierra Club is one the nation's largest and most influential grassroots environmental organizations. Cutrano manages public lands protection and sustainable agriculture programs as the director of special projects and strategic initiatives at the environmental nonprofit Resource Renewal Institute in the San Francisco Bay Area. In his free time, Cutrano serves on the finance and political committees for the Sierra Club's SF Bay chapter, as well as the club's national climate adaptation task force. Cutrano also attends Presidio Graduate School, where he is pursuing his Master of Public Administration degree in Sustainable Solutions.
Congratulations, Chance.