Saint Xavier University Birth to Three Program
mission
To positively impact child development and nurture healthy parent-child relationships during the critical early years.
The Birth to Three Program grew out of a need to serve young children and their families.
The program is a collaborative effort between Saint Xavier University and surrounding suburban communities of Evergreen Park, Oak Lawn and Alsip.

We offer a nurturing and supportive environment for parents and their young children, providing family support, community services, information resources, age-appropriate activities and discussions on the joys and challenges of parenting.
The Birth to Three Program is funded by an Illinois State Board of Education early childhood block grant and is free for qualifying families.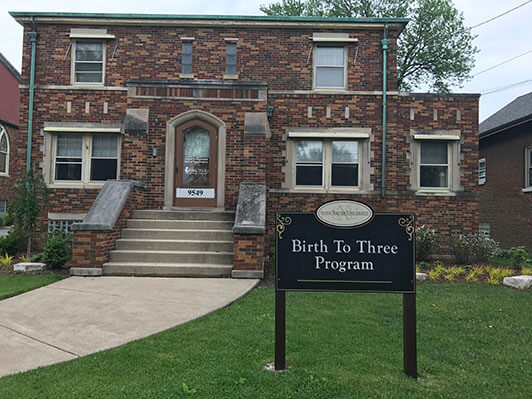 About the Birth to Three Program
Who Can Join?
This program is designed to support families with children under the age of three and to promote their academic success. Children who qualify for our program are identified through developmental screenings and parent interviews offered free by our program.
What is Included?
Our community-based activities encourage social interaction with children focusing on developmentally appropriate experiences. We practice the Baby TALK curriculum: a research-informed, evidence-based early intervention model, curriculum and approach.
The program provides:
Free developmental screenings for families of all communities
One-hour interactive parent classes to observe and discuss your child's growth and development
Monthly field trips to acquaint families with activities in the community
Curriculum-based home visits providing age-appropriate activities that support development and preschool readiness
Parenting classes to discuss various topics, including positive discipline, educational rights, developmental concerns and parenting techniques
If you would like printed copies of our brochure, please contact
birthto3FREESXU
.
Contact us
Se habla Español
To join the program, ask questions or request information:
Phone: 773-941-5708
Email: birthto3FREESXU
For emails, please include the following information:
Name
Phone Number
Reason for Inquiry
EMAIL US
Developmental Screenings
Developmental screenings are a way to look at your child's developmental milestones and identify any concerns early on. The earlier the intervention, the more likely your child's development can improve.
---
FREE DEVELOPMENTAL SCREENINGS for children between one month to three years old!

The screenings cover the following areas of development:
Communication skills
Gross and fine motor skills
Problem solving
Social-emotional
Vision and hearing screenings are also provided.
Screenings will be held at the Birth to Three Program location at 9549 S. Homan Ave., Evergreen Park, or on a scheduled home visit.
---
You know your child best, and the best person to track their development is you!
program testimonials
"Birth to Three has been an absolute blessing to our family. We knew our son would benefit from the classes and fun field trips, but I didn't anticipate the amount of support that they could provide for our entire family. We appreciate everyone involved who has gone above and beyond for us over the years. We've created lasting relationships that will continue to grow as our children do."
"Matthew is doing great in school! I'm so thankful to the [Birth to Three] program for getting us on track. He is really in a good place and enjoying himself, which makes me so happy. I can't say enough good things about the program. You are really making a difference."
Dana Loncar, Speech-Language Pathology
I am a second-year graduate student in the speech-language pathology master's program. I worked with Saint Xavier University's Birth to Three Program for parent education and child language development for an hour a week. Another graduate student and I educated the parents on different strategies that they could use to facilitate language development with their children. Throughout the program the children learned daily routines, simple social skills and new vocabulary to increase their communication. From being involved in the program, I learned that children are unique in their developmental milestones. I also learned to be more patient because changes in communication take time. The Birth to Three Program has made me even more eager to begin my journey as a speech-language pathologist, and I hope to work with the early childhood population because of my experiences with this program.