National Biological Honor Society (Tri-Beta)
The National Biological Honor Society is an honors and professional society for students of the biological sciences. Saint Xavier University's Omega Delta Chapter serves the mission to stimulate interest, scholarly attainment, investigate the biological sciences, and bring awareness to information and interpretations of the life sciences. Since its founding in 1922, more than 200,000 persons have been accepted into the lifetime membership, and more than 670 chapters have been established throughout the United States and Puerto Rico.
(Tri-Beta)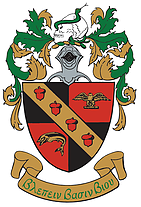 Omega Delta Chapter Advisor
Rick Monzon, Ph.D.
monzonFREESXU
2023 Beta Beta Beta NC-1 Division Research Conference
Saturday, April 29, 2023
Andrew Conference Center (ACC)
8:30 a.m. to 2:45 p.m.
Saint Xavier University
3700 West 103rd Street
Chicago, IL 60655
Welcome to the registration page for the 2023 Beta Beta Beta NC-1 Research Conference. As with previous conferences we will be planning both oral and poster presentations and awards will be presented for each categories. If you are from a different division, please make sure to indicate your affiliation on the registration form. (Note: Although the NC-1 conference will satisfy the presentation requirement for a research grant awardee, only NC-1 presenters will be considered for awards).
We will be adding additional information for travel directions and nearby lodgings. If you have any additional questions, you can contact the chapter adviser, Rick Monzon at monzonFREESXU.
Thank you for presenting your research and we look forward to seeing you all!
The conference will take place at the Andrew Conference Center on the SXU campus, adjacent to Lake Marion. Please refer to the campus map. Parking is free but we ask that you do not park in handicap spaces or spots designated for security or staff.
Registration
To apply for the NC-1 division research conference, please fill out the following information. Make sure to specify if you have an oral presentation or poster presentation. An email and phone contact is also needed so we can relay additional information regarding presentation set up and the conference program to the registrants.
A registration fee of $10 will also be applied for all attendees. Payment will be collected onsite at the conference. Lodging and travel information will be provided soon.
For additional information you can also contact the chapter adviser, Rick Monzon at monzonFREESXU. Registration is now closed.