The STEM Studio is a gathering place for a community of SXU scientific scholars. Study groups as well as individual students looking for support in coursework are encouraged to gather in the Studio, taking advantage of the whiteboards and computers for their specific needs. Additionally, the STEM Studio is a hosting space for various student outreach and alumni events, workshops, and Faculty Professional Development meetings.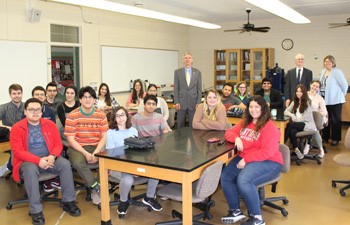 STEM Studio activities include:
GRE Prep and Subject Test Support
The STEM Studio will offer guidance on taking the GRE subject matter test, including including its structure and content, test-taking strategies, and test answering procedures. Resources will be made available to students who wish to take the full-length subject area practice test in the STEM Studio.
In order to remove financial barriers for students, EXPLORE STEM will cover the costs of the GRE test after participating in the STEM Studio preparation activities.
STEM Peer Mentors
EXPLORE STEM offers students the opportunity to work in the STEM Studio as STEM Peer Mentors. Peer mentors are third or fourth year students who are STEM majors who use their own experiences to help students along their path at SXU. They are paid student workers who assist with the STEM Transitions and STEM Rebound courses, and staff the STEM Studio.
Alumni Career Night
Once a year, former students will be invited to participate in the EXPLORE STEM Alumni Career Night in the STEM Studio. They will speak to current students about career opportunities in STEM and to share the ways in which they are putting their degrees to work. Parents of current students are welcome to attend.
Focus Groups
At the end of each semester, five students chosen from those who use the STEM Studio will be selected to participate in a STEM Studio Focus Group. The purpose of the group will be to obtain feedback on the STEM Studio and its activities, and help us make the space more effective for our students.
Students will be given a $50 stipend for their participation.
HSI Faculty Professional Development Sessions
Twice a year, university faculty will participate in faculty development. These sessions will focus on the socio-cultural divides between students and faculty in HSIs (Hispanic Serving Institutions) and why it is important to bridge those divides. Faculty will be exposed to student-centered teaching pedagogies and culturally relevant strategies. Sessions will be designed to reduce implicit bias in the classroom, help faculty develop multicultural digital communication skills, and improving advising efficacy through adoption of strategies that foster success from leading experts.
All programs are funded by the National Science Foundation under Grant No. 1832511.