Student Employment
Student employment positions help students meet the financial needs of pursuing their academic goals while gaining pre-professional experience. Positions are designed to help students develop transferable skills valued by employers after graduation. Student employees are essential to the operations of the University and work in nearly all of the functional areas on campus.

Students can apply for on-campus positions through the academic and career management system, Handshake using the student employment application. Resumes will not be accepted for on-campus jobs. If any information on your application changes while you are seeking on-campus employment, be sure to update the Student Employment Application and re-upload the new copy to your Handshake account.

Majority of positions at the institution do require Federal Work Study eligibility. These positions are labeled FWS-Required. If you are unsure of your eligibility or are currently not eligible, contact Financial Aid for more information. Positions that do not require federal work study typically include tutors, writing consultants, learning assistants, and various mentors. These positions are labeled FWS-Exempt. Student employees are not permitted to exceed the total amount of their federal work study award. Supervisors will work with hired student employees to determine a schedule based on the award amount. Once federal work study funds are completely exhausted, students will need to discontinue working. Regardless of federal work study amount, students cannot exceed 10 hours of work per week during the fall and spring semester.

Positions will post approximately one month before the start of each academic semester.
Student employment handbook
Students and supervisors should review the Student Employment Handbook which outlines student expectations, payroll and regulations as well as information about student employment training and performance evaluations.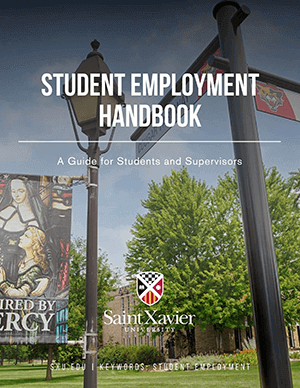 Student employment training
Newly-hired student employees will need to complete a self-paced online training within the first two weeks of being hired. This training covers a variety of topics including:
University Mission, Core Values, and Standards for Student Employment
Diversity
FERPA
Service Excellence Standards and Customer Service
Professional Etiquette and Difficult Situations
Time Management
Time Entry
Student employees will be allowed time to complete the training during their regularly scheduled work hours. The estimated completion time is 40 minutes.
Performance Evaluations
Student employee performance and skill development will be evaluated through both a self-assessment (completed by the student) and a performance evaluation (completed by the supervisor). Emails to complete these items will be sent out about 30 days before the conclusion of each semester from Handshake. Students that receive a stipend do not need to complete the student employment training or performance evaluation.
Supervisor Resources
Student Personnel Action Form (DOC)
I-9 (PDF), IL W4 (PDF), Federal W4 (PDF)
Student Stipend Form (PDF)
COVID-19 Disclaimer
Should the state of Illinois revert to an earlier phase of Governor Pritzker's Restore Illinois plan, University positions including student employees may transition to remote work. Saint Xavier University reserves the right to reduce student employee hours if departmental needs change. Additionally, Saint Xavier University reserves the right to discontinue the employment of any student employee whose responsibilities cannot be carried out remotely. In the event that a student employment position is discontinued, the Center for SUCCESS staff will be available by appointment to help students explore other pre-professional experiences. Please note: the policies of the Student Employment Handbook and Student Code of Conduct extend to student employees working remotely. Students cannot exceed their awarded Federal Work Study amount and cannot work more than 10 hours per week.
Statement of Equal Opportunity
Saint Xavier University is an Equal Opportunity Employer that makes all decisions regarding recruitment, hiring, promotions and all other terms and conditions of employment without discrimination on the grounds of race, color, creed, sex, religion, national or ethnic origin, age, physical or mental disability, veteran status or other factors protected by law. Hiring decisions will be based on the bona fide occupational qualifications of each applicant. The University is committed to diversity and encourages applications from individuals with a wide variety of backgrounds and experiences. Saint Xavier University affirms its position as a Catholic institution, inspired by the heritage of the Sisters of Mercy, and asserts its rights to employ persons who subscribe to the mission, vision and core values of the University.
If you have any questions about student employment, please email studentemployment@sxu.edu.
Student Employment Opportunities