Qualified Teachers in High Demand as Illinois Faces Shortage
The teacher shortage in Illinois has been a severe and growing problem affecting every subject area and region in the state over several years.
In 2018, WQAD-TV (Moline) reported that at least 80% of Illinois school districts reported shortages. As a result, schools have been forced to cancel programs, increase class sizes or use teachers who are not fully licensed in a particular subject area.
To reverse this trend, state representatives have taken actions in the 2019 and 2020 school years to address salary, the basic skills test and other qualifications, as Illinois higher education facilities, including Saint Xavier University, prepare future teachers for a promising future career.
No More Basic Skills Test
In 2019, legislation was passed removing the basic skills test required to earn an Illinois Professional Educator License.
This action was taken to expand the field of prospective teachers, including former student teachers who may have otherwise considered leaving the profession after failing to pass their test. It also means aspiring teachers are no longer required to submit ACT, SAT, or TAP scores to the Illinois State Board of Education before testing for their teaching license.
Being a Qualified Teacher Matters
It is reported that school districts are feeling more inclined to ask retired teachers to return as part-time substitutes because of their qualifications.
It is essential to Illinois school districts that they hire teachers with the appropriate licenses. However, this trend further illustrates that schools need to fill positions with qualified, licensed teachers who strive to utilize their education to enrich the lives of their students and, in turn, their own.
Opportunities for New Teachers
At the start of the 2019-2020 academic year, Fox Business reported that Illinois school districts had more than 4,000 unfilled jobs, with over 1,800 of those jobs being teaching positions.
With an increase to the minimum salary, schools expect new, qualified teachers to apply for these positions. A bachelor's degree and an Illinois Professional Educator License may no longer cut it as more schools opt for teachers with advanced degrees.
A graduate-level teaching degree like a Master of Arts in Teaching (MAT) or a Master of Arts in Education (M.A.Ed.) will do more than help you advance your career. It will empower you to further excel in doing what matters most--inspiring the next generation.
FLEXIBLE CLASS FORMAT OPTIONS
Whether you're a current educator looking to expand your repertoire or an aspiring teacher who'd like to earn a salary while pursuing your teaching license, Saint Xavier University (SXU) has you covered.
With traditional and alternative paths available in a variety of formats--including 100% online, in person and as a combination--SXU makes it easy to find an MAT or M.A.Ed. program that fits your schedule.
Earn Your MAT 100% Online
Traditional Elementary Education Graduate Program
Saint Xavier University offers a 100% online Traditional Elementary Education Graduate Program (MAT in Elementary Education) for Illinois residents across the state. Through this MAT program, you can work toward completing your MAT degree from the comfort of your home while the curriculum prepares you for your Illinois Professional Educator License (PEL) with an endorsement to teach students grades 1-6.
Be Among Peers in a Classroom Setting
Traditional Secondary Education Graduate Program
Saint Xavier's Traditional Secondary Education Graduate Program (M.A.Ed. in Secondary Education) prepares candidates to teach grades 9-12 or PK-12 in one of several specialized areas.
Graduates of the program can increase their effectiveness in the classroom through greater competence in content and methodologies and various instructional strategies.
Special Education Graduate Program
SXU's Special Education Graduate Program (M.A.Ed. in Special Education) prepares you to work with students with disabilities ranging from mild to severe in such positions as a K to age 21 special education teacher, special education coordinator or private practitioner.
The weekly class format grants working adults the flexibility to pursue their degrees while still maintaining their home or workplace responsibilities. With the federal government declaring special education an area of teacher shortage, you may also be eligible for TEACH grants and any other tuition benefits that your district or school offers.
Get the Best of Both Worlds With In-Person and Online Classes
Alternative Secondary Education Graduate Program
Offered online and in person, SXU's Alternative Secondary Education Graduate Program (MAT in Secondary Education) enables candidates to hold a paid position as the teacher of record while pursuing an Illinois PEL.
Alternative Elementary Education Graduate Program
An Alternative Elementary Education Graduate Program leading to the MAT in Elementary Education is also available. With the support of a mentor, University coordinator and site coach, candidates engage in a combination of accelerated coursework and field and teaching experiences leading up to their licensure testing.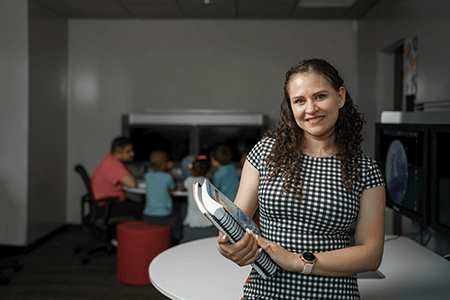 Request Information
Want to know more about graduate programs at Saint Xavier University? Please fill out the form below!
Loading...