B.A. in International Studies
As an International Studies major, you can explore the world outside the United States from a variety of perspectives. Giving you tools from anthropology, politics, literature and history, International Studies guides you in investigating how different cultures, societies and peoples exist and interact.
Explore how our current world came to be, how different cultures organize their societies, and how state interactions affect our daily lives. Develop cross-cultural awareness and find solutions to the global problems we face, such as refugee relief, economic crises and climate change.
program requirements
Learn what it takes to make your impact on an international level. And make it happen, with SXU as your guide and lifelong support. For more information, please review the program requirements and course descriptions in the SXU Academic Catalog.
Global Awareness: Develop a nuanced perspective of your place in the world, cultural interactions, and how global problems should be addressed. Identify and assess basic social issues, politics and culture of one geographic region of the world.
International and Domestic Relations: Learn about different cultures, societies and global issues from a variety of perspectives, using various historical, cultural and social scientific approaches to understand how international relations affect domestic relations.
Critical Thinking: Learn how to question arguments, challenge assumptions and evaluate evidence, and enhance your own skills at constructing sound arguments.
Communication: Formulate and defend a thesis, both in writing and presentation, with confidence in your research and communication skills.
Problem-Solving: Become a better problem-solver as you articulate your research question and implement a research program using your custom design and appropriate methodologies.
Leadership: Develop skills to resolve conflicts and enhance cooperation in working with others, both in and out of class.
Experience: You will have opportunities to apply what you learn in internships, foreign study, simulations and independent research, demonstrating the experience employers seek.
Professionalism: Your experiences and learning will prepare you to interact confidently with others in local and global professional organizations.
Study abroad.
At SXU, you can experience the world in a new, enriching way! Spend a semester studying abroad, immersing yourself in the culture and customs of your chosen destination. Recent students have studied in:
Paris, France
Amsterdam, Netherlands
Seoul, Korea
Lima, Peru
Shanghai, China
Visit the Center for International Education for more information about studying abroad.
Pursue innovative internships around the U.S.
Each semester, you will have the opportunity to intern in Washington D.C. with organizations such as:
The Office of the Attorney General
S. Department of Education
Youth Service America
Poverty and Race Research Action Council
You may also be interested in an internship in Chicago, as recent students have worked with State Representative Robert Rita, Chicago Police Department, US Senator Tammy Duckworth and several local law offices.
History Major
Political Science Major
Political Communication and Advocacy Major
Digital Humanities Minor
Public Administration Minor
Spanish Minor
Request Information
Want to know more about undergraduate programs at Saint Xavier University? Please fill out the form below!
Loading...
Contact the Office of Admission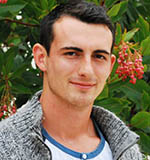 Chance Cutrano, Alumni, Class of 2015
Title: Director of Special Projects and Strategic Initiatives
Institution: Resource Renewal Institute
SXU Major: Political Science, Class of 2015


How has SXU political science helped prepare you for your career/job/life?
The SXU Political Science program provided me with the frameworks and the environment to enhance my critical thinking, public speaking and empathic listening skills. These skills are highly valued in the job market as well as the public arena, where we are able to apply our training as civic leaders.

Moreover, the Political Science professors seamlessly integrated multiple academic disciplines into lectures and classwork. This interdisciplinary approach has greatly benefited me in the workplace, where I must strategically manage a variety of economic, environmental and political assignments.

Studying qualitative and quantitative research methods in my political science classes at SXU has also prepared me for advanced educational pursuits; I am currently pursuing my Master of Public Administration degree in Sustainable Management. Most importantly, I have a significant edge in all my political arguments with friends and family on Facebook.







What aspects of SXU were specifically helpful?
While SXU's Political Science program provided me with the tools to make effective change in the workplace and in my community, their partnership with the Washington Internship Institute in Washington D.C. gave me space and time to apply all of the knowledge I acquired at SXU. The successful experience I had while interning in D.C. is a testament of the quality of education imparted by SXU's Political Science department.

What did you like about Saint Xavier University?
SXU isn't a big institution where you get lost in the crowd. At SXU, and particularly in the Political Science program, I found a tight-knit, diverse community of passionate individuals constructively working to provide me with new ways to look at the world and my role in it. There are plenty of opportunities to learn, to lead and to make lifelong friendships.