Student Commencement Speaker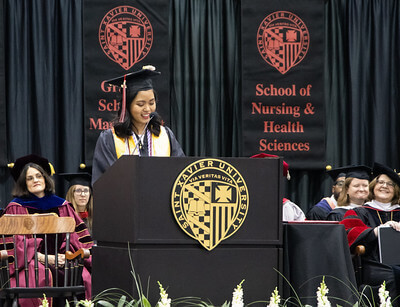 Saint Xavier University's annual Commencement ceremonies will take place on Saturday, May 6, 2023. The University invites undergraduate and graduate students who are graduating in May to apply to present the student commencement address at their ceremony. This is a distinguished honor, and one that can make Commencement memorable for all involved.
One student will be selected from the College of Arts and Sciences and deliver the student commencement address at the 9:30 a.m. ceremony.
One student will be selected from either the School of Nursing and Health Sciences or from the Graham School of Management and will deliver the student commencement address at the 2:30 p.m. ceremony.
Graduating students who are interested in applying to be the student commencement speaker must:
Be scheduled to graduate in May 2023.
Have a current cumulative grade-point average (GPA) of 3.0 (as of end of fall 2022).
Be in good disciplinary standing.
Have a record of outstanding academic achievement, campus involvement and community service.
Submit a written draft of the address they would deliver at Commencement if selected as the speaker.
Be available to present their proposed speech to the selection committee in person (if selected as a semi-finalist).
Application Instructions
A completed Application Form must be submitted online by noon on Monday, March 20.
Completed applications will include a student applicant's:

Statement of interest.
Written draft of a proposed speech (approximately 700 words, or no longer than 3-4 minutes in length); additional guidelines are available in the application form.
Current résumé that highlights their academic achievements, research, community service and campus involvement.

Only completed applications submitted before the stated deadline may be considered.
Application Timeline
Monday, March 20 (Noon): Completed applications due (submitted online only).
Tuesday, March 28 (2-4 p.m.): Invited semi-finalists deliver proposed speeches in person to the selection committee.
Friday, March 31: Finalists selected; all applicants notified via email.
Questions?
Finalists selected as the 2023 student commencement speakers will be mentored in the weeks before delivering the speech at the ceremonies on May 6.
Questions about the student commencement speaker selection process may be directed to deanofstudentsFREESXU.