Student Commencement Speaker
Guidelines for 2022 Commencement
Saint Xavier University invites students -- undergraduate and graduate -- to apply to be a commencement speaker. It is a distinguished honor for a student to be selected to present a commencement speech; one that may be included on a resume.

One student will be selected from either the School of Nursing & Health Sciences or Graham School of Management to deliver an address at the May 7 ceremony at 9:30am.
One student will be selected from the College of Arts & Sciences to deliver an address at the May 7 ceremony at 2:30pm.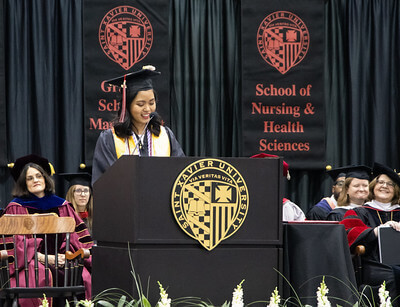 Speeches should address the following:
How have you been shaped by the mission of SXU, which is rooted in our Mercy heritage? Include examples from collegiate life, course work, co-curricular involvement, service, reflection on a Core Value, peer and other relationships developed, etc.
Saint Xavier University just celebrated its 175th anniversary. Speak to the transformative power of being immersed in an SXU Mercy education; specifically, how the 175 year legacy of the Sisters of Mercy and Saint Xavier has transformed your life.
What does the phrase "calling all doers" mean to you? How have you been "called as a doer" or challenged others to this call?
Share information about your personal development and future outlook -- speaking to "the best in you."
How have your personal experiences as a student shaped your educational journey at SXU and developed a desire for you to want to make a change in the world?
The speech should:
Utilize language that is inspiring, yet accessible
Appeal to and capture the attention of a broad audience
Be inclusive of the undergraduate and graduate student experience
Include creative and appealing techniques such as metaphors, stories, brief quotes or humor
Illuminate the universal experience of being a student
Be structured around a Mercy theme using descriptive examples reflective of the broader student experience at SXU
Be three to four minutes in length, or approximately 700 words
A committee will select the student speakers.
Speech Evaluation
The committee utilizes the following rubric as an evaluative tool for each speech and speech presentation:

Speech Content
| | | | | |
| --- | --- | --- | --- | --- |
| The Student's Speech | Poor | Average | Very Good | Excellent |
| Thoughtfully reflects on how his/her personal experiences at SXU have shaped his/her journey | | | | |
| Thoughtfully reflects on the impact of a Mercy Education, uses specific examples as well as effective language to illustrate his/her message | | | | |
| Appeals to a broad audience of graduates, guests, and SXU community members | | | | |

Speech Delivery
| | | | | |
| --- | --- | --- | --- | --- |
| The Student | Poor | Average | Very Good | Excellent |
| Effectively engages the audience and holds its attention | | | | |
| Uses appropriate pronunciation, volume and inflection | | | | |
| Maintains eye contact throughout the presentation | | | | |
| Displays appropriate self-confidence and comfort speaking before an audience | | | | |
Complete the SXU Student Commencement Speaker Application 2022 Form by Friday, March 25, 2022, which includes the required items listed below.


Statement of interest that includes contact information (phone number and SXU email)
Written draft of speech
Current resume that includes academic achievements, research, campus involvement and volunteerism
Questions?
Questions about the student speaker selection process may be directed to commencementFREESXU.