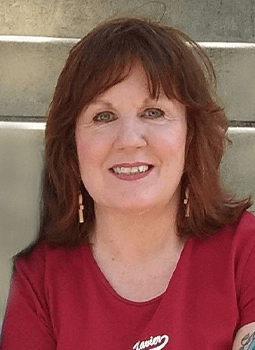 FACULTY AND STAFF
Marianne McGeary
Title:
Adjunct Faculty
Email:
mcgeary@sxu.edu
Department:
Language and Literature
---
Biography
Marianne J. McGeary spent twenty years in secondary education before joining the Saint Xavier Education Department. Teaching English, journalism, speech and drama classes as well as directing school plays, she moved from Brother Rice High School to Riverside Brookfield High School. She continued on to Chicago Public Schools at Marine Leadership Academy as English department chair. There, she led the Dual Credit program with Malcolm X College, a City College of Chicago.
In spring 2018, McGeary began teaching at SXU, her alma mater. As an education and English adjunct professor, she is teaching a variety of classes mainly concerned with authentic literacy.
McGeary, a South Sider who grew up in the Roseland neighborhood, enjoys visiting parks and festivals all over Chicago. When traveling, she and her North Sider husband visit Dublin -- James Joyce country -- and England's Lake District, home to William Wordsworth.
---
Education
M.A. in English
Southern New Hampshire University
M.A. in Secondary Education
Saint Xavier University
B.A. in English and Theater
Roosevelt University
---
Courses Taught
Introduction to Shakespeare
Literacy Instruction for Diverse Learners
Introduction to Literature
Seminar in Teaching and Learning
Alternative Licensure: Residency I and II
Directed Teaching, Middle and Secondary
Selected Awards and Professional Affiliations
National Council of Teachers of English member
Sigma Tau Delta, International English Honor Society, 2016
Outstanding Graduate, South New Hampshire University, 2016
College Advising Credential, Chicago Public Schools, 2015
National Board Certified Teacher (NBCT), 2010
CPS Golden Mentor, 2007
Chicago Northern Illinois School Press Association Excellence in Journalism Award (advisor), 2004
---
Presentations/Publications/Productions
"Taking Charge of Your Career Path Through Reinvention: The Japanese Philosophy of Ikigai," Marine Leadership Academy, Career Day, 2019
"The Celtic Revolution of Myth and Tragedy in Irish Theater," 2016 thesis
"Backstage and Down Center: The Process of Student Development That Occurs in a High School Theatrical Production," 2006 thesis
"Second City Style Improvisation," Illinois High School Theater Festival, ISU workshop class, 2003