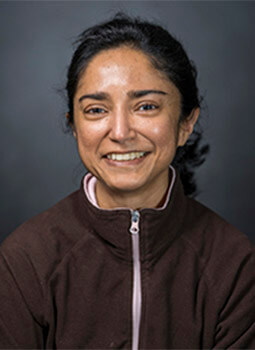 FACULTY AND STAFF
Aisha Karim
| | |
| --- | --- |
| Title: | Associate Professor |
| Office: | Warde Academic Center |
| Phone: | 773-298-3719 |
| Email: | karim@sxu.edu |
| Department: | Language and Literature |
---
Biography
I am broadly interested in exploring how novels work within the world economic system. My current research focuses on the ways in which contemporary Nigerian and Indian novels attempt to posit solutions to the problem of national economic dependency upon the world superpowers, but also recognize their inability to imagine alternatives to global capitalism.
The result is texts that posit solutions to the state of national economic turmoil, only to retract the solutions as unviable. This simultaneous attempt to solve a problem and retract the solution places the novels in a paralytic double bind, from which emerges a literary artifact that can only be compared to a consciousness in its own right. I am currently working on these issues in a manuscript titled "The Orphaned Text: A Theory of the Contemporary Third-World Novel."
I love teaching, gardening and cooking. What I do not like at all, but do anyway, because work is work: grading and endless faculty meetings.
---
Education
Ph.D.
Duke University
B.A.
University of Michigan
Areas of Specialization
My area of specialty is contemporary English literature from the ex-British colonies.
---
Courses Taught
English 120: Rhetoric and Writing
English 160: Writing and Resistance
English 313: Modern African Literature
English 340: Critical Theory
English 349: World Literature
Selected Honors/Awards
Phi Beta Kappa, lifetime member
College of Arts and Sciences Research Grant, Saint Xavier University, 2007
John Hope Franklin Fellow, Duke University, 1999
H.F. Guggenheim Foundation Research Grant, 1998
H.F. Guggenheim Foundation Course Development Grant, 1998
Mellon Fellowship for the Humanities, Woodrow Wilson Foundation, 1994
---
Publications
"Representation in Crisis in Wole Soyinka's Season of Anomy," Mediations, 24:2, 2010
On Violence: A Reader, co-edited with Professor Bruce Lawrence, Duke University Press, 2008
Poetry and Protest: A Dennis Brutus Reader, co-edited with Lee Sustar; anthology of the work of South African poet and activist, Dennis Brutus;
Haymarket Press, Chicago; co-published by University of Kwazulu-Natal Press, South Africa; and by James Currey, London, UK, 2006