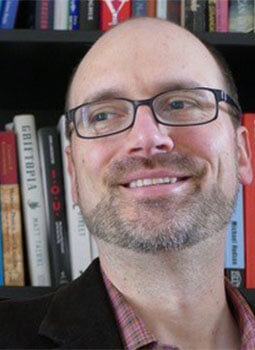 FACULTY AND STAFF
Forrest Perry
| | |
| --- | --- |
| Title: | Associate Professor |
| Office: | Warde Academic Center |
| Phone: | 773-298-3455 |
| Email: | perry@sxu.edu |
| Department: | Philosophy |
---
Biography
Running throughout his research and teaching is an interest in what it would take for us to build and live in a genuinely democratic society. Forrest Perry explores that interest by focusing on freedom, property, capitalism, socialism, racism, the environment, and education.
---
Doctorate in Philosophy
Vanderbilt University
Bachelor of Arts
Wesleyan University
Areas of Specialization
Social and Political Philosophy
Political Economy
Philosophy of Race and Racism
Philosophy of Education
Late Modern Philosophy
Karl Marx
John Dewey
Pierre Bourdieu
---
Courses Taught
PHIL 140: The Examined Life
PHIL 202: Special Topic: Property, Race and Imperialism
PHIL 202: Special Topic: Education and the Media
PHIL 241: Philosophy and Sustainability
PHIL 246: Education and Society
PHIL 254: Philosophy and Race
PHIL 265: Political Philosophy
PHIL 285: Philosophy of Human Nature
PHIL 377: Late Modern Philosophy
PHIL 390: Senior Seminar
Selected Honors/Awards
College of Arts and Sciences Summer Research Grant (2015) to help fund participation in a five-day seminar and tour of the world's largest, longest-standing, and most successful collective of democratically owned and controlled companies, the

Mondragón

Cooperative Corporation (MCC), located in northern Spain.
Participant in the National Endowment for the Humanities Summer Institute, "Teaching the History of Political Economy," sponsored by the Center for the History of Political Economy, June 7 to June 25, 2010 at Duke University.
Saint Xavier University Excellence in Teaching Award, 2009-2010
---
Presentations
"The Educative Potential of Workplace Democracy: A Critical Reading of Jane Addams on Educational Methods." November 2014. Eleventh Biennial Meeting of the Radical Philosophy Association, SUNY Stony Brook (Stony Brook, NY).
"Greed and Capitalism." November 2010. Ninth Biennial Radical Philosophy Association International/National Conference. University of Oregon (Eugene, OR).
"Free Property: Applying the U.S. Constitution's Communist Principle to the Means of Production." June 2010. The 27th International Social Philosophy Conference. Ryerson University (Toronto, Ontario).
"Class(room) Matters: Cross-Disciplinary Pedagogical Approaches to Class." June 2009. The Working Class Studies Association's "Class Matters" conference. University of Pittsburgh (Pittsburgh, PA).
"Hip Rebellion: Counter-cultural or Counter-Working Class?" June 2007. Working Class Studies Association Conference. Macalester College (St. Paul, MN).
Productions
"Skip the (capitalist) intermediaries: freedom, democracy, and participation in the economy and culture." Communication, Capitalism, and Critique 14, no. 1 (2016).
"Reducing racial prejudice through workplace democracy." Journal of Social Philosophy 45, no. 2 (Summer 2014): 203-27.
"Corrupting the youth." Teaching Philosophy 37, no. 2 (June 2014): 171-190.
"The class dimension of hip rebellion." Rethinking Marxism: A Journal of Economics, Culture, and Society 25, no. 2 (2013): 163-83.
With Amanda Holmes, review of On Civic Friendship: Including Women in the State, by Sibyl Schwarzenbach (Columbia University Press, 2009). Teaching Philosophy 33, no. 3 (September 2010): 326-30.
Review of Freedom in the Workplace?, by Gertrude Ezorsky. Teaching Philosophy 31, no. 2 (June 2008): 188-192.
"Why hipsters aren't all that hip," a review of Neo-Bohemia: Art and Commerce in the Postindustrial City, by Richard Lloyd. Monthly Review 58, no. 4 (September 2006): 58-63.