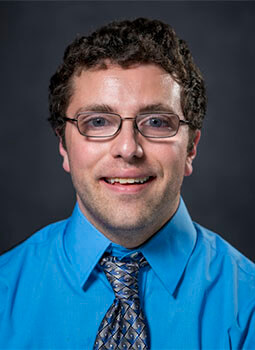 FACULTY AND STAFF
Gregory DeGirolamo
| | |
| --- | --- |
| Title: | Assistant Professor |
| Office: | Warde Academic Center |
| Phone: | 773-298-3477 |
| Email: | degirolamo@sxu.edu |
| Department: | Psychology |
---
Biography
Dr. Gregory DeGirolamo earned his Ph.D in Psychology with a focus in Developmental and Cognitive Psychology from the University of Nebraska-Lincoln in 2018. He also completed an M.S. in Experimental Psychology with a focus in Behavioral Neuroscience from Cleveland State University in 2012. Dr. DeGirolamo was a postdoctoral fellow in the Department of Neuroscience at the Cleveland Clinic from 2017-2019 before starting at SXU in fall 2019.
Dr. DeGirolamo's primary research examines how different aspects of spatial cognition change across the lifespan. He is especially interested in spatial memory and the factors that influence how we remember locations, form mental maps, and navigate the world around us. In terms of development, Dr. DeGirolamo's main focus is interested in the factors that influence how spatial memory changes from young adulthood through old age and what separates healthy aging from clinical aging (e.g. why do some people develop Alzheimer's while other people do not). He is also open to researching how spatial memory changes in childhood and adolescence.
A second research interest of Dr. DeGirolamo is using EEG and biological techniques to study how the brain and behavior develop. Dr. DeGirolamo has also done research on how spatial memory changes in adolescence, the use of deep brain stimulation to treat motor deficits caused by stroke.
Please email Dr. DeGirolamo (degirolamoFREESXU) if you are interested in conducting research with him.
---
Education
Ph.D. in Psychology
University of Nebraska-Lincoln
M.S. in Experimental Psychology
Cleveland State University
Areas of Specialization
Cognition
Development
Developmental Neuroscience
Memory
Spatial Cognition
Aging
Changes in spatial memory across the lifespan
---
Courses Taught
PSYCH 101: Introduction to Psychology
PSYCH 199: Lifespan Development
PSYCH 224: Adulthood and Aging
PSYCH 312: Sensation and Perception
PSYCH 315: Cognitive Psychology
---
Publications
Schutte, A.R. & DeGirolamo, G.J. (2019) Test of a dynamic neural field model: Spatial working memory is biased away from distractors. Psychological Research.
Schutte, A. R., & DeGirolamo, G. J. (2018). Dynamical systems approaches. In B. Hopkins, E. Geangu, & S. Linkenauger (Eds.), Cambridge Encyclopedia of Child Development (pp60-70). Cambridge: Cambridge University Press
Yamamoto N and DeGirolamo GJ (2012). Differential effects of aging on spatial learning through exploratory navigation and map reading. Frontiers in Aging Neuroscience. 4:14.
Presentations
Baker, K.B., Lempke, S., Jones, S., Floden, D., Park, H.J., DeGirolamo, G.J., Gopalakrishnam, R., Wyant, A., Potter, K., Lin, Y.L., Machado, A.G. (2018, April). Deep cerebellar electrical stimulation for post stroke recovery. Poster presented at the 4th Annual Brain Initiative Investigators Meeting, April 9-11, 2018; Rockville, MD.
DeGirolamo, G.J., Ness, E., Franzen, E., Thomas J., & Schutte A.R. (2016, August) The impact of distractors on memory for spatial locations: A test of Dynamic Field Theory. Poster presented at Spatial Cognition 2016, August 2-5, 2016; Philadelphia, PA
Ness, E., Franzen, E., Thomas, J. DeGirolamo, G.J. Sain, H., McLaughlin, L., Sphor, L., & Schutte, A.R. (2016, March). The relationship between executive attention and spatial working memory in adults. Poster presented at The Great Plains Students' Psychology Convention, March 11-12, 2016; Kearney, NE.
Schutte, A.R. & DeGirolamo, G.J. (2015, November). Spatial memory biases when remembering multiple targets depends on age and gender. Poster presented at the Psychonomic Society 56th Annual Meeting, November 19-22, 2015; Chicago IL
DeGirolamo, G.J. & Schutte, A.R. (2015, March). Influence of perspective and pubertal development on spatial cognition. Poster presented at the Society for Research in Child Development Biennial Meeting, March 19-21, 2015; Philadelphia, PA
DeGirolamo, G.J. & Schutte, A.R. (2014, November). Neurocognitive changes in late adulthood: A dynamic field theory approach. Poster presented at the 44th Annual Society for Neuroscience Meeting, Nov 15-19, 2014; Washington DC