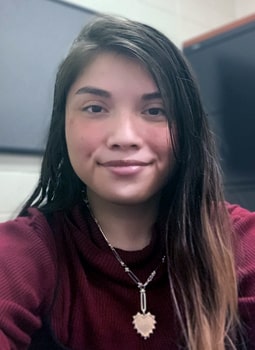 FACULTY AND STAFF
Maria Dorado
| | |
| --- | --- |
| Title: | Academic Support Coach |
| Office: | Warde Academic Center |
| Phone: | 773-298-3153 |
| Email: | dorado@sxu.edu |
| Department: | CNTR Learning & Stud. Support |
---
Biography
Maria Dorado graduated from Saint Xavier University in 2020 with a bachelor's degree in English, completing double concentrations in global literature and writing and rhetoric and a minor in Latino studies. During her time as a student, Dorado worked on campus as a call center aide, learning assistant, writing consultant, and copyeditor for The Xavierite. She now works as an academic support coach.
Dorado is a big fan of the revision process and loves helping others improve their writing. After taking a gap year, she pursued a master's degree in English literature and publishing from DePaul University as a means to combine two of her passions: literature analysis and editorial work. Dorado was awarded a graduate assistantship from the DePaul English Department with a placement in their Writing Center; she served as the events student leader there and aided in logistical support for Writing Center events, including assisting with the 2023 IWCA Collaborative.
While in grad school, Dorado also had the opportunity of serving as managing editor for Issue 3 and Issue 4 of the DePaul Writing Center's literary magazine, The Orange Couch. Additionally, she served as copyeditor for Volume 15 and Volume 16 of the LAS undergraduate scholarship journal, Creating Knowledge.
In her leisure, Dorado enjoys attending live music and standup events, learning new hobbies, and reading and writing.
---
Education
M.A. in English Literature and Publishing
DePaul University
B.A. in English
Saint Xavier University
Areas of Specialization
Editorial Process
Writing Center Pedagogy
---
Selected Honors/Awards
Graduate Assistantship, DePaul English Department, 2021-2023
Thomas Deegan Memorial Scholarship, SXU Language and Literature Department, 2019-2020
---
Presentations/Publications/Productions
"Men Doing the Bare Minimum in Victorian Literature: The Villainization of Sexual Women and Glorification of 'Do-Nothing' Men in Charles Dickens's Hard Times and Lord Alfred Tennyson's 'The Lady of Shalott' (1832, 1842)." Paper presentation at DePaul University's Spring English Conference, Chicago, IL, May 12, 2023.
"The Dangers of Reminiscing: An Exploration of Self-Inflicted Unhappiness in Dalloway." Paper presentation at DePaul University's Spring English Conference, Chicago, IL, May 13, 2022.