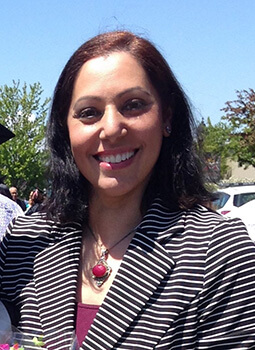 FACULTY AND STAFF
Manal Kanaan
| | |
| --- | --- |
| Title: | Dir. High Impact Practices |
| Office: | Warde Academic Center |
| Phone: | 773-298-3150 |
| Email: | kanaan@sxu.edu |
| Department: | Center for Success |
---
Biography
Dr. Manal Kanaan, director of High Impact Practices, is in charge of creating and supporting an institution-wide framework to enhance curricular and co-curricular programs through high-impact educational experiences. Dr. Kanaan's work also involves implementing evidence-based pedagogies and culturally relevant practices across the curricula.
In addition to her role as Director of High Impact Practices under the Title V CASA grant (P031S190311) Dr. Kanaan serves as adjunct faculty in the Language and Literature Department, teaching writing, rhetoric and discourse. In the summer months, Dr. Kanaan also teaches English language writing and speech courses online for international Ph.D. students at The University of Chicago.
Dr. Kanaan previously served as an SXU student support specialist, working with first-generation students, students from limited-income households and students with documented disabilities, supporting and nurturing their academic, social and emotional well-being to ensure their successful college completion.
In her spare time, Dr. Kanaan enjoys going to the movies, dining out and spending time with her husband and two children. She also enjoys cooking ethnic dishes and baking Middle Eastern desserts and pastries. Next to perusing all types of bookstores, going for long walks on cool, crisp days surrounded by nature is her favorite activity.
---
Education
Doctor of Education in Leadership, Learning and Stewardship
University of St. Francis
Master of Arts in ESL/Bilingual and Multicultural Education (TESOL)
Saint Xavier University
Bachelor of Arts in Language and Literature
Saint Xavier University
Areas of Specialization
Student Support Specialist
Advising and Mentoring
Financial Literacy
Academic and Career Planning
Cultural Sensitivity, Inclusion and Diversity
Writing Professor
Writing, Rhetoric and Discourse
Second Language Acquisition
Culturally Responsive Teaching
Multicultural Education
TESOL (Teaching English To Speakers of Other Languages)
---
Certifications
TESOL Certification
ESL/Bilingual Education Certification
English Language Assessment Certification
Diversity, Equity and Inclusion Certification
Online Teaching Certification
FERPA for Higher Education Certification
---
Courses Taught
ENGL 120: Rhetoric and Writing
ENGL-B 120: Rhetoric and Writing Lab
EDU 368/EDGTE 484: Assessment of Bilingual Students (Undergraduate/Graduate)
ESL: Intensive English Language Writing, Reading, Speech and Grammar
Selected Honors/Awards
SXU Adjunct Teaching Excellence Award Recipient, 2021
SXU President's Staff Excellence Award Nominee, 2020
Kappa Delta Pi Education Honor Society Member
National Council of Teachers of English Member
---
Presentations/Publications/Productions
"The Impact of Culturally Responsive and Empathic Teaching on Writing Performance and Positive Self-identity of College English Language Learners in an Introductory Writing Course."
"Teaching Without Borders: An Improvement Plan for Understanding, Valuing, and Educating ELL Refugees and Immigrants in a Warm and Welcoming Classroom Climate."
"Three Effective Measures for Ensuring Equal Opportunities for English Language Learners: Fair Assessment, Corrective Feedback, and Appropriate Accommodations."
"Stress Management for International ESL Graduate Students."
Kanaan, M. M. (2018). The impact of culturally responsive and empathic teaching on writing performance and positive self-identity of college English language learners in an introductory writing course (Doctoral dissertation). University of St. Francis, Joliet, IL. ProQuest Number 10975051.