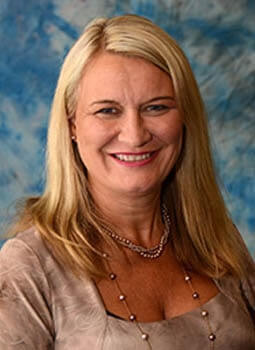 FACULTY AND STAFF
Cheryl Luczak
| | |
| --- | --- |
| Title: | Associate Professor |
| Office: | Graham School of Management |
| Phone: | 773-341-5014 |
| Email: | luczak@sxu.edu |
| Department: | Graham School of Management |
---
Biography
Cheryl Luczak, Ph.D., is an associate professor of Marketing at the Graham School of Management Saint Xavier University. Dr. Luczak earned her Ph.D. in Marketing from the University of Illinois at Chicago and she holds an MBA in Marketing from Northeastern Illinois University and a B.S. in Finance from Northern Illinois University.
Dr. Luczak has spent over 15 years in marketing and sales and actively consults in the areas of market strategy, value delivery and collaboration and service leadership. Dr. Luczak has won several "Distinguished Research Awards" and her work has appeared in various scholarly outlets including the Academy of Marketing Studies Journal and the Academy of Entrepreneurship Journal.
Dr. Luczak's commitment to service aligns with Saint Xavier University's core values of respect, excellence, compassion, service, hospitality, integrity, diversity and learning for life. Leading her service initiatives for service excellence, she serves as a leading source for students, alumni and the business community as they pursue service excellence through innovative student consulting projects and hands on experience in the business arena. She established a partnership with the National Foundation for Teaching Entrepreneurship, which has resulted in a series of mentorship workshops for high school students who are mentored by business students from the Graham School of Management.
Dr. Luczak also serves on the Board of Directors for the Park Lawn Association, a non-profit organization offering a variety of programs and services for individuals with intellectual and developmental disabilities. She also currently serves on the finance committee of Saint Xavier University's Board of Trustees and several other university committees.
Dr. Luczak is a member of Saint Edna's Catholic Church and has served as a catechist for the Archdiocese of Chicago teaching preparatory classes for the Sacrament of Confirmation into the Catholic Church. The Luczak family resides in Arlington Heights. She has been happily married to her husband, Brian, for 24 years and they have two beautiful daughters.
View Cheryl Luczak's resume.
---
Education
Ph.D. in Marketing
University of Illinois, Chicago (2009)
---