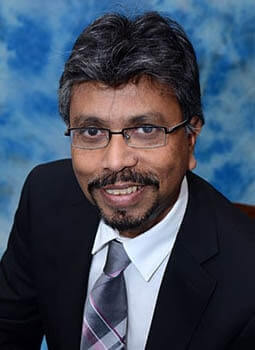 FACULTY AND STAFF
Monzurul Hoque
| | |
| --- | --- |
| Title: | Professor |
| Office: | Graham School of Management |
| Phone: | 773-298-3616 |
| Email: | hoque@sxu.edu |
| Department: | Graham School of Management |
---
Biography
Dr. Monzurul Hoque is professor of Finance at the Graham School of Management. He has more than 25 years of professional experience. Dr. Hoque served on the School's executive leadership team, was a key member of its successful AACSB initial accreditation team, completed eight year term as founding Chair of Economics, Finance and Quantitative Analysis and four-year term as founding Chair of the School's Assurance of Learning Committee.
He is committed to curricular innovation and led the development of GSM's Finance program and interdisciplinary collaboration with Computer Science and Mathematics. He created the School's Financial Trading and Practices Program in 1995 and led the program for ten years. He procured the grant from CQG to develop the University's first financial trading lab.
Dr. Hoque holds leadership positions in professional finance organizations, including serving as President of the Academy of Finance in 2004-05. He was recently awarded for his decade of distinguished service as the Editor of the Journal of Finance Issues. He is also a member of the Editorial Board of International Journal of Finance and Accounting Studies and the Journal of Asia-Pacific Business. He has published more than 40 articles in peer-reviewed journals. Dr. Hoque holds an M.S. in Finance and a Ph.D. in Economics from the University of Illinois, Urbana-Champaign.
---
Education
Ph.D. in Economics
University of Illinois (1987)
Recent Peer Reviewed Presentations in Referred Conferences
"Urban Renewal and Urban Decay -- Are these two faces of Gentrification?" at the Academy of Finance of MBAA in March 2018.
"The Risk Management Analysis Using Normal Backwardation and Contango in Futures Markets," at the Academy of Finance of MBAA in March 2018.
"Crypto currencies and the Future of Money," at the Academy of Finance of MBAA in March 2018.
---
Recent Peer Reviewed Journal Articles
"Intellectual Contributions made through the Academy of Finance Journals: 2003-2016" with T. Krueger in Journal of Finance Issues, Vol. 17, Issue 1 (2018).
"Do Voluntary Cash Flow Disclosures and Forecasts Matter to Value of the Firms?" with Kenneth C. Rakow, Managerial Finance, Vol. 42, Issue 1 (2016) pp. 3-12, DOI:10.1108/MF-09-2015-0253, ISSN: 0307-4358.
"Constrained Optimization and Opportunity Cost -- Case of Islamic Fund," with Mustafa Dah and Song Wang. Managerial Finance, Vol. 41 Issue: 4 (2015), pp.348 -- 367
---