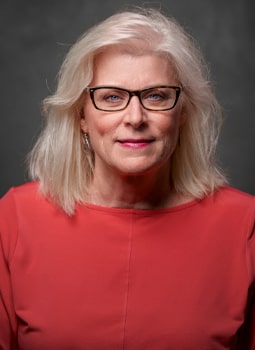 FACULTY AND STAFF
Ann Miller
| | |
| --- | --- |
| Title: | Assistant Professor |
| Office: | Warde Academic Center |
| Phone: | 773-298-3418 |
| Email: | amiller@sxu.edu |
| Department: | Nursing |
---
Biography
Ann Miller is a proud alumna of Saint Xavier University and joined the School of Nursing and Health Sciences (SONHS) faculty as full-time assistant professor in August 2022. She has worked in critical care for nearly 40 years and is a critical care advanced practice nurse. More recently, she opened an outpatient heart failure clinic in a provider role from 2013-2019. Miller and three of her six siblings are graduates of SXU, along with her husband, Bob, and daughter Jeanie '09. Miller has three adult children and four grandchildren. She enjoys spending time with her grandchildren, relaxing in Michigan, and attending get-togethers with family and friends.
---
Education
Doctor of Nursing Practice
Governors State University
Master of Science in Nursing
Governors State University
Bachelor of Science in Nursing
Saint Xavier University
Areas of Specialization
Critical care advanced practice nursing (traditional CNS roles).
Cardiology: stress test supervision/heart failure clinic provider.
Emergency medical care; adult intensive care; cardiac catheterization lab; telemetry.
---
Certification/Licensure
Advanced Practice Nurse (APRN), Illinois, FPA.
APRN Controlled Substance, Illinois, FPA.
Registered Nurse, Illinois.
Certified Critical Care Clinical Nurse Specialist (CCNS).
Certified Critical Care Registered Nurse (CCRN).
CMC Cardiac Medicine Certification.
Chair Specialized Clinical Interests
Cardiology: preventative, interventional, surgical.
Heart failure therapies.
---
Courses Taught
NURS 449: Pharmacology
NURS 102: Nursing Concepts and Roles
NURSP 334: Junior I Clinical
Selected Honors/Awards
Daisy Award for Extraordinary Nurses nominee/recipient as APRN in outpatient heart failure clinic (nominated by patient in 2018 at LCMH).
Outstanding Doctoral Student, Governors State University, May 2010.
International Honor Society Inductee, Sigma Theta Tau Lambda Lambda Chapter, May 1992.
International Honor Society Inductee, Sigma Theta Tau Alpha Omicron Chapter, May 1982.
---
Presentations/Publications/Productions
Aversano T., Lemmon, C. C., Liu, L. (2012). "Outcomes of PCI at Hospitals with or without On-Site Cardiac Surgery." New England Journal of Medicine, 366, 1792-1802. Study nurse contributor.
Maynard C., Swenson R., Paris J.A., Martin J.S., Hallstrom A. P., Cerqueira M.D., Weaver W.D. (1998). "Randomized, controlled trial of RheothRx (poloxamer 188) in patients with suspected acute myocardial infarction." American Heart Journal, 135 (5 1), 797-804. Study nurse contributor.
Miller, A. L. (2010). "Development of Online Student Nurse Hospital Orientation Program-Doctoral Capstone Project," Governors State University, November 8, 2010.
Miller (Gallagher), A. L. (1992). "Perceptions of Emergency Nurses Toward Orientation Programs." Graduate unpublished thesis, Governors State University Library.
"Heart Failure and Heart Failure Clinic Education." Community presentation at LCMH Adult Health Fair, April 2015.
"Heart and Soul Heart Failure." Lecture for Saint Xavier University's Renaissance Program. April 2015.
Sole APRN provider at heart failure clinic at LCMH, May 2013 through January 2019.
"Drugs That Can Short Circuit Your Heart." Health Academy community event at LCMH, May 2013.