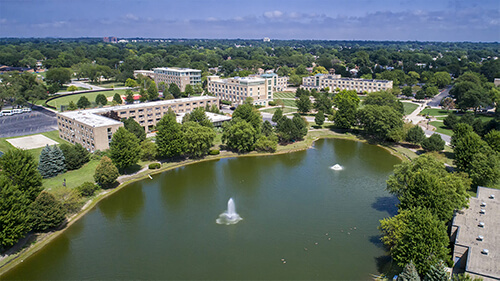 For the Media
Saint Xavier University (SXU) responds to the needs of journalists from local, regional and national media outlets seeking information and interview opportunities with the University's thought leaders. SXU's campus community is one filled with published leaders and innovators who engage in research, have extensive experience, inspire students and serve as influencers in their respective fields of study. Contact the Office of Media Relations and connect with an expert.
Founded in 1846 by the Sisters of Mercy, Saint Xavier University is a private, Catholic, four-year, coeducational institution that provides a transformative educational experience to more than 3,500 undergraduate and graduate students who are prepared to become compassionate leaders in their field of study and their communities. As a mission-driven, student-centered institution, Saint Xavier educates for competence, character and career success, with program offerings through our College of Liberal Arts and Education and College of Nursing, Health Sciences and Business. Recognizing Saint Xavier's excellence in education, U.S. News & World Report has ranked SXU consistently among the best colleges among regional universities in the Midwest.

SXU Experts Guide
Saint Xavier works with Journalists to meet their needs and connect them with a member of our campus community to enhance their coverage. Contact the Office of Media Relations at:

SXU In The News
SXU's Office of Media Relations works to ensure the University remains visible and prominent in the ever-changing news media arena.

Photo Gallery
Need to download a high-resolution Image of campus to fit your media needs? Take a virtual tour of campus and browse through the University's online photo gallery.