We thank you for your patience and understanding and are pleased to announce the Shannon Athletic Center (including locker facilities) is now officially open to community members.
The 85,000 sq. ft. facility's main arena seats 3,000 people for athletic events and special occasions such as graduation ceremonies, academic convocations and concerts.
The Shannon Athletic and Convocation Center contains:
Fitness Center
Two Recreation Gyms
Indoor Running Track (1/8 mile)
One Racquetball Court
Group Exercise/Dance Studio
Athletic Training Room - for SXU Athletes only
Offices for Coaches/Staff
Locker Rooms
Meeting Rooms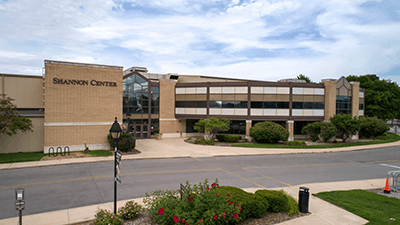 Contact the Shannon Center
Phone: 773-298-3597
Email: shannoncenterFREESXU
M-F: 7 a.m. to 7 p.m.
Sat: 9 a.m. to 5 p.m.
Sun: 10 a.m. to 4 p.m.
Launch Athletics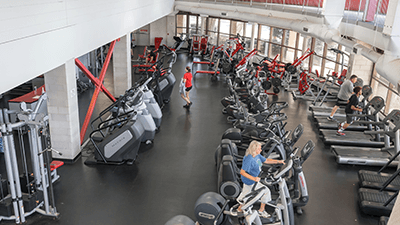 Fitness Center
The fitness center features Iron Grip (plate-loaded) equipment and Iron Grip dumbbells, Hammer Strength weight plated and Matrix weight machines, along with 29 pieces of cardiovascular equipment featuring:
8 Elliptical Trainers (Life Fitness and Precor)
8 Treadmills (Woodway and Life Fitness)
5 Recumbent Bikes (Life Fitness)
2 Upright Bikes (Life Fitness)
2 ClimbMills (Matrix)
2 Rowing Machines (Matrix)
2 Stairmasters
2 new Matrix Recumbent Bikes (on the second floor around the track)
Memberships
The Shannon Center is a private campus facility free for SXU students, faculty/staff, and Sisters of Mercy with a current Cougar ID card. Check out our membership page for more information.
All patrons using the Shannon Center must have a current SXU ID and sign in and swipe in at the Shannon Center front desk located in the middle of the lobby.
Intramurals
Intramurals are intended for SXU students, faculty and staff only.
Looking to have a great time while staying active? Do you want to meet a diverse group of people playing a sport you love or while trying something new? Saint Xavier University invites you to take part in its wide variety of sports activities offered in the Intramural Program. Intramurals are open to all Saint Xavier University students, faculty and staff.
Go to the Intramural website to register for Intramural activities.
Club Sports
Saint Xavier University now offers club sports for students! Please check out the information regarding Club Sports.