Calling all SXU sweethearts! Share your story with us by emailing alumniFREESXU if you met at Saint Xavier University.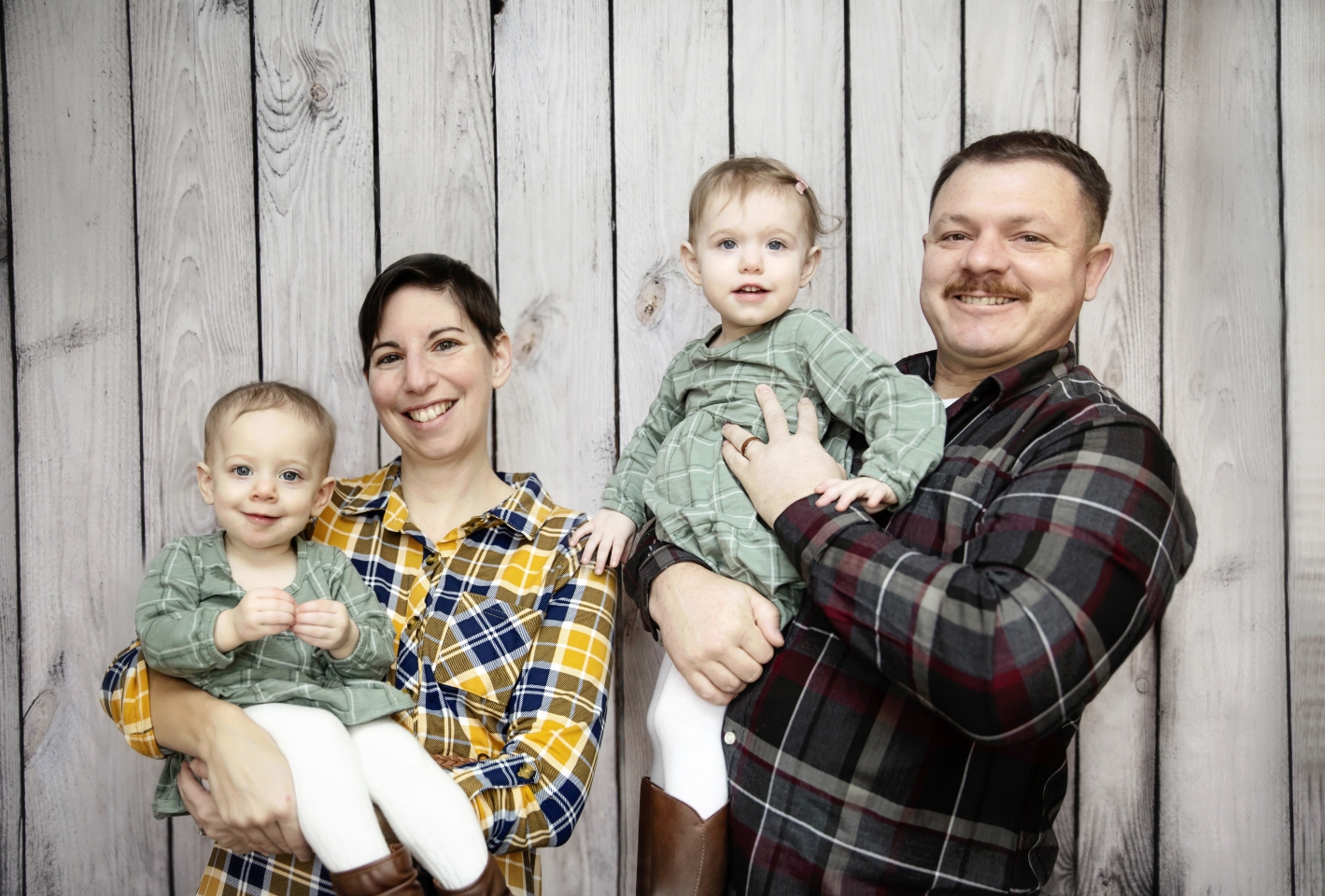 Stephanie (Stavrenos) Dumais '17 and Matthew Dumais '16
Matt and Stephanie met in the Student Veteran Resource Center when they were both using the GI Bill to attend SXU. On February 14, 2022 they will celebrate 7 years since their first date. They were married in 2018 and their girls Caolila and Quinn were born in 2019 and 2020 respectively.
Jessica Reyes Potrawski '16 and Michael Potrawski '15
Jessica (criminal justice) and Michael (accounting ) met while working in Media Services together in the spring of 2014. Since then, they have been inseparable and were married on September 1, 2018. Jessica and Michael both work in the Loop. Jessica is a legal assistant at an immigration law firm and Michael is a senior tax accountant at Morton Salt. The pair love to travel and celebrated their honeymoon in London and Paris. They currently reside in Alsip.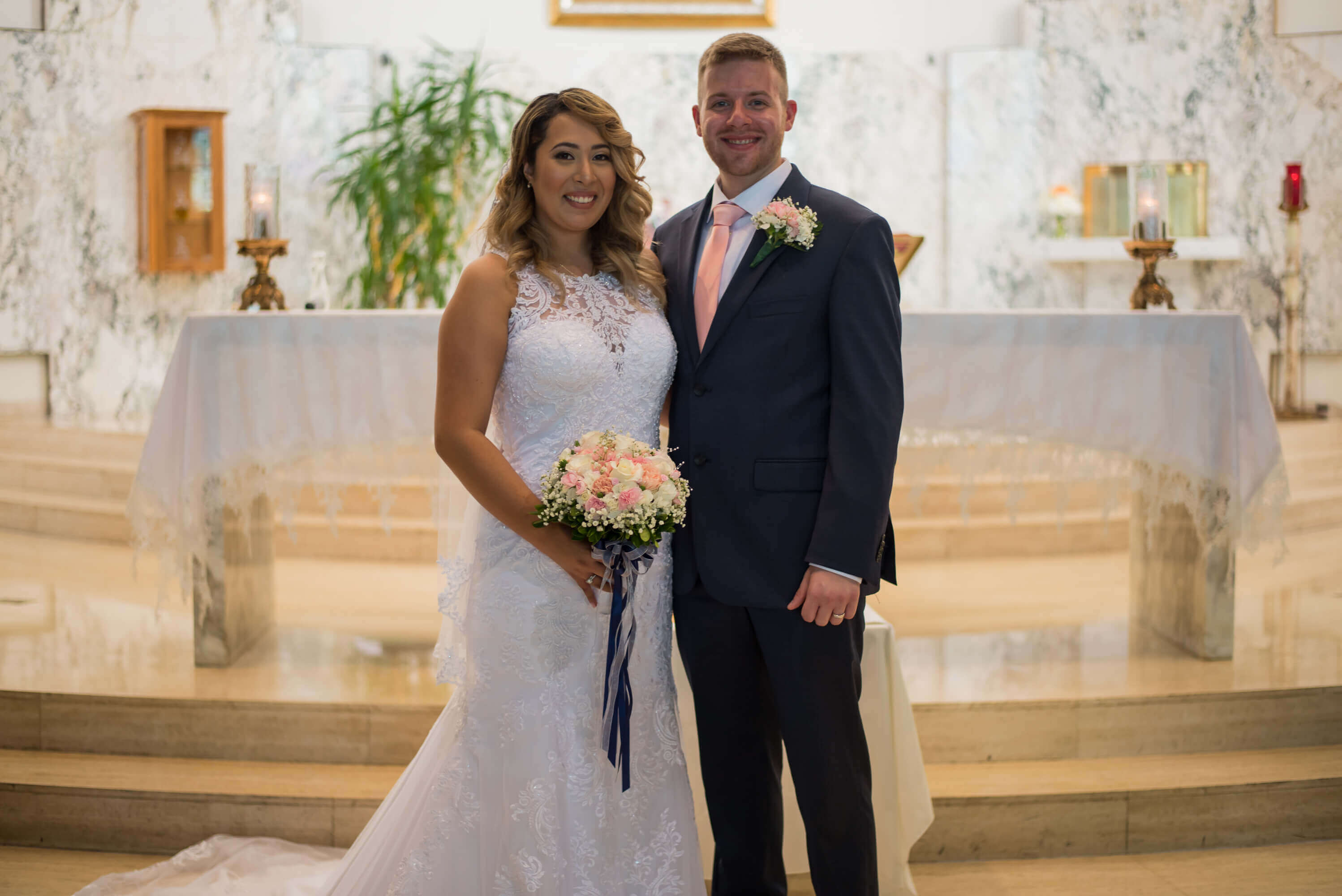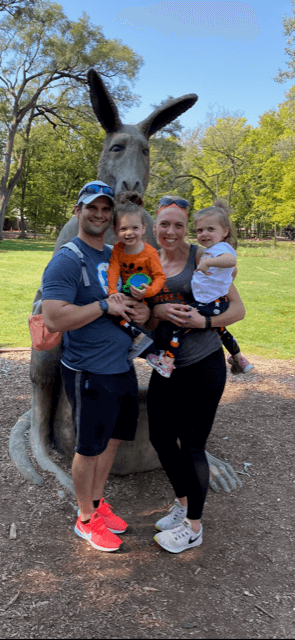 Danielle Wagner Maziur '09 and Anthony Maziur '11
Danielle (biology) and Anthony (marketing) met while working at the Shannon Athletic and Convocation Center together in the spring of 2009. Danielle was an All-American Soccer player and Anthony was a Gold Glove center fielder under Mike Dooley. Both Danielle and Anthony originally went to Division I schools to pursue their athletic careers, but both of them ended up getting injured and transferring to SXU to finish out their education and athletic careers. Little did they know what seemed like a negative in getting injured would turn into a positive change that led them to love. Anthony and Danielle married in June 2014, and currently have two girls, Madelyn (2) and Jocelyn (1), with a third child due in July 2021. They reside in Joliet, where Anthony works as a sales director for Benefit Resource, Inc., and Danielle is a senior sales executive for IntraPac International.
Danielle Inzinga LaBanca '15 and Anthony LaBanca '13

In the fall of 2012, Danielle Inzinga (nursing) and Anthony LaBanca (education) met. The couple married on June 7, 2019. Both represented SXU on the field -- Matt was a member of the football team from 2008-2015 and Danielle played women's soccer from 2011-2015.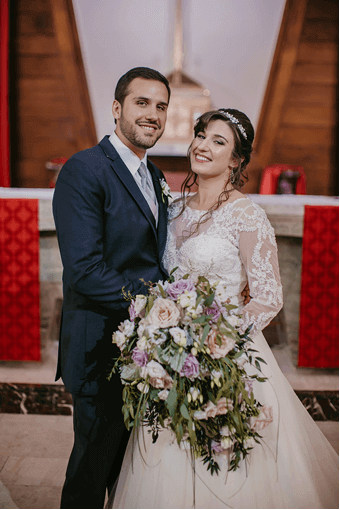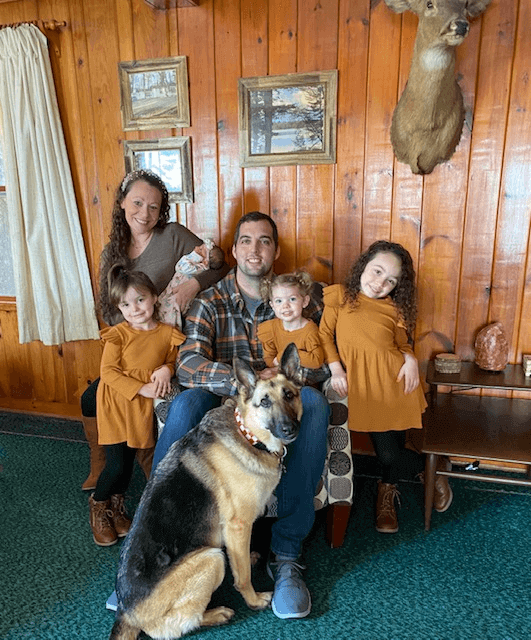 Mary Sheedy-Bolger '08 and Dan Bolger '08
Dan and Mary met at FOCUS, SXU's freshman orientation session, in June 2004. Dan played basketball for the Cougars from 2004-2008, and Mary majored in business administration with a concentration in management. Dan proposed to Mary in June 2011 on the steps of Pacelli Hall, where they met, and they married in June of 2013, on the anniversary of the day they met! If it wasn't for SXU, they never would have met, as Dan grew up on the far Northwest Side of Chicago, and Mary on the South Side.
Dan and Mary have four daughters, Greer (6), Briar (4), Cora (2) and Dani (3 months), as well as a 6-year-old German Shepherd named Sadie. Dan is a Chicago firefighter/paramedic, and Mary is a stay-at-home mom. They enjoy cooking and baking as a family, visiting zoos and museums, walking the SXU campus and spending time at their lake house in Wisconsin.
Chris Hollock '08 and Jamie Bisiules Hollock '09
Chris and Jamie were both communication majors and met during class, working on a group project together. They reconnected four years later on Facebook; Jamie reached out to see how things were going, and the relationship bloomed from there. The Hollocks have been married since 2015 and welcomed their first child, a boy, in December 2019.
Jamie currently serves as the public works secretary/accounts payable specialist for the Village of Chicago Ridge, and Chris is the senior support manager for TBI, a telecom brokerage firm. They live in Chicago Ridge with Martin, their 6-year-old Schnauzer/Terrier mix.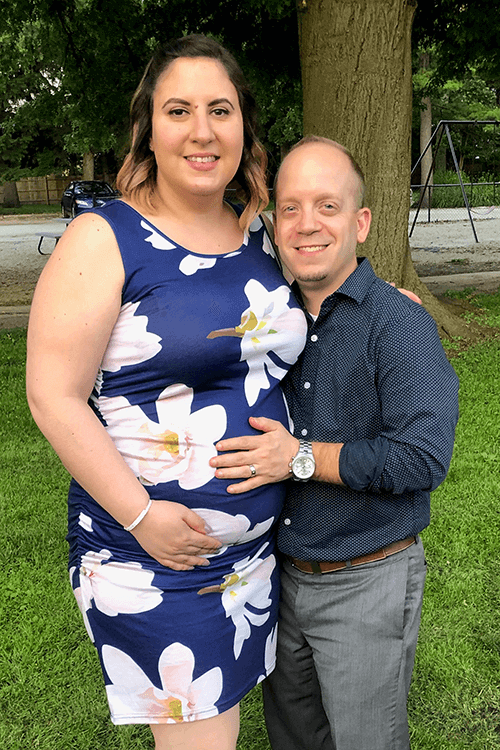 David Gomez '74 and Caroline Gomez '75

Neither David nor Caroline planned on attending SXU -- both set out to attend separate University of Illinois campuses. Through some divine intervention, they landed at Saint Xavier. The couple met through the untimely death of their classmate Rina Imbriano. David worked with then-SXU President Sister Irenaeus to find funds for his classmate Rick Meli to attend Rina's funeral services, which were to be held in New York. Upon hearing this, Caroline, who was a good friend of Rina's, introduced herself to David and asked if he could help find a way for her to attend as well. David again approached Sister Irenaeus and worked out a solution. Caroline and David were married within a year, on December 11, 1974.

To this day, Caroline and David are best friends who hold hands and attend Mass every day. They have six children and 21 grandchildren. Both consider SXU a gift from God, which allowed them to meet, fall in love, get married and start a family.
Jon-Pierre (J.P.) Bradley '12 and Talecia Green Bradley '12
J.P. and Talecia met at a church service, and it was love at first sight. At the time, J.P. was completing his MBA at the Graham School of Management while Talecia attended the School of Nursing and Health Sciences. Both graduated from their respective programs in 2012 and have thrived as a couple ever since.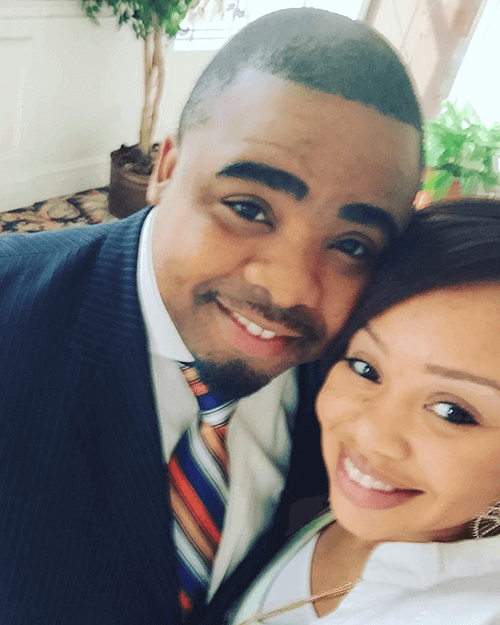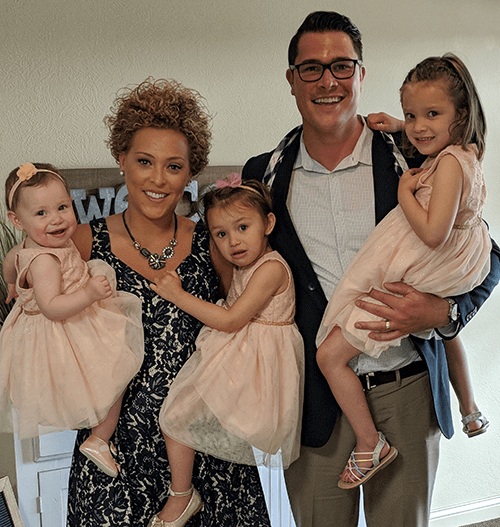 Jeremy Zientek '08, '11 and Gretchen Hendrix-Zientek '08
Jeremy and Gretchen met in January 2005 during a nutrition class at SXU, and have remained together since. Both were college athletes -- Gretchen played basketball for University legend Bob Hallberg, while Jeremy was quarterback of the SXU Football team from 2004-2008. The couple married on June 23, 2012 and currently reside in Fishers, Indiana with their daughters Eliza (4), Elaina (3) and Emmy (1).
Jeremy currently works for the Indiana Donor Network, facilitating the process of organ and tissue donations throughout the state. Gretchen is employed by the College of Education at Purdue University as regional director, overseeing the Indiana GEAR UP program.
Mark Piper '10 and Regina Byrnes Piper '10
Mark and Regina met at the Campus Ministries New Student/First-Year Student retreat in Plano during their first year at SXU. They have been active in ministry together, with Regina serving in the Mercy Volunteer Corps and Mark joining the Amate House of the Archdiocese of Chicago after graduation. Both were part of the first Mercy International Student Service trip to Belize in 2008. Today, Regina is a nurse and lactation consultant for Rush University Medical Center, and Mark is the director of the Cenacle Retreat and Conference Center in Lincoln Park. The Pipers reside in Beverly with their children, Rachel Day and George DeSales.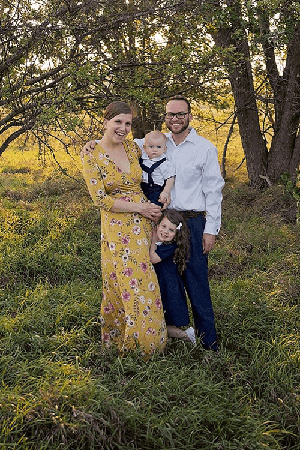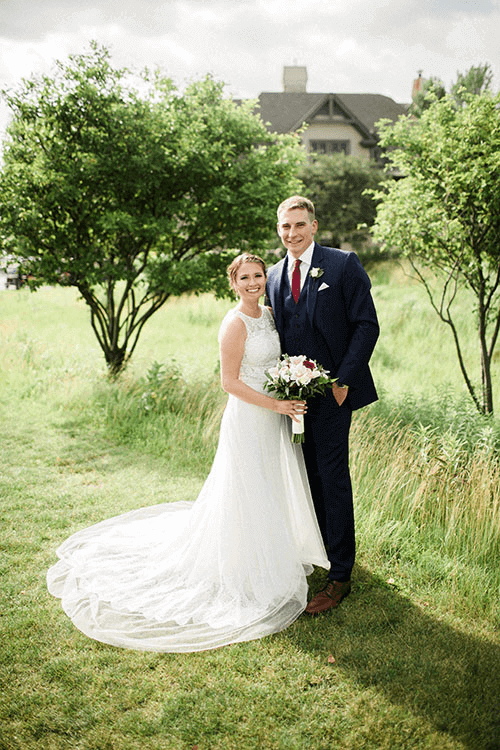 Jack Krieger '15 and Courtney Correa Krieger '17
Courtney and Jack met while hanging out with friends one night at Rubloff Hall. Jack was a basketball player and Courtney ran cross country and track. Their first date was on Valentine's Day 2014, and they have been together ever since. The Kriegers were married on June 28, 2019 at Bolingbrook Country Club.
Patrick Clifton '99 and Karen Petrey Clifton '97
Patrick and Karen met in the halls of the Warde Academic Center. Karen worked for the SXU Media Department at the time, and Pat held open the hallway doors one day so she would not cause an accident while pushing TV monitors to classrooms. Since then, they have supported one another through their education and beyond. The Cliftons now live in the south suburbs with their three children -- a freshman student-athlete at Moraine Valley Community college, a senior high schooler and a fifth grader -- and love returning to SXU to catch up with friends.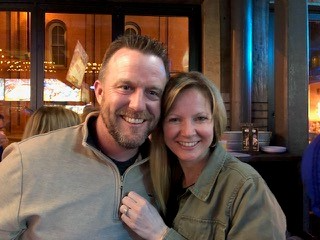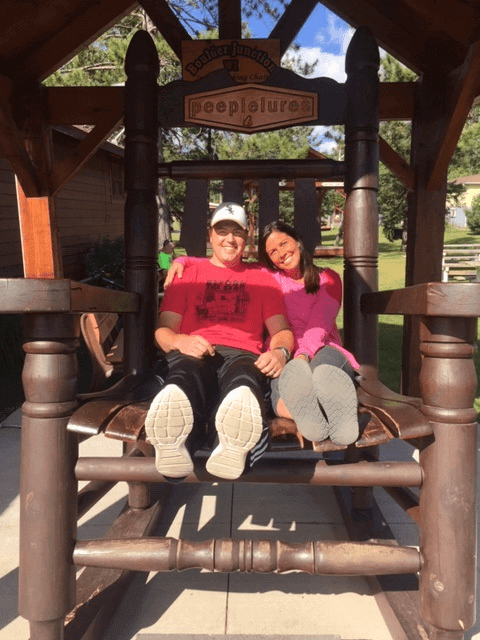 Timothy O'Neill '04 and Lesley Podlasek '02
Upon meeting in an art communication class, Lesley thought Tim was cute but quickly lost interest when she saw he was wearing a Cubs hat. A few weeks later, she saw him in the café with a Sox shirt on and changed her mind. Both were interested in one another, but Tim and Lesley didn't start dating until after she graduated. The couple has been married for nine years and reside in Mount Greenwood.
Nicholas Block '03 and Kristin Larkin Block '03
Kristin and Nick attended SXU from 1999-2003. Kristin was a communication major and a player on the Cougar softball team. Nick was a member of SXU Football Coach Mike Feminis' first recruiting class in 1999 and majored in business. After meeting at Thornwood High School in 1995, they remained friends until they were married in 2006. They currently live in suburban Dallas with their three children, Katelyn (9), Madison (5) and Ryan (3).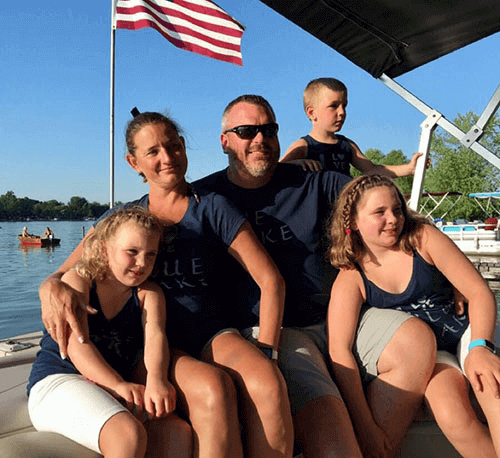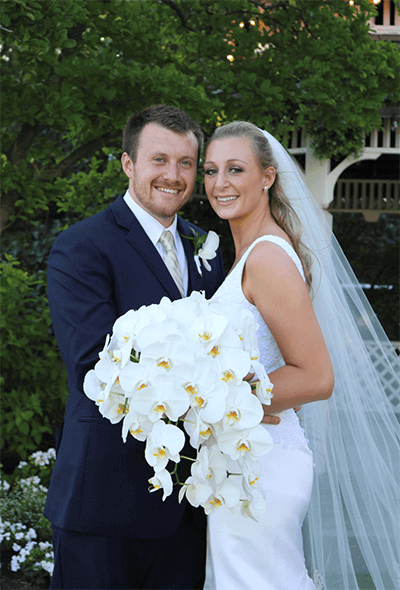 Nick Hastings '12 and Kayla Mullaney Hastings '13
Nick (psychology) and Kayla (communication sciences and disorders) met through mutual friends while attending SXU and bonded immediately over their love of sports -- Nick played basketball and Kayla played volleyball. The couple began dating in 2010, were married in June 2018 and welcomed their first child, Sydney, into the world in August 2019.