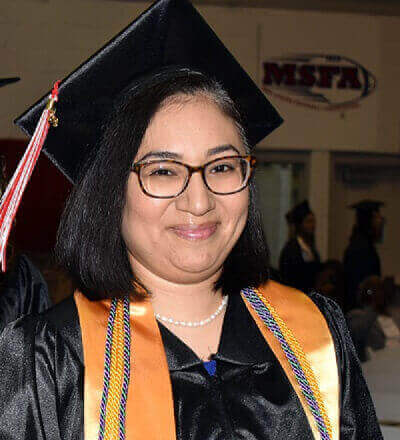 Welcome!
The Honors Program at Saint Xavier University is designed to nurture future leaders, like you, and provide you with a competitive edge in your field of study. Our program is a supportive community for motivated students of diverse backgrounds, disciplines and ideas to engage in a thematic curriculum that fosters interdisciplinary learning and student-faculty collaborative research.
Why Honors at SXU?
Dedicated faculty whose research activity directly shapes your learning experience
Opportunities to work closely with faculty in your field on research projects you design
Special Honors grants to support individual research, conferences and travel study
Eligibility for the Oxford Study Abroad Program
Personalized advising and early registration to guarantee integration of Honors coursework with requirements of your major
Learn More
Message to Transfer Students
Transfer students who enter Saint Xavier University with a GPA of 3.75 or above in college-level coursework currently are eligible for admission into the Honors Program. You are invited to contact the program director at honorsFREESXU if you are interested. Once admitted into the program, those with 45 or more credit hours of college coursework will complete the requirements with four honors courses, one of which must be the honors capstone project. Transfers entering the program with fewer than 45 credit hours may graduate with honors by taking five or six honors courses, depending on their point of entry.
Learning Outcomes
Your Honors coursework will prepare you to make a positive contribution--not only to your field of study but to your larger community--bridging the distance between learning and doing, theory and practice with hands-on learning experiences and the application of knowledge to real-world situations.
Students will develop the habits of active learners -- taking responsibility for their education by preparing for and participating in class discussions, recognizing their role within the larger learning community and collaborating with their peers in the construction of community knowledge.
Students will learn the benefits of intellectual flexibility -- demonstrating curiosity, engaging multiple perspectives, tolerating ambiguity and taking intellectual risks.
Students will demonstrate the ability to summarize, synthesize, analyze and evaluate a broad range of material, including a significant number of primary texts.* Secondary sources that highlight a range of approaches or perspectives on a given topic may be introduced in courses from the second semester of instruction onward, helping students to become more disciplined and critical in their reading, thinking and writing.
Students will develop independence with respect to their learning -- formulating questions that take them beyond the boundaries of the classroom experience, discovering new information that builds on course material and applying content to new situations.
Students will develop integrative habits of mind, beginning with first-year coursework organized around a common theme and continuing through the curriculum with more explicit interdisciplinary encounters.
Students will demonstrate oral communication skills through class discussions in seminar-like learning environments, culminating in the undergraduate research conference where students present their senior project research.
* Primary texts will encourage students to develop their own interpretations or conclusions and may be drawn from a wide range of sources: published, recorded or filmed texts; original or archival documents; interviews; surveys; found works of art or music; laboratory experiments; and, of course, experiential encounters.
Curriculum Maps




First Year

Second Year

Third Year

Fourth Year

Get the Courses You Need

Honors Communication
Honors English
Honors Philosophy

Honors Elective
Honors Interdisciplinary Seminar

Optional:

Fieldwork Experience
Optional: Travel Study

Honors Senior Seminar
First Year

Second Year

Third Year

Fourth Year

Get the Courses You Need
N/A
N/A

Honors Philosophy
Honors Elective or Fieldwork Experience

Honors Contract Course
Honors Senior Seminar
Required Coursework
This class will invite students to read, write and reflect on some of the most challenging questions that face any society. The reading and writing projects students will complete in this class will be rigorous and challenging, and they are designed to develop their analytical reasoning and critical thinking while giving them practice in composing well-reasoned academic arguments. Their work will also allow them to be creative, encouraging them to approach assignments and projects in ways that play to their strengths as students and challenging them in productive, engaging ways. Fulfills the University General Education Freshman Writing Requirement.
Students will cultivate capacities for engaging in critical and self-reflective activities by developing skills in reading, discussing and writing about primary philosophical texts concerned with ethical and/or political issues. They will gain familiarity with the kinds of activities associated with the academic discipline called Philosophy, although they will also acquire an understanding of what philosophical activity is independently of its status as an academic discipline. Satisfies University General Education Requirement of Philosophy 140.
A first year Communication for honors students designed to cultivate attention to how people use messages to generate meaning within and across various contexts, cultures, channels and media. Satisfies the General Education requirement of Communication 101.
Honors students explore questions revolving around a single theme in their first two years of coursework--considering that theme or issue from several disciplinary perspectives. But while students have had opportunities to make connections across those courses, the Honors Interdisciplinary Seminar creates opportunities to make the integration of learning more concrete. Course satisfies two General Education requirements in the two disciplines designated.
Additional Honors elective courses are offered each semester that also can be used to satisfy General Education Requirements. All Honors electives emphasize critical thinking and writing and nurture modes of inquiry within the particular discipline engaged by the course. Students may enroll in elective courses in the Social Sciences, Humanities and the Natural Sciences, although because not all types will be offered every semester, careful planning is recommended.
Students may fulfill one course requirement through a non-Honors course that is adapted to meet the standards of the Honors curriculum. Honors Contract Courses require an engagement that is qualitatively different; indeed, the individual honors student's learning should contribute to the learning of the entire classroom community. The students will identify learning objectives in conversation with the professor of record and with Honors program administrators, negotiating terms that will be made explicit in a contract signed at the beginning of the semester of study.
The Honors Fieldwork option is designed to provide hands-on experiences in the students' areas of academic and professional interest, encouraging extracurricular engagements that cultivate skills and knowledge that will enrich students' potential for success. Honors Fieldwork options may include, among others, internships, shadowing professionals, lab research under the direction of a faculty mentor, study abroad, community based learning or service projects, volunteer work in one's academic/professional area and independent applied or creative projects under the direction of a faculty or professional mentor.
The Honors Capstone Project enables students to pursue independently a topic to which their curiosity and ambition throughout their college career has led them. Working closely with a faculty expert, doing sustained work of significant scope and substance, learning more about not only their subject but also their own capabilities -- all make this experience unusual and rewarding. The requirement is in part designed to provide an apprenticeship in professional knowledge and skills that will enhance student credentials for advanced graduate education and for employment in their area of professional interest. But the primary purpose is to engage the students in a sustained intellectual and creative process that is self-directed and that integrates and channels the critical skills they have developed during their career in Honors into a substantial product that is uniquely their own.
Independent Research
Honors Program students in their senior year present their creative and research projects at the annual SXU Honors Program Undergraduate Conference in April. The culmination of their disciplinary and honors learning experiences, these projects emerge from questions the students themselves articulate, and methods and processes they design with the help of faculty mentors. For support in their pursuits, senior honors students enroll in a multidisciplinary research writing seminar, a structure that embodies Cardinal John Henry Newman's "Idea of a University."
By educating students in a way that encourages them to apprehend and appreciate the way the sciences interact with each other, the Saint Xavier Honors Program is preparing them to engage with the world's challenges in a more flexible, imaginative way.
Students present the most salient aspects of their work at the one-day conference near the end of April, to which all members of the Saint Xavier community, family and friends are invited. This work is supported by SXU faculty and staff, and by student development grants toward the purchase of research materials, attendance at national conferences, and travel expenses.
The program also offers an academic prize for the Outstanding Honors Student Project, awarded at the luncheon following the conference.
Honors Senior Project Programs and Awards
Alumni Spotlight
"Looking back, I think Saint Xavier gave me the foundation to not only cope with the volume of material that medical school had to offer, but it also gave me a sense of purpose. I think that's one thing that's really important to remember as you move forward-- think about what your project means to you and how it can affect the community."

(From his speech delivered at the 2017 Honors Conference)
Honors Student Success Stories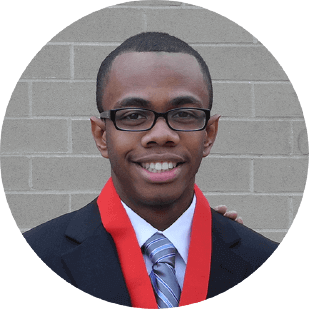 Darryl Brown, Class of 2012