Congratulations, Saint Xavier graduates!
Commencement serves as a means for reflection, recognition and celebration of your hard work and perseverance, as well as a rite of passage to what we are confident will be a bright future. SXU appreciates your dedication to completing your degree and we hope that as you begin the next stage of your journey, you continue to embrace the University's values and mission.
Student Commencement Speaker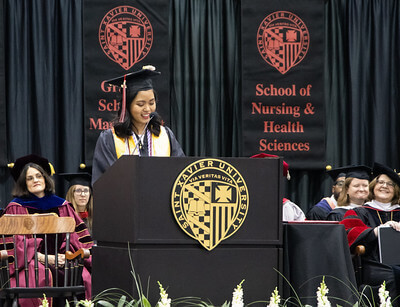 Saint Xavier University invites undergraduate and graduate students to apply to be a commencement speaker for the virtual 2021 commencement.
Learn more
Honorary Degree Recipient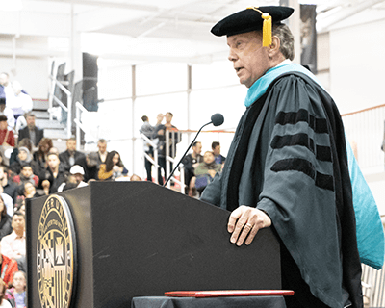 The University will consider individuals for an honorary degree and/or to serve as a commencement speaker who have achieved a public, persistent and positive presence in the enterprise of advancing a higher culture.
Learn more
Diplomas
Diplomas will be mailed or held for pick up by the Office of Records and Registration after final grades and academic audits are confirmed and entered. (Approximately six weeks after the ceremony.)
August graduates are issued their diplomas after summer grades are finalized.
All questions related to diplomas, transcripts and records should be directed to the Office of Records and Registration at 773-298-3501.
Financial Aid Obligations
Exit Interviews
All graduating students need to complete Federal Exit Counseling for their student loans. Complete yours online today.
Federal Direct Loan Program
If you have borrowed from the Federal Direct Subsidized or Unsubsidized loan programs while attending SXU, Direct Loan Exit Counseling must be completed prior to graduation. Sign in using your FSA ID.
Federal Perkins Loan Program
If you have borrowed from the Federal Perkins Loan Program while attending SXU,
Perkins Exit Counseling
must be completed prior to graduation.
If you fail to complete exit counseling or other requirements, a hold will be placed on your diploma, transcripts and academic regalia.

Please contact the Office of Financial Aid with any questions at 773-298-3070.
Academic Honors
Eligibility
To be eligible for graduation honors, students must have completed at least fifty (50) graded semester hours at Saint Xavier University and earned a cumulative grade-point average of 3.50 or higher.
Cum Laude (with honors) denotes a cumulative grade-point average of 3.50.
Magna Cum Laude (with high honors) denotes a cumulative grade-point average of 3.70.
Summa Cum Laude (with highest honors) denotes a cumulative grade-point average of 3.90.
The cumulative GPA is based exclusively on credits earned at Saint Xavier University and is the higher of:
GPA for all credits earned at SXU, or
Last fifty hours earned prior to graduation.
If the student reaches and exceeds fifty hours in a term, then all courses earned that term are counted in the GPA for the "last fifty hours."
The student is not allowed to pick the courses to equal fifty hours.
Graduate Students
Because graduate students must generally maintain a 3.0 GPA throughout their program, graduation honors are recognized for undergraduate degrees only.
Honor Societies
Students who are members of academic honorary societies may acquire additional academic regalia (e.g. tassels, pins, cords) through their respective society's faculty sponsor.
Honors Cords
This year, honors cords are being distributed in advance to provide recognition for graduates during the commencement walks.
Honors cords distributed prior to the end of this semester are anticipated honors based upon grades posted to the student record, excluding the current active semester.
Students who are eligible for honors based on anticipated honors will receive an email from Records and Registration and can pick up their honors cords in the offices of Records and Registration between the hours of 8:30 a.m. to 4:30 p.m., Monday through Friday.
The honors posted on the transcript as part of the student's official record are based upon grades earned through the final semester.
Due to the timing of cord distribution and final grade reporting, honors posted to the official transcript may differ from anticipated honors.
For questions pertaining to academic honors and honors cords, please contact gradapplFREESXU.
International Sashes
Saint Xavier University students who have studied abroad, or international students who wish to highlight their home country, are invited to purchase a graduation flag sash. Sashes are 72 inches long and are available for every country. The purchase order for sashes is currently closed. If you have any questions, please contact Kelly Fox Reidy at reidyFREESXU.
Commencement Disclaimer
Students who petition to graduate a given term, but do not complete all degree requirements as verified by the Office of Records and Registration, will not be entitled to participate in commencement.
Petitioners are removed from the commencement participant list if and when the Office of Records and Registration determines they will not meet degree requirements. In some cases, this may mean an ineligible petitioner receives an invitation to commencement (or related commencement materials) prior to being removed from the list. While the commencement coordinators take care to avoid such confusion, receiving commencement mailings is not a guarantee of eligibility to academically graduate or participate in commencement. Please refer to the Academic Catalog for the full commencement participation policy.
Students uncertain of their status to academically graduate should contact the Office of Records and Registration directly via phone at 773-298-3501. Should a student not be eligible, he or she must re-petition to graduate after completing outstanding requirements.
In all cases, certification of the conferral of a degree is by receipt of a diploma or official transcript noting degree completion, not necessarily participation in the commencement.