What is bias?
bi•as /ˈbīəs/
| | |
| --- | --- |
| noun | prejudice in favor of or against one thing, person, or group compared with another, usually in a way considered to be unfair. "there was evidence of bias against international applicants" |
| verb | cause to feel or show inclination or prejudice for or against someone or something. "all too often, their recruitment processes are biased toward younger candidates" |
SXU's Commitment to Diversity
In line with its mission, Core Values, and its Catholic, Mercy identity, Saint Xavier University is committed to fostering diverse and inclusive community in which students can learn and grow. As part of that commitment, the Office of the Dean of Students encourages our campus community to report behavior that discriminates, stereotypes, excludes, or harasses anyone in the community.
Anyone who has been the targets of, or who witness, a bias incident may choose to make the University aware of these incidents through an official Bias Incident report. Upon receipt of such a report, the University will investigate and address the alleged bias incident and work toward a resolution that will end such behavior. The reporter will receive a response within 2 business days.
The University's Bias Incident Response Team (BIRT) is comprised of faculty and staff who are in key positions to investigate, address, and educate the community in relation to reported incidents of bias in the campus community. They partner with other members of the campus community to ensure that the effects of such behavior can be restored, and that the community can be educated on the negative effects – and, hopefully, positive growth and education – that may result from such experiences.
Report an Incident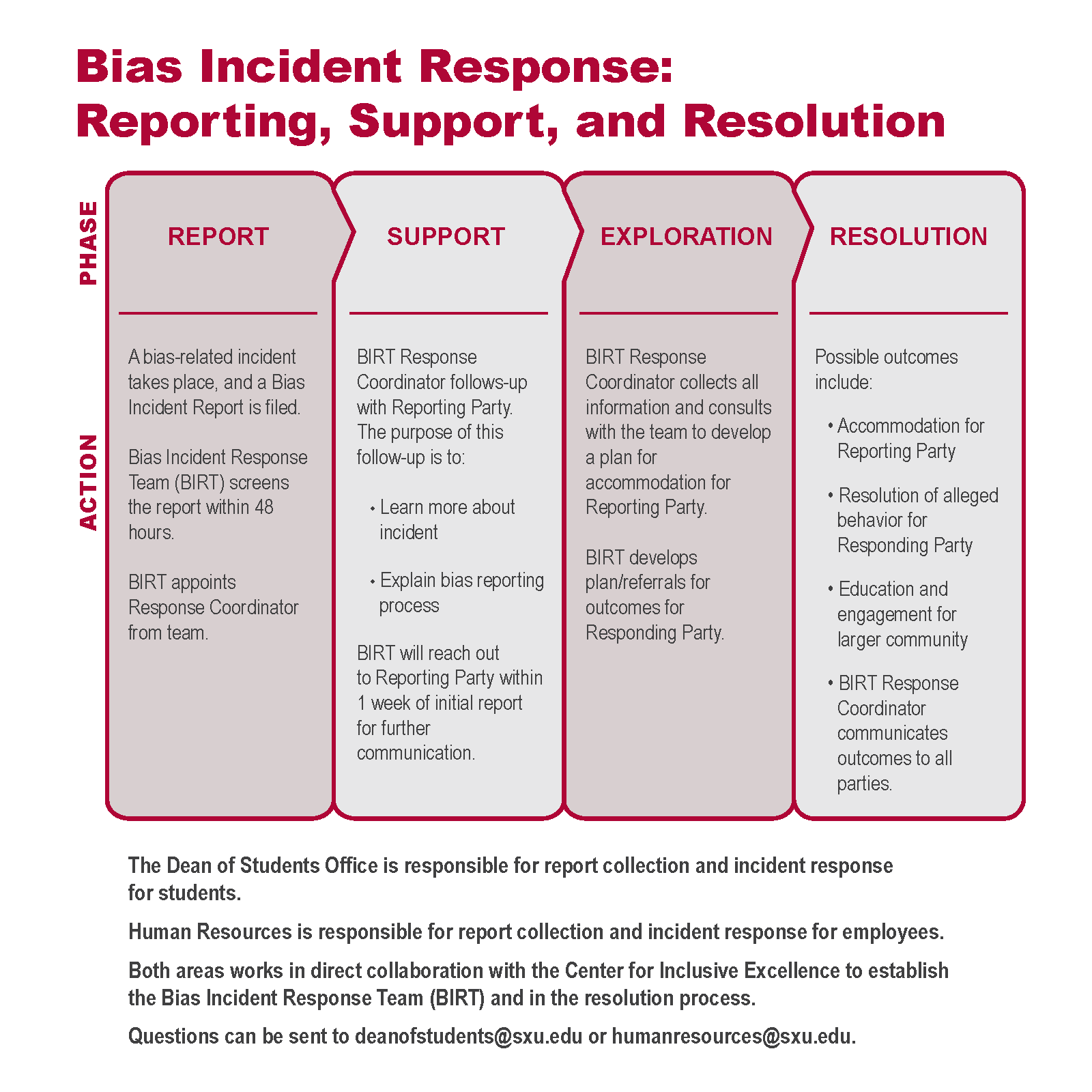 Possible Outcomes
In the case of a bias incident report, BIRT may:
Consult and/or coordinate with other units including the Office of the Dean of Students, Office of Inclusive Excellence, program Deans, Chairs or the Academic Provost.
Educate the individual responsible for a bias incident so they can know about the harm a particular action caused and offering advisement on avoiding harmful behavior in the future.
Offer support and connected impacted parties to relevant University resources.
Give a referral to the student conduct process.
Give a referral to the Office for Inclusive Excellence.
Coordinate spaces for community support and healing.
Facilitate dialogue.