Alumni News and Updates
Saint Xavier University loves to hear what is happening in the lives of our alumni -- and your classmates do too!
We invite you to share your story with us on this web page. So go ahead -- brag a little or brag a lot by telling us the exciting things happening in your life!
Alumni news submissions may also be included in select SXU communications.
Jennifer England Pemble
Class of 2009 and 2012
Business

Jennifer graduated from SXU with her Bachelor's degree in 2009 and continued on to the MBA program which she completed in 2012. In 2013 Jennifer accepted a tax associate position with a public accounting firm in Tampa, Florida. Since then she has received multiple promotions and has transferred to Birmingham, Alabama where the firm is headquartered. Today Jennifer is a senior manager and the Service Area Leader of Warren Averett's healthcare consulting division. While she is not on the front lines fighting Covid-19, she enjoys being able to work with and serve those who are, our healthcare professionals.
Suzi Reyes
Class of 2018
Biology

In August of 2020, I said goodbye to my job as the program director of the NSF-HSI grant at SXU in order to continue my education and work on an MAT in Secondary Education at SXU while teaching high school biology. I am now a first year biology teacher at Englewood STEM High School.


John L. Shannon
Class of 2018
Sociology, Anthropology
After graduating from SXU in 2018, John Lafe Shannon received his Master of Arts in Middle Eastern Studies from the University of Chicago in 2020. Shannon is currently a doctoral student in the Department of Near Eastern Studies at Johns Hopkins University, where he studies the archaeology of the ancient Near East. His research is primarily concerned with prehistoric human-environment interaction and early metallurgical production in southern Mesopotamia and Arabia. Shannon has also participated in archaeological excavations in both China and Turkey.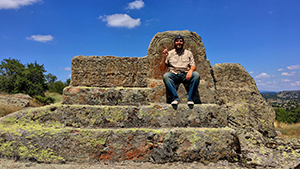 Vincent Davis
Class of 2010
Communication
Vincent Davis is the recipient of SXU's 2020 Teaching Excellence Award. A two-time winner of SXU's African-American Achievement Award for Outstanding Faculty in 2018 and 2020, Davis began teaching as an adjunct at SXU in 2015 and became full-time faculty in 2017.
Ebony White-Manigault
Class of 2013
Natural Science, Biochemistry, Biology-Pre-Health
Ebony White-Manigault is a fourth-year Wayne State University School of Medicine student. Her interest is in understanding the transition skills necessary for non-traditional and minority students from matriculation through graduation. She has served as an elected delegate at Association of American Medical Colleges (AAMC) conferences and as a student advisor on curriculum development and training gap identification initiatives. She completed her undergraduate work at Saint Xavier University before earning a Master of Public Health from the University of Michigan.
White-Manigault is a board member on the The National Resident Matching Program® (NRMP®), a private, non-profit organization established in 1952 at the request of medical students to provide an orderly and fair mechanism for matching the preferences of applicants for U.S. residency positions with the preferences of residency program directors. In addition to the annual Main Residency Match® for almost 44,000 registrants, the NRMP conducts Fellowship Matches for more than 60 subspecialties through its Specialties Matching Service.®
Josette Dezir
Class of 2016
Nursing
In June 2017, Josette Dezir began working as an OR/trauma nurse at John H. Stroger Jr. Hospital. Serving the community of Cook County, Dezir circulates in surgeries for victims of gunshots, violence, burn and/or motor vehicle accidents on almost a nightly basis. She credits the School of Nursing and Health Sciences at SXU for training her to be diligent in caring for all, regardless of their economic backgrounds. She does it well and she loves it!
Margaret Walsh
Class of 2017
Nursing
In 2017, Maggie Walsh graduated from the accelerated BSN program and began her nursing career at LaRabida Children's Hospital with an interim position working for a year in the neonatal intensive care unit (NICU) at Advocate Christ Medical Center. At LaRabida, Walsh cares for children suffering from lifelong complex medical conditions as well as those who have experienced abuse or trauma and require in-patient rehabilitation.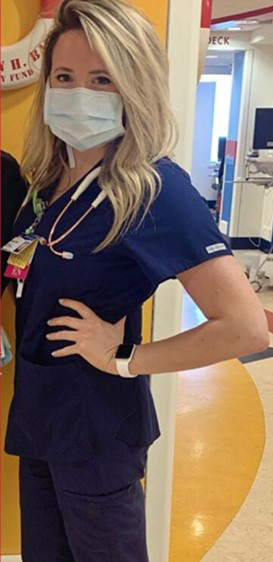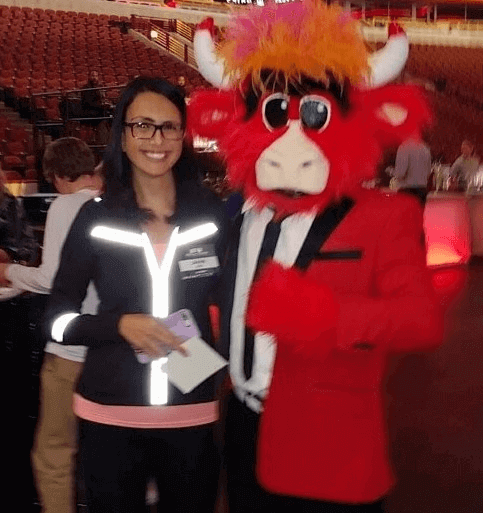 Jihan Atiq
Class of 2000
Education
Jihan Atiq teaches sixth-grade Project IDEA+ (PI+) science and social studies at Kennedy Junior High School in Lisle and is an adviser for Science Olympiad and for the sixth-grade book club. She holds both a bachelor's degree and a master's degree from SXU and has completed all the course work toward a doctorate in education leadership through Walden University. Hobbies include travel, kickboxing and reading.
Chanele Jackson
Class of 2019
Nursing, Psychology
Employed at Jackson Park Hospital in Chicago, Chanele Jackson circulates in various units including detox, medsurge and the medical/psych unit. Jackson plans to return to school to pursue a nurse practitioner degree.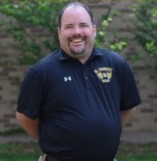 Brian Herman
Class of 2009
Education
Saint Laurence High School in Burbank recently named Brian Herman as the school's first Director of Fine Arts. Read more on SXU News.
Karina Laszcz Langle
Class of 2002
Biology, Chemistry
Karina Laszcz Langle earned a Doctor of Optometry (OD) from the Illinois College of Optometry, where she graduated cum laude in 2007. In January 2017, she opened Lunettes Family Eyecare in Mount Greenwood, which provides comprehensive optometric care, the latest technology in optical vision correction and education for patients on the importance of vision care. In addition to the services she provides at Lunettes, she is also a clinical instructor at the Illinois College of Optometry.
Missy Baglarz
Class of 2009, M.A.
Education Administration
Missy Baglarz, a long-time employee of the Bensenville School District, has been named the district's new Multi-Tiered Systems of Support (MTSS) Director. She will lead the district-wide integration of the MTTS framework, working with administrators, MTTS teams, and individual teachers to help students with academic, behavioral and/or social-emotional challenges.
In additional to her master's in education administration from SXU, Baglarz holds a bachelor's degree in psychology from the University of Illinois Urbana-Champaign, a master's in social work and a master's in education from the University of Illinois at Chicago.
Parth Mehta
Class of 2012
Master of Public Health
Born in India, Dr. Mehta came to the United States in 2004. He earned his master's degree in public health from SXU and then completed his residency in Internal Medicine at Saint Joseph Hospital in Chicago. In 2010, Dr. Mehta began working as a hospitalist at UnityPoint Health Methodist Medical Center, in Peoria. He credits his pursuit of a career in medicine to his grandfather, who worked as an assistant to a physician, and his older sister, who is a surgeon. Dr. Mehta is currently on the front lines of the pandemic treating COVID-19 patients.
Lisa Senerchia
Class of 1993
Nursing
Lisa Senerchia is an oncology nurse at the University of Chicago Cancer Center at Silver Cross Hospital in New Lenox. She works with a multidisciplinary team comprised of many health care professionals to consult on patients with cancer. Senerchia educates patients about treatment, possible side effects and self-care tips to follow. She was introduced to oncology when she participated in an extern program at Advocate Christ Medical Center. After graduation, she stayed on at the hospital and felt fortunate to have worked with seasoned expert nurses who were great mentors.
Michelle Kozik
Class of 2004, Biology
Class of 2007, M.A., Education
Michelle Kozik, a Homewood-Flossmoor High School teacher since 2005, won the Outstanding Illinois Biology Teacher of the Year award. Given by the National Association of Biology Teachers, the nominations are open to biology teachers for grades 7 to 12 throughout the nation. In addition to biology, Kozik also teaches chemistry and physics.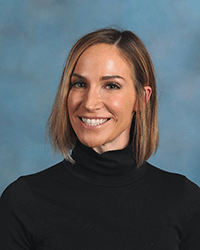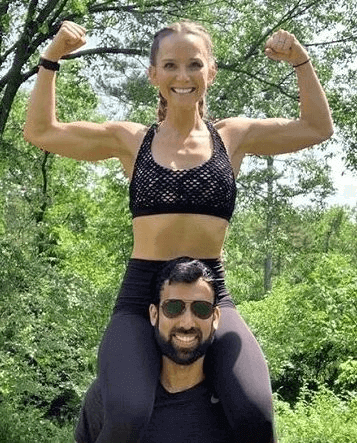 Jourdin DeYoung Garcia
Class of 2014
Nursing
Jourdin DeYoung Garcia is using the knowledge she picked up as a nurse to help others with fitness and nutrition. She wants to spread the word that being happy and healthy doesn't have to be boring or look the same for everyone. Her website, Live More With Jour, shares food and fitness programs to help women with weight-loss/fitness goals.
DeYoung Garcia and her husband, Kevin Garcia, a professional soccer player for FC Tulsa, reside in Tulsa.
Shawn P. Bradley
Class of 2009, Finance
Class of 2010, MBA, Project Management
Shawn P. Bradley was recently hired as the director of finance at Crown Asset Management, LLC., a leading accounts receivable management company headquartered in Duluth. Bradley has extensive experience in distressed debt lending and capital markets. Previously, he was senior director of business development for Ovation Partners, a private credit fund, and spent nine years as a managing director in the Specialty Finance Group at CIBC Bank USA, where he helped grow the loan portfolio to over $1 billion dollars.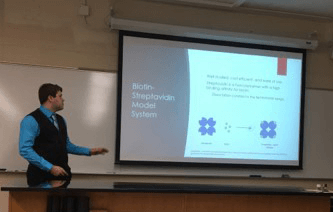 Steven Szajek
Class of 2018
Biochemistry
Steven Szajek is a lab research technician at Rush University Medical Center. After performing undergrad research with Dr. Wiester, Szajek earned his Master of Science in Biotechnology from Rush University.
Dr. Nicole Palumbo
Class of 2008
Biology, Pre-Med Chemistry
Dr. Nicole Palumbo started her journey at SXU's School of Nursing and Health Sciences. After a year of reflection, she realized that she wanted to pursue her dream of becoming a veterinarian.
"The staff and advisors [at SXU] helped me achieve my bachelor's degree in biology (medical track) in just three years. I was then accepted to three different veterinary schools. SXU was the perfect choice for a more intimate learning experience and really helped create connections with the SXU community. I worked in the chemistry lab stock room and also was a student advisor for several chemistry classes," said Palumbo.
SXU's flexibility in class times allowed her to keep a part-time job at a veterinary clinic to gain experience in a realistic work environment. She was then accepted to the University of Illinois Veterinary Medicine School and tracked in small animal medicine.
"The first two years of classes were made easier due to the intense biology and chemistry courses taken at SXU. After another four years, I graduated with a Doctor of Veterinary Medicine (DVM) and started working immediately at a large clinic in Pennsylvania," said Palumbo.
Dr. Palumbo would go on to take another job at a clinic close to Pittsburgh and recently became the managing DVM. She is currently pursuing board certification in feline medicine.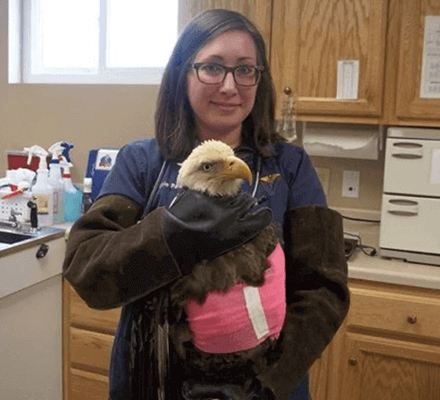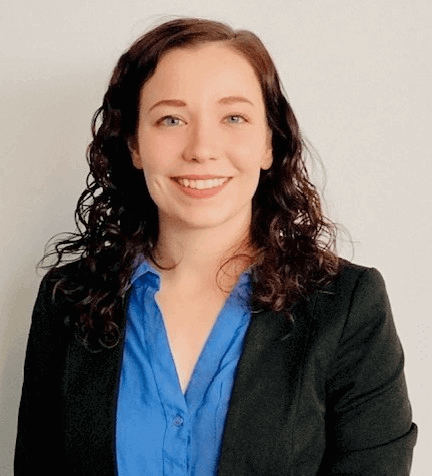 Colleen Thomiszer
Class of 2014
Business Administration
In March 2020, Colleen Thomiszer was promoted to senior vice president and chief financial officer (CFO) of Royal Financial, Inc., a federally-insured financial institution that offers a range of checking and savings products and a full line of home and commercial lending solutions. Thomiszer has served the Company and Bank as the accounting officer and controller since 2017.
Since joining the company as staff accountant in 2014, following her graduation from SXU with a bachelor's degree in business administration with core concentrations in accounting and finance, her portfolio of responsibilities has steadily increased to include accounting operations management, business process improvement, reporting controls and preparation, external auditor support and accounting for and integrating the bank's and company's acquisition and branch purchases. Thomiszer has also served as the secretary of the company since 2018, expanding from her service as recording secretary from 2014 to 2018.
Ryan Bain
Class of 2012
Chemistry
Ryan Bain is a scientist advisor at Keller and Heckman, LLC., a law firm based in Washington D.C.
"I might move into program management in the treasury department, but it takes a long time to get government security clearance. I did research at SXU with Dr. Alappat and because of that research with her, I was able to do my Ph.D. with Graham Cooks, a well-known chemist she helped me connect with. I did my postdoc at Stanford University," said Bain.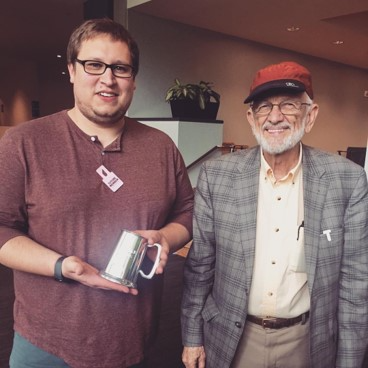 Janet Janicke
Class of 1997, Elementary Education, Psychology
Class of 2001, M.A., Education/Learning Disabilities
Janet Janicke is the new director of special education at Flossmoor School District 161 and will begin with the start of the 2020-2021 school year. She recently served as principal of the Northeast Elementary School in Evergreen Park District 124 and prior to that as the director of special education at Villa Park School District 45 as the district's special education facilitator.
Joseph An
Class of 2019
Mathematics, Chemistry
Joseph An currently works as a medical scribe for the emergency department at a community hospital and an affiliated outpatient pulmonary center.
"The position offers an in-depth perspective into clinical work-flow, introduction into medical terminology and comprehension of medical-legal documentation. Additionally, it provides an opportunity to network with a variety of physicians," said An.
"During my time as a medical scribe, I have observed procedures such as intubation, thoracentesis, laceration repairs, and CPR, among others. I would highly recommend that pre-med students explore this position as it essentially serves as physician shadowing with paid benefits. Moreover, the physicians often offer useful insights into the healthcare system as a whole" added An.
In terms of career projection plan, An is scheduled to soon take the MCAT and has been gathering the necessary resources for the upcoming application.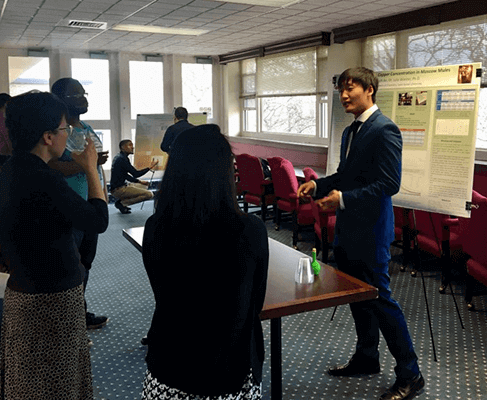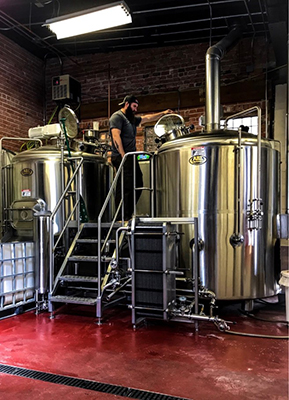 Robert Besset
Class of 2015
Biology, Pre-Health
After graduating from SXU, Robert Besset had planned to attend medical school to become an orthopedic surgeon. Although he did not follow that path, he states that he still gets to flex his "science chops" in a lab that studies and tests everything from bourbon to kombucha as the head of the barrel-aged mixed-culture beer and quality assurance and control programs at a brewery in Colorado.
"My life following graduation has certainly taken some unexpected turns. I was met with a sense of discontentment and unease as I worked and shadowed in the field. I'd be lying if I said this was an easy time for me, as I had just committed so much time and effort to achieving this goal I thought I yearned for. It was during this time after graduation that I began to home brew. I instantly fell in love with brewing and the way it melded my love of science with the inner creative that I had been stifling for years. This discovery of brewing led me back to the classroom to pursue brewing school where I traded in my scalpel and forceps for yeast, barely and hops," said Besset.
"I'm lucky to have stumbled upon brewing when I did, but what I've really learned since graduating is that you need to have the confidence in yourself to make big, sometimes life-changing decisions and then act on them without the fear of failure. Learn to listen to that voice in your head because sometimes the road less traveled is the one for you" added Besset.
Al Palar
Class of 2014
Education
Al Palar was recently appointed as the head coach of the women's soccer program at Saint Francis University in Joliet. Most recently, Palar served for the last five years as the head coach of women's soccer at Moraine Valley Community College (MVCC) in Palos Hills after serving as an assistant coach for the MVCC men's soccer team for three years prior.
In addition to his part-time coaching duties, Palar has been a full-time language arts teacher at Indian Springs School District 109's Wilkins Junior High School in Justice since 2015.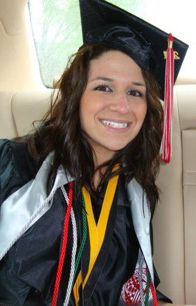 Jenna Jurkovic
Class of 2011
Biology, Pre-Health
Jenna Jurkovic finished her last year of emergency medicine residency at Advocate Christ Medical Center and will be staying there next year as an attending physician in the emergency department.
Samantha Molda
Class of 2018
Biology, Pre-Health
Samantha Molda is currently finishing up her second year of medical school and says that she absolutely loves it.
"It is hard as hell, but I am living my dream every day. I am currently dual enrolled in the chiropractic medicine and naturopathic medicine program. It is an eight-year program which is done in six. Most people don't know, but chiropractors and naturopaths are primary care physicians and are gaining more and more legal rights. Our programs are nearly identical to programs for medical doctors, but instead of heavy prescriptions, even though we get most pharmaceutical training, we go into nutritional biochemistry, botanical medications, supplementation and preventative/chronic care," said Molda.
"I am also getting my diplomat in internal medicine, which considers me a full primary care physician in all 50 states where I have nearly the same scope of practice as medical doctors. With the NMD, I can do prescriptions and minor surgeries and more. I am really glad I chose this route, since it allows me to get my animal chiropractic and I stay away from the heavy pharmaceuticals, opioids, heavy lawsuits and super expensive malpractice insurance," added Molda.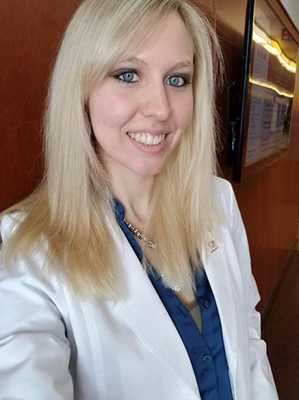 Matthew Lyke
Class of 2003, M.A.
Education Administration
In March 2020, Homewood-Flossmoor High School announced Matthew Lyke as its new athletic director. Prior to this new position, Lyke spent 13 years working in Lincoln-Way District 210 as a physical education teacher, and as a baseball and football coach at TF South High in Lansing where he was the school's athletic director for two years and coached college baseball for four years.
Rachel Thomas
Class of 2017
Biology, Pre-Health
Rachel Thomas is a proud alumni of Saint Xavier University. After completing her bachelor's in pre-health biology with a minor in chemistry, she enrolled in the University of Illinois College of Veterinary Medicine as a member of the class of 2021. There, she has worked with a broad range of species in various capacities, including a zoological facility, a conservatory and a wildlife medical clinic.
"I truly believe that the education I received from Saint Xavier was instrumental in helping me develop the skills it takes to be a successful student. The course load, while appropriate for an undergraduate level, was intense, helping me to prepare for the rigorous expectations of a medical program. The aspect of my education that played the most pivotal role was the school's incredible faculty. I was fortunate to work closely with several of the faculty in both the biology and chemistry departments. These scientists were always willing to teach, and eager to help students broaden their understanding of the course work," said Thomas.
"Additionally, the mentorship and guidance that was given to me by so many made me not only a better scientist, but a better person. Saint Xavier University has a dedicated, passionate and devoted science department that I will forever be grateful towards," added Thomas.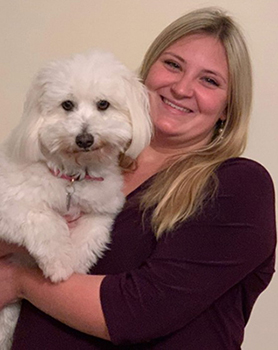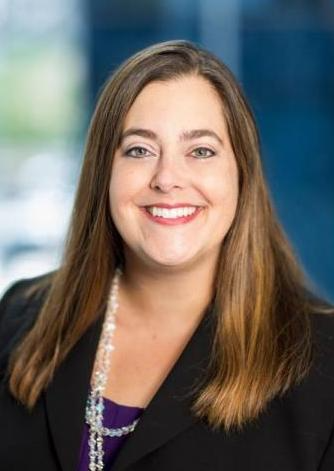 Virginia Schumann Petrancosta
Class of 1999
Communications
Virginia Petrancosta is the new executive director of the International Association for Healthcare Security and Safety (IAHSS), the only organization solely dedicated to professionals involved in managing and directing security and safety programs in health care facilities.
Most recently, Petrancosta was director of marketing and communications at the American Society for Health Care Risk Management (ASHRM) of the American Hospital Associations. There, she was able to build and lead a high-performing team, launch new and innovative programs and exceed revenue goals.
In addition to her degree from SXU, she earned a Master of Business Administration from the University of Illinois at Urbana-Champaign and holds the prestigious Certified Association Executive (CAE) credential from the CAE commission of American Society of Association Executives, the Center for Association Leadership.
Ben Noffke
Class of 2012
Chemistry
Ben Noffke attended IU Bloomington after SXU, where he studied physical chemistry. During that time, he studied fundamental processes of carbon materials and spent a few months at Argonne National Lab.
Noffke graduated with a Ph.D. in 2017 and started working for Epic, a health care software company in Madison. His duties include helping hospitals develop predictive models and writing and performing parody songs about our software.
"My advice: Learn skills that compliment your scientific studies so you can stand out in any career. Also, take more classes on statistics!" said Noffke.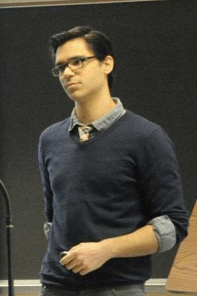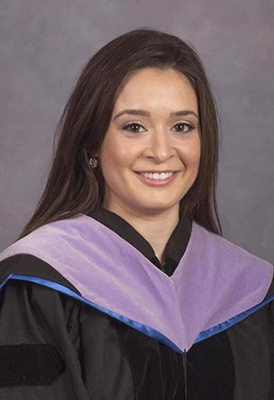 Angelica Sanchez
Class of 2011
Biology, Pre-Health
Angelica Sanchez knew she wanted to be a dentist when starting at SXU, so she began the pre-health track with a major in biology. She also enjoyed her chemistry courses, which lead her to pursue a minor in chemistry.
At the end of her junior year, she began preparing for the dental admission test (DAT) and all dental school preparations. After preparing and taking the DAT, which she had to take twice, she submitted her application the first day the application website opened. She applied to ten schools, and of those she received six interviews, but only interviewed at four dental schools.
"On December 1, during my senior year at SXU, I found out I was accepted at two dental programs. I chose to attend Marquette University School of Dentistry and started the summer after graduating. The transition from SXU to this doctoral program was difficult, but with the knowledge I had from SXU, I was able to manage my studies while developing my clinical skills. In a program such as the one at Marquette, expect 21 credit hours a semester. This also means 7 exams in one week and then having 5 exams the following week. It's very difficult!" said Sanchez.
"It was as overwhelming as it sounds, but it is manageable with great study habits and great time-management skills. I recommend developing those skills at SXU. I also recommend starting to study for your last exam first so you have a chance to read over the material calmly instead of cramming everything the day before, since you already know you will be studying for an exam the day before anyway," added Sanchez.
Sanchez graduated from Marquette University School of Dentistry in 2015 and has been practicing in private practices ever since. This year, she accepted a full-time position as an associate general dentist at Romo Dental.
Lauren Haddad
Class of 2019
Biology, Pre-Health
Lauren Haddad graduated from Saint Xavier University in May 2019 with a major in biology pre-health and a minor in chemistry. Throughout her four years there, she was involved in multiple clubs and particularly took interest in being involved in the biology department, where she participated and held a board position in Tri-Beta.
"The faculty at SXU always worked closely with me whether in classes or helping during the application process for optometry school during my senior year. Not only were the faculty helpful, but my time as a biology student really built a strong science foundation for me as I moved on to my graduate studies," said Haddad.
Currently, Haddad attends the Illinois College of Optometry. "I know my time at SXU and within the community there has helped me reach this point, and I'll forever be thankful for that. I advise all SXU students make the absolute most of their experience by getting involved in various organizations and leadership positions and to challenge themselves academically as much as possible. SXU is a university that can help you grow both academically and as a person. Strive to get the most out of it by learning every day, serving the SXU community when you can and building bonds along the way. You will find it rewarding for yourself in many ways and it will really help set you up for success in the near future," said Haddad.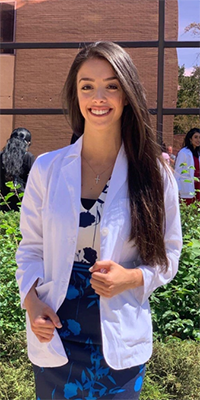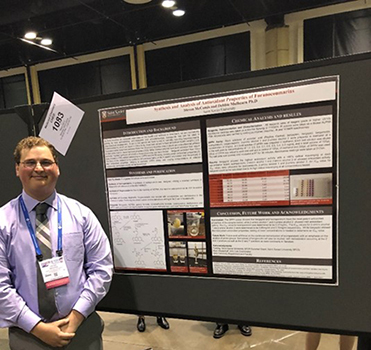 Steven McComis
Class of 2019
Chemistry
Steven McComis graduated from SXU in 2019 with a bachelor's degree in chemistry and is currently a graduate student at the University of Michigan in the Department of Biomedical Engineering. He chose biomed because of its ability to prepare him for his end goal of applying to and attending medical school, while also giving him an in-depth look into the current field of medicine and its future challenges.
"I have two pieces of advice, some for now and some for later. As you pursue your degrees and work towards graduation, be confident in your knowledge and ability to achieve your goals. It may seem like a long road ahead, but trust in what you have learned and the tools SXU has given you. Your goals are closer than you believe. Once you graduate, take a break and relax. I took a two-week trip to Yellowstone National Park the summer following my graduation. This break, whatever or wherever it may be, will allow you to recharge from and reflect on your years of education as you enter into your next chapter of life," said McComis.
Bridget Forbes
Class of 2007
Hospitality Management and Marketing
Class of 2008
Management
Shortly after graduating, Bridget Forbes worked as a social worker and case manager in skilled rehab centers in the Chicagoland area. She went on to secure state and federal licences as a nursing home administrator.
Now her days are occupied raising her four children (ages 9, 7, 4 and 1) while photographing newborns at her studio, Real Life Moment Newborn Photography. Bridget has received nine international awards from the AFNS for best photographers in the field of newborn photography and maternity photography.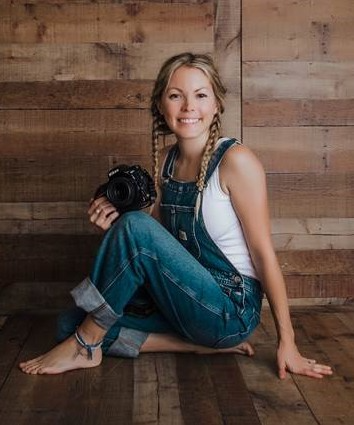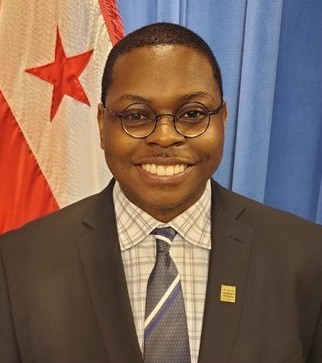 Denzel Averhart
Class of 2018
Political Science
Denzel Averhart is the associate digital director working for the Executive Office Of The Mayor's communications team in the District of Columbia. Averhart produces content and manages social media platforms. He believes that videos can be used to bring anyone's imagination to life. Averhart has worked with nonprofits, government agencies and more to bring their ideas into reality.
Jenna Haase
Class of 2019
Biology/Pre-Health
Jenna Haase is currently attending Northwestern University Feinberg School of Medicine to obtain a doctorate degree in physical therapy. Her anticipated date of graduation is spring of 2022.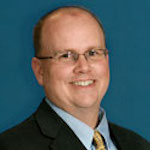 Scott Levins
Class of 1990
Business Administration/Marketing
Scott Levins is the director of the National Personnel Records Center (NPRC). Prior to this appointment, Levins served as the assistant director for military records at NPRC and worked on space and facility matters in the Central Office of Regional Records Services, helping with the transition of the FRC Program to a fully reimbursable operation.
He also was the coordinator of records center operations at the Pittsfield Federal Records Center and held management analyst positions in the Central Office of Federal Records Centers and at the Washington National Records Center.
Danielle McGee
Class of 2012, MBA
Health Administration
In 2018, Danielle McGee started Black Business Boom as an e-commerce marketplace for black-owned businesses, as they typically have less access to funding, which consequently limits their ability to spend money on marketing. Black Business Boom offers coupons and loyalty programs through a mobile app and web-based platform. Consumers can access nearly 400 black-owned businesses in several cities across the U.S.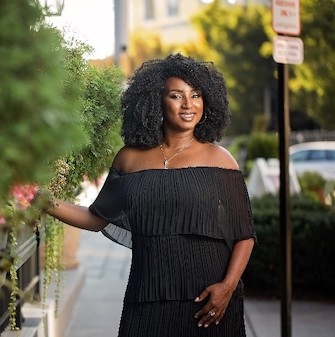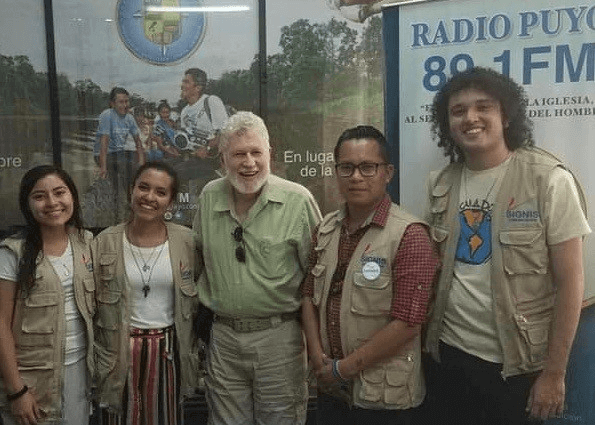 Larry Rich
Class of 1974, M.A.
Theology
Larry Rich serves as senior staff at SIGNIS, the World Catholic Association for Communication. His roles include editor of SIGNIS Media, the organization's magazine, and program lead for CommLab, a workshop series for young communications professionals in the Global South. SIGNIS, with origins in the 1920s, has members in over 100 countries, with headquarters in Brussels.
Najeeb T. Haddad
Class of 2011
Philosophy and Religious Studies
Dr. Najeeb T. Haddad completed his Doctor of Philosophy in Theology at Loyola University Chicago in May 2018. In August 2019, he began his new position as assistant professor of Religious Studies at Notre Dame of Maryland University.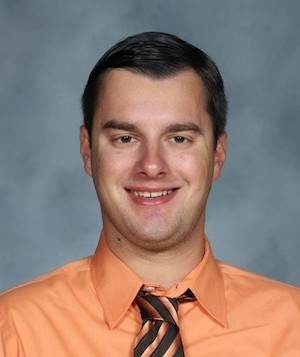 Mike Sliwinski
Class of 2015
Music Education
Mike Sliwinski was recently selected by the West Suburban Chamber of Commerce's "Regional 30 under 40," which identifies 30 individuals under the age of 40 who are making a significant impact on their region.
In his fourth year as the director of bands at Nazareth Academy in La Grange Park, the Band and Music Department has continued to flourish, growing in both quantity and quality. The program has been awarded several "superior" ratings at contests and festivals.
Sliwinski also happily married fellow SXU alum, Vanessa Norman '15, '18, on October 12, 2019.
Eleanore "Ellie" Menke
Class of 2016
Graphic Design
Class of 2019, MBA
Internet Social Media and Marketing
In July 2019, Elenore "Ellie" Menke joined the staff at Mount Carmel High School as the graphic design and media specialist in the Marketing Department. She credits the skills she learned at SXU for preparing her for her role in developing the web content and marketing materials that promote the great educational experience Mount Carmel has to offer.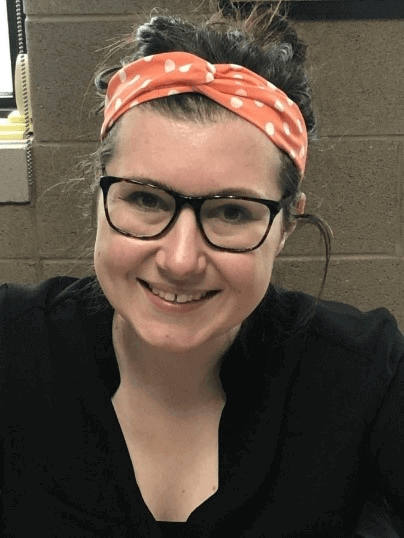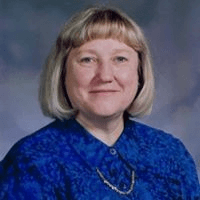 Cleo Lampos
Class of 1984, M.A.
Education
Cleo Lampos earned her undergraduate degree at the University of Wisconsin and a master's degree in special education from SXU. She spent 26 years teaching regular and special education classes in the public school system. Although retired from the classroom, she is busy as both a writer and speaker.
Her debut publication, "Teaching Diamonds in the Tough," was drawn from her personal teaching experiences and addresses the challenge of finding potential in students despite the struggles and heartbreaks teachers face. Lampos went on to write a fictional teacher's series with the titles of "Second Chances," "Miss Bee and the Do Bees" and "Cultivating Wildflowers." More recently, she focused her attention on writing historical novels, including "A Mother's Son," based on the orphan trains that traces Irish immigration in the United States, and currently, "Dust Between the Stiches," a historical romance set in the 1930s Dust Bowl. Keep up to date with her books and speaking engagements on her blog!
Terry Cornell Jr.
Class of 1997
Criminal Justice
Terry Cornell Jr. is a Chicago based lobbyist who serves to help fellow veterans.
Cornell served as a firefighter in the United States Air Force for over 20 years, active and in the reserves. In 1987, he was honorably discharged from the military and went on to pursue his education. He earned his master's in business law from Loyola School of Law, a certificate in federal policy from the Government Affairs Institute at Georgetown University, and an associate's degree in tribal administration from Southwest Oklahoma State University's Cheyenne-Arapaho Tribal College. Since 2001, Cornell has worked as a lobbyist for the Government Liaison Services of Chicago who specializes in helping veterans. He is also extremely active in the volunteer community and currently works as the Chief Government Interaction Officer with Parkside Lending, LLC.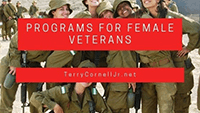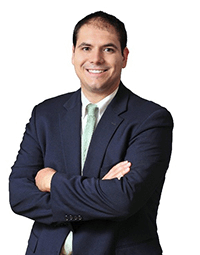 Pantelis "Peter" Danos
Class of 2014
Biology
Pantelis "Peter" Danos is an associate in Miller Canfield's litigation and dispute resolution group. Danos is a graduate of The John Marshall Law School, where he was in the top 10 percent of his class, and earned his Bachelor of Science in Biology from SXU. He previously clerked for Judge Charles P. Kocoras in the U.S. District Court for the Northern District of Illinois.
Thomas Schergen
Class of 2005, M.A.
Education Administration
As of July 2019, Tom Schergen is the new school principal at Immaculate Conception Catholic Prep (ICCP). Tom has been a part of ICCP for seven years both as the athletic director and president. For the past 18 years, Schergen has developed his student-centered style of educational leadership in both public and private settings. Before joining ICCP, Schergen was the director of the McDermott-Doyle Program for Developmental Learning at Mt. Carmel High School.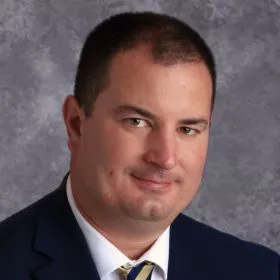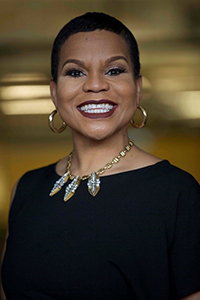 Marki Lemons Ryhal
Class of 1996, MBA
Business Administration
Marki Lemons Ryhal is a licensed managing broker, REALTOR®, avid volunteer and international best-selling author of "The Modern Real Estate Professional's Guide to Success." In 2019, she was nominated as an RISMedia's Real Estate Newsmaker and inducted into the REBAC Hall of Fame.
Lemons Ryhal is dedicated to all things real estate. With over 25 years of marketing experience, she has taught over 300,000 REALTORS® how to earn up to a 2,682% return on their marketing dollars.
In addition to her MBA, Lemons Ryhal has over 50 real estate-related licenses, certifications and designations.
Gloria E. Barrera, MSN, RN, PEL-CSN
Class of 2007
Nursing
Now an adjunct professor at SXU, Gloria E. Barrera was named this year's Henrietta Villaescusa Community Service Award recipient by the National Association of Hispanic Nurses. She was recognized at the annual conference in July for her work and dedication to improving community health outcomes, especially in our most vulnerable populations, through her practice and teaching. Barrera was also featured on "Your Next Shift" podcast and highlights her community service work in the interview.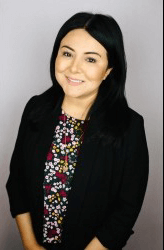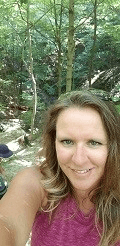 Michelle Monk
Class of 2004, M.A.
Education
Michelle Monk has taught high school biology for 22 years and is currently teaching Biology I, Anatomy and Physiology at Eureka High School in Eureka. Her passion for helping students learn complex scientific concepts through collaboration is grounded in the idea that building relationships, followed by creating lessons with relevance, is essential to having rigor in the classroom. The September 2019 issue of "Next Gen Navigator" featured her article Encouraging Students to Engage in Argument With Evidence.
Lorna G. Clarke
Class of 2013
Liberal Studies
Lorna Clarke continued her education by earning a master's degree in clinical mental health counseling with a degree conferral on May 20, 2018 from Walden University Online. She passed the national counselor examination (NCE) through the National Board for Certified Counselors (NBCC) on the first try, becoming nationally certified as a counselor on December 20, 2018. On March 1, 2019, Clarke became recognized by the state of Illinois as a licensed professional counselor.
"Starting my academic journey was rigorous; however, I wouldn't have traded it for anything. I've learned about me and the faithfulness of God when things looked dark and how His light shone to keep me on the path so that I am equipped to help those He will send my way. The valuable information I received regarding accreditation in the field saved me from pitfalls I did not see. I appreciate the time I spent at SXU and the wisdom I received from all of my professors there. I thank you for the opportunity to share my journey," said Clarke.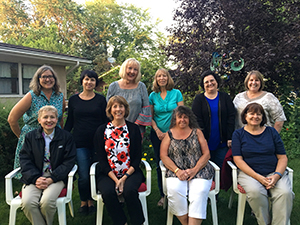 Elizabeth M. Davis
Class of 1979
Biology
Forty years after graduation, a group of former third-floor residents got together.
Back row: Jean Knox '80, Carol Sybor, Nancy Pettrone '79, Becky Zintak '79, Sue Storto '80, Mary Rose Ryan '80
Front row: Patti Walsh '80, Kath O'Brien Grace '79, Julie Thomas '79, Liz Davis '79
Michelle Meyer Palmer
Class of 1997
Accounting
In May 2019, Michelle Meyer Palmer moved from the western suburbs of Chicago to the mountains of northern Georgia and is just loving the weather and scenery. In October, she celebrated her 10th work anniversary at IBM.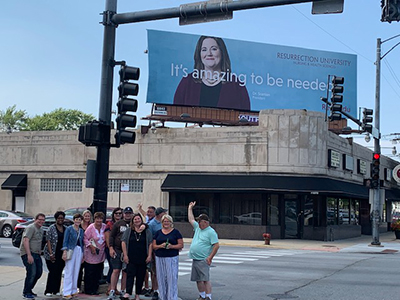 Therese Scanlan, Ed.D.
Class of 1988
Math
Dr. Therese Scanlan was surprised by her family, friends and colleagues with a new billboard on 111th and Western to honor her as President of Resurrection University.
Laith Jabra
Class of 2015
Business
Laith Jabra accepted a position as a credit analyst at the Commercial Banking Division of Royal Bank. Since then, he has been promoted to commercial banking officer.
At SXU, he was involved in the CME Trading Challenge and GSM Student Advisory Board.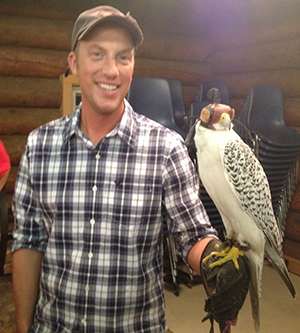 Jason Crean
Class of 1996, 2001
Biology, Education
Jason Crean has collaborated with teachers from across the state of Illinois in implementing the Next Generation Science Standards. Over the course of the last three years, as the president of the Illinois Science Teachers Association, he has organized and led a diverse group of science educators that have been designing student-driven biology curriculum. The goal is clear: to enable students to grow and become self-directed learners through real-world problem solving. The aim of this shift in teaching will make them better learners and is an Illinois and federal mandate. This storyline curriculum, freely available to all educators at the Illinois Science Teachers Association website, is now being used in science classrooms in at least 40 states and several countries that include Guatemala, Vietnam and others. Crean has now formed All Species Education Consulting that trains teachers in this student-centered approach to learning science.
Alyssa Greenwald
Class of 2010
Education
Alyssa Greenwald was one of six teachers from the Joliet area selected to receive the Joliet Region Chamber of Commerce and Industry's Joliet Area Great Teachers Award in a special ceremony in February 2019.
The teachers were selected from an extensive list of educators from the Joliet area who were nominated by their students, peers, administrators and members of the community.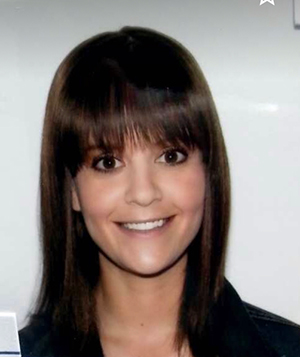 Roberta F. Vondrak, M.A.
Class of 1997
Roberta F. Vondrak is blessed to be married 43 years (June 2019) and to have six grandchildren. She continues to work in private practice as an LCPC and CADC with offices in Bolingbrook and Clarendon Hills.
David O'Callaghan
Class of 1994
Business
David O'Callaghan has recently authored "Murder Is My Life," a book which leads the reader through the life and career of the author from the patrol division through the end of his career as a lieutenant in the detective division in the Chicago Police Department. Included are true stories that illustrate the impact of crimes on the victims and their families, along with the long-term impact on detectives and prosecutors.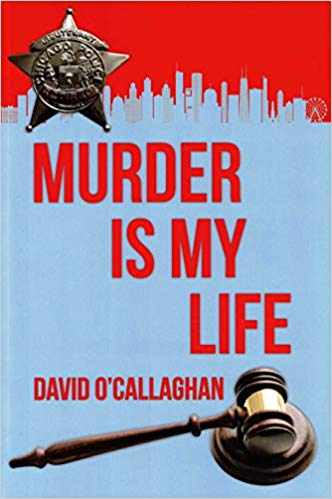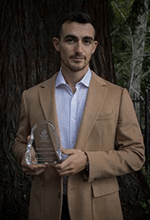 Chance Cutrano
Class of 2015
Philosophy and Political Science
Chance Cutrano was awarded the 2018 Sierra Club California's inaugural Emerging Leader Award for outstanding contributions to conservation and politics by someone under the age of 30.
Karen Leise Bidus
Class of 2001
Education
Karen Leise Bidus and her husband welcomed a baby girl, Scarlet Elizabeth Louise, in November 2018. Scarlet joins big brother William (19 months).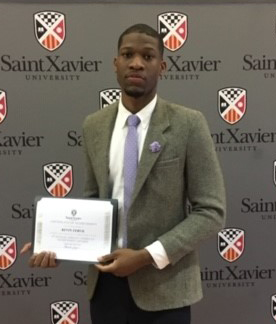 Kevin Fervil
Class of 2018
Business Administration
Kevin Fervil began his career with BMO Harris Bank in the transportation finance sector. He credits his smooth transition from SXU into the corporate world to the courses offered at the Graham School of Management and the real-life experiences as a student at SXU.
At SXU, he played for the varsity men's basketball team and was part of Beta Gamma Sigma (business school honor society).
Joseph Sullivan
Class of 2017
Finance and Management
After graduation, Joseph Sullivan joined a telecom brokerage company as a commissions analyst. Now, Sullivan is an accounting manager at NWCCU. "Life seems to have a snowball effect in that everything you do today affects tomorrow. My tomorrow started with SXU," said Sullivan.
At SXU, he served as president of the Business Student Association and was a student intern at the Northwest Community Credit Union (NWCCU).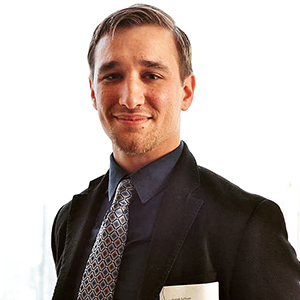 Fuad Abuzerr
Class of 2018
Marketing and Finance
In August 2018, Fuad Abuzerr accepted a position at Northern Trust Bank as an analyst in institutional fund accounting.
At SXU, he played for the men's soccer team and was a member of the Financial Management Association.
Krysten James
Class of 2017
School of Nursing
Krysten James began her career as a nurse on an inpatient oncology unit located in Munster. In February 2019, James relocated to Tucson, working as a radiation oncology nurse coordinator.
At SXU, James was part of the SXU Paw Prints Dance Team (captain for two years), served as president of the SNA, acted as an RA and was a student employee for Residence Life and Public Safety.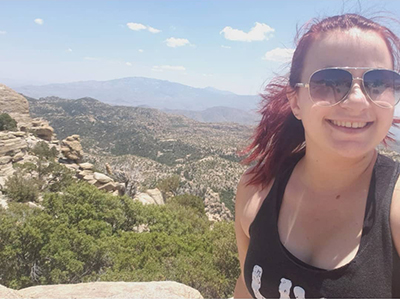 Katie Arvia
Class of 2015
English
Katie Arvia, a third generation SXU alum, has been hired by the Chicago Southland Convention and Visitors Bureau as the new communications manager. Arvia's writing, marketing and design skills will be an asset in promoting the Chicago Southland.
At SXU, Arvia was a news editor for The Xavierite.
Jose Calderon, MBA
Class of 2011
Business
Jose Calderon, previously employed by the City of Evanston, relocated to California to accept a position as IT manager with Raytheon.