Freshman Admission Requirements
Freshman Admission Requirements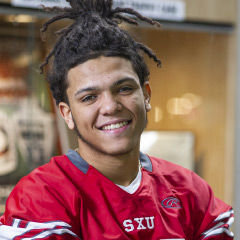 Welcome to Saint Xavier University! Your college search is an exciting time, and we are pleased you're exploring your options as a freshman student at SXU. Please use the Office of Admission and your admission counselor as resources to help guide you through the college application process. It's our goal to make this an easy process. Depending on your interest of study, your department or school may have specific requirements for the admission process.
Freshman Online Application
Common Application
Submit a free application for admission.
Request an official high school transcript or GED score report.
ACT or SAT test scores are NOT required, except for those students applying to nursing. See our Test-Blind Admission Policy for details. Nursing applicants only: Request your official ACT or SAT score(s), unless included on high school transcript. (ACT school code = 1134, SAT school code = 1708)
Music
Freshman students who have been admitted to Saint Xavier University must follow additional requirements to be allowed entry into the Music Department. All students in the Music Department are considered Music Major Candidates until formal application and acceptance status into the Department has been completed.
Students are required to audition as a music major or music minor candidate.
The guidelines for auditions are specific to your major and choice of instrument.
During the audition, students are being considered for scholarship opportunities offered directly by the Music Department. If a student is accepted into the Music Department, he or she is not guaranteed a music scholarship. However, the student may be eligible for other scholarships, so please consult the scholarship directory.
Freshman students must make formal application for admittance to the Department after completion of four (4) semesters of study as a music major candidate.
It is the responsibility of the student to initiate and follow through with the admission process.
Students who are not admitted into a specific music degree program should not register for upper-level music courses in that program.
It is possible that upper-level coursework taken prior to formal admission will not count toward degree completion.
Students who are not admitted after the second attempt may petition the music faculty for a third and final attempt at formal admission to a specific program.
Admission into the Music Departments requires students to meet multiple criteria.
Successful completion of Music Department sophomore year requirements (located on page 65 of the Music Student Handbook).
Successful completion of the University Sophomore year requirements (48-60 semester hours).
Cumulative GPA of at least 2.5.
Letters of recommendation from an Applied Music professor, Theory/Aural Skills professor and Music Education director (Music Education students only).
Successful completion of a Formal Admission Jury with a GPA of 2.5 for Bachelor of Arts candidates and 3.0 for Bachelor of Music candidates.
Successful completion of the State of Illinois Criminal Background Investigation and Test of Academic Proficiency #400 for Music Education majors.
Students admitted to the University as music majors must comply with the Music Department admission requirements in order to be officially admitted to the department.
Mid-semester of the fourth semester of Music studies, obtain an Application for Formal Admission to the Music Department.
Submit two (or three) letters of recommendation to the Chairperson of the Department at least four weeks prior to the close of the semester. Letters should come from an Applied Music professor, the director of Theoretical Studies and for Music Education students, the director of Music Education.
Full-time Music Department faculty will meet to discuss all areas of academic achievement as well as principal instrument performance ability.
A 20 or 30-minute audition (based on major) on principal instrument will take place during the current semester's jury examination unless otherwise requested.
By applying to SXU's School of Nursing and Health Sciences, students will be prepared for the 21st century health care workplace with a focus on health and wellness across diverse populations while acquiring a quality education from a top ranked program.
Freshman Online Application
Common Application
Apply online. There is no fee.
Submit official high school transcript or GED score report.
Submit official ACT or SAT scores, unless included on high school transcript.
Submit an essay describing your reasons for pursuing the nursing program and why you are interested in attending Saint Xavier University.
Submit a signed Nursing Essential Abilities and Behaviors Form to the Office of Admission.
Saint Xavier University adheres to the May 1 national college decision day guidelines. The nursing program has a finite number of spaces for enrolling freshmen each fall. Students who submit a tuition deposit after May 1 could be placed on a waitlist.
Students accept the offer of admission on a first come, first served basis by submitting a tuition deposit and registering for freshman orientation.

Once capacity is reached, a waitlist will be created. Students will be notified as soon as possible should they be put on the waitlist.

A waitlisted student may receive a tuition deposit refund after May 1, if requested.
Students admitted to the University as pre-clinical nursing majors must comply with the School of Nursing and Health Sciences admission requirements in order to be officially admitted to the program.
Minimum 2.75 (on a 4.0 scale) cumulative high school GPA
Either the ACT or SAT test are accepted, with the ACT requiring a minimum composite score of 21, science subscore of 21 and math subscore of 22, and the SAT (for tests taken in or after March 2016) requiring minimum total score of 1060, math score of 560 and evidence-based reading/writing score of 500
Grade of B or better in high school biology and chemistry courses
Essay describing why you want to be a nurse, and how you plan to be successful at Saint Xavier University
Students are required to test negative for drugs in a 12 panel drug screening prior to beginning their clinical experience and as required by clinical agencies. The University and School of Nursing and Health Sciences reserve the right to require random drug screenings based upon reasonable suspicion.
Before beginning clinical courses, students must meet and provide a series of health requirements.
Physical Examination
Titers
Tetanus
Annual TB Screen
Influenza Immunization
Current BLS certification for Health Care Providers
Proof of Comprehensive Health Insurance
Complete Immunization Record
CPR certification
Current Health History
Required Laboratory Reports

Students are responsible for completing and clearing a criminal background check as a condition of admission to the nursing program and must do so annually thereafter. All students shall have an ongoing duty to report any violations of this policy and/or state and/or federal law.