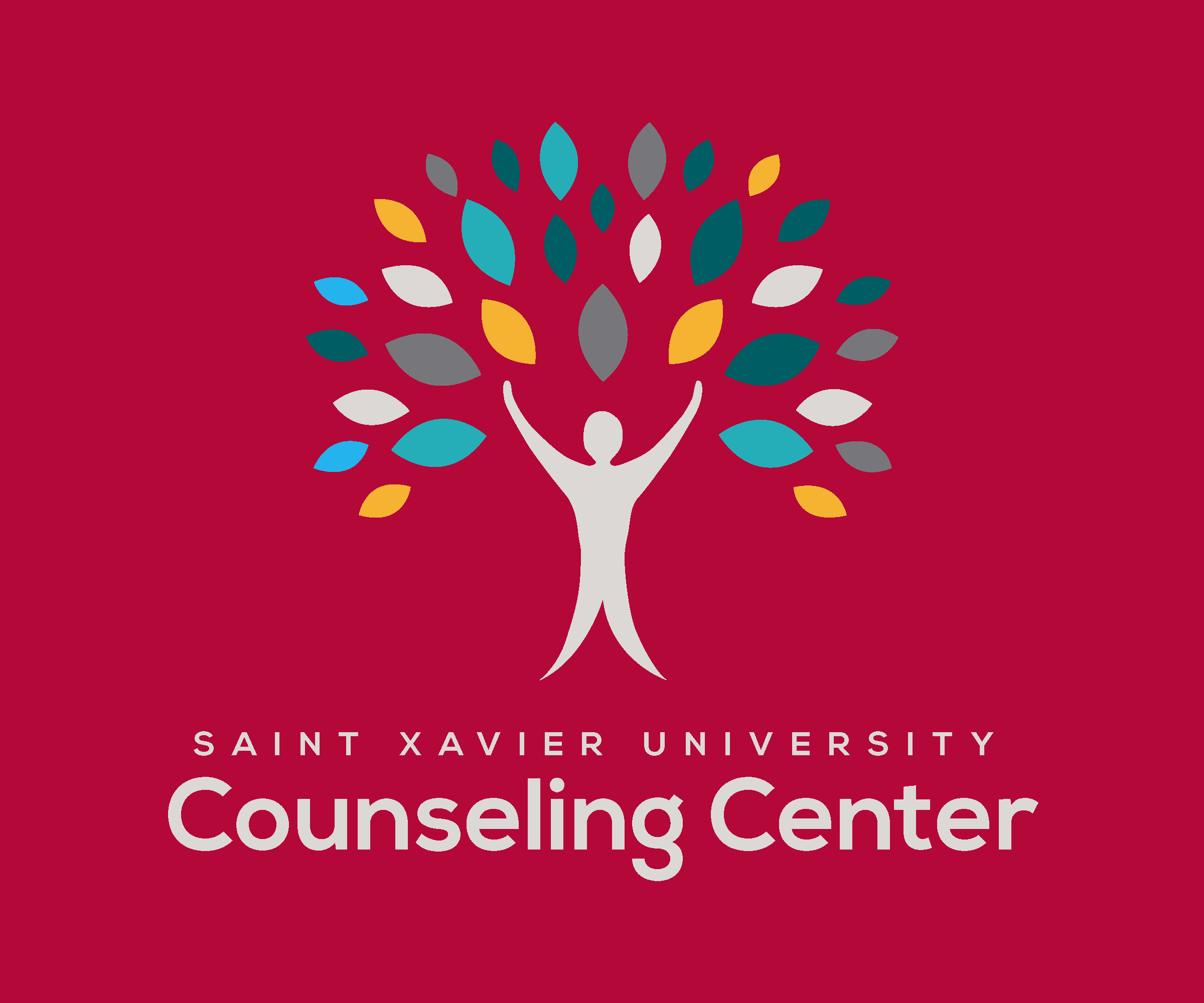 On This Page
Saint Xavier University's Counseling Center is dedicated to providing a holistic, student centered environment that encourages personal growth and well-being in keeping with the mission of Saint Xavier University.
We foster a transformative process of self-discovery through wellness, balance and growth designed to help students reach their personal and academic potential and goals.
The mission of the Counseling Center is to guide students toward personal wellness, balance and growth. Licensed counselors facilitate this through personal counseling and wellness education.
We believe in the inherent worth of every human being and utilize a holistic and culturally respectful approach in engaging students to achieve personal and academic goals while becoming well-rounded, socially responsible individuals.
Anti-Racism Statement
---
A few of the services we offer:
Confidential personal and group counseling by licensed counselors.
Comprehensive Alcohol and Other Drug Education Program (AODEP).
Mental Health Screening Days for depression and anxiety.
Consultation with faculty and staff regarding campus mental health/behavioral issues.
Crisis Intervention.
Trainings for professional staff and student leaders including resident assistants, peer ministers, etc.
Classroom psycho-educational workshops and presentations.
Engaging in SXU community educational outreach programs.
Educating faculty and staff on how to respond to distressed students.
Collaboration with the larger SXU community regarding supporting veterans.
Appropriate participation in the Conduct System.
Active participation on the Care Team.
---
Contact Us
Location: Driehaus Center, 3911 W. 103rd Street
Phone: 773-298-4045
Fax: 773-298-3136
Email: counselingservicesFREESXU
M-F: 8:30 a.m. to 4:30 p.m.
College is a time of excitement, challenge and growth. You will develop not just academically, but personally as well. If at some point in your college experience some life circumstances become overwhelming and cause emotional or mental distress, the Counseling Center offers free, confidential counseling to help you cope.
Licensed counselors are available to assist you with concerns such as relationship conflicts, family problems, loss/grief, stress management, anxiety or depression as well as a range of other personal, social, emotional or psychological issues.
In case of an off-campus emergency, call 911. In case of an on-campus emergency:
During office hours: Call 773-298-4045 or come by the Counseling Center located at 3911 W. 103rd St. in the Driehaus Center (between Gilhooley's and Copy Cats).
Non-office hours: Call Public Safety at 773-298-3911 and they will contact the on-call counselor.
The Counseling Center offers in-person, telehealth, and phone sessions for eligible students.
To request services, complete a Request for Services Form electronically, or complete one in the Counseling Center, located at 3911 103rd Street in the Driehaus Center.
All current students are eligible to participate in counseling services at the Counseling Center, free of charge. If the counselor determines that the psychological or medical problems that a student is experiencing requires more intensive therapy or a specialized treatment approach that is not available through the Counseling Center, a referral will be discussed with the student and made to an agreed upon off-campus treatment facility. The Counseling Center does not provide legal services such as written reports or court testimony.
Filling Out a Request for Services Form
Once this form is submitted, the student will be contacted by one of our counselors within one business day to schedule a 30-minute initial assessment.
Following the initial assessment, the student will be assigned to a counselor who best fits their needs and that counselor will contact the client for the intake session.
The Counseling Center intake session is usually one hour, the student can share their thoughts and concerns, and together with the counselor, set goals for treatment. The student will be asked to complete a quick computer assessment to be used to measure improvement or to help clarify the problem. The counselor will evaluate all of the information and recommend the best approach or technique to address the student's issue. The rest of the sessions are typically 45-50 minutes. The Counseling Center uses a brief treatment model of 10-12 sessions, but the counselor will clinically assess whether the student needs fewer or additional sessions.
Confidentiality
Counselors maintain strict professional standards of confidentiality and privacy. The exceptions to confidentiality are when you indicate or a counselor believes you present an foreseeable danger to yourself or others, a child or vulnerable adult is being subjected to abuse or neglect or a court order requires disclosure of counseling files. Our files are separate from your academic and health records. In order to ensure the highest quality of care, we sometimes consult with clinical supervisors and fellow counselors. This consultation falls within the bounds of confidentiality and all efforts are made to ensure your privacy.
---
Saint Xavier's Counseling Center abides by the Ethical Standards of the American Counseling Association. Your request for services and the information you share are considered confidential in accordance with these standards. No information will be released without your written consent.
Please review the limits of confidentiality on the Counseling Center Consent for Services (PDF).
Request for Services
Click on the button below to request an appointment with a counselor through the Patient Portal.
If this is an emergency, please call 911 or 3911 on campus.
Request Services
Frequently Asked Questions
The primary purpose of counseling services at SXU is to promote mental and emotional health to all enrolled students to enhance the quality of their college life. It is our belief that helping students achieve optimal levels of functioning will increase the likelihood of their academic success.
No! Just because you are seeking services does not mean you're "crazy." Many of our students seek counseling for personal growth and/or for help managing the challenges life presents all of us at one time or another. Seeking outside help from a trained, licensed professional is a way to work through a difficult time.
Counseling at Saint Xavier University is free to enrolled students. Alumni can receive an assessment and referral free of charge.
We follow standard confidentiality practices. This information is shared with students during the first appointment. In addition, all counseling records are kept separate from any other university records.
Yes, under normal circumstances, we request that you complete a Request for Services packet either in person or online. However, whenever possible, we will make accommodations for those individuals in a crisis or feel the need to talk to someone immediately.
If you are having a crisis or feel that you need to talk to someone during a time when the center is closed, call Public Safety at 773-298-3541 and they will contact the on-call counselor who will return your call. If the emergency is off-campus, call 911.
The World Health Organization (WHO) defines health as "a state of complete physical, mental and social well-being and not merely the absence of disease or infirmity."
Wellness
Wellness has been defined as "the quality or state of being healthy in body and mind, especially as the result of deliberate effort" or "as an actively sought goal." Wellness can be divided into seven dimensions: emotional, social, intellectual, spiritual, physical, environmental, and occupational.
As a college student, here are some ways you can work on these dimensions in your own life:
Emotional: Emotional wellness is the ability to understand ourselves and cope with the challenges life can bring. It's the ability to express emotions appropriately, adjust to change, cope with stress in a healthy way and enjoy life despite its occasional disappointments and frustrations. Cultivate an optimistic attitude, seek and provide support, practice stress management techniques.
Social: Social wellness is the ability to relate to and connect with other people in our world. It endows us with the ease and confidence to be outgoing, friendly and affectionate toward others. Volunteer in the community, attend SXU athletic events, join a student organization, donate blood.
Intellectual: Intellectual wellness is a state in which your mind in engaged in lively interaction with the world around you. It implies that you can apply the things you have learned and have the desire to learn new concepts, improve skills and seek challenges. Visit a museum, study abroad, read a book that's not required, attend a political event.
Spiritual: Spiritual wellness is the ability to establish peace and harmony in our lives, to develop congruency between values and actions. It implies a search for meaning and purpose in life, and to work toward a state of harmony with oneself and others while balancing inner needs with the rest of the world. Learn about belief systems different from your own, take a religion or philosophy class to explore your values.
Physical: Physical wellness is the ability to maintain a healthy quality of life that slows us to get through our daily activities without undue fatigue or physical stress. It's maintained by good nutrition, regular exercise, avoiding harmful habits and making informed and responsible decisions about health. Exercise five days/week, eat vegetables and fruit daily, get eight hours of sleep each night.
Environmental: Environmental wellness is the ability to make a positive impact on the quality of our environment, the ability to recognize our own responsibility for the quality of the air, the water and the land that surrounds us. Reduce, reuse and recycle; bike/walk to class; use re-usable water bottles.
Occupational: Occupational wellness is preparing and making use of your gifts, skills and talents in order to gain purpose, happiness and enrichment in your life. It means successfully integrating a commitment to your occupation into a total lifestyle that is satisfying and rewarding. Update your resume yearly, attend the job fair, talk with the Center for SUCCESS.
Balance and Growth
You can see that wellness may be a goal we never totally achieve. But it's a great goal to work toward. Some of these may be easier for you than others. Finding balance in each of these areas will be difficult as a college student, and you'll have experiences and opportunities for growth in all of them. The Counseling Center is here to help with problems and concerns in any of these areas, but we can also help with growth and improvement. Make use of all the resources SXU has for you, and may the upcoming year bring you wellness!
Referrals to the Counseling Center
For SXU Faculty and Staff
If you are concerned about a student, we suggest that you encourage him or her to come to the Counseling Center or fill out a Request for Services form online to discuss the situation with a counselor.
Here are some helpful ways to refer a student:
Suggest that the student come to the Counseling Center, Monday through Friday between 8:30 a.m. and 4:30 p.m.
Call the main line (ext. 4045) while you are with the student in order to facilitate contact. The student can then speak to someone regarding services.
Walk the student over to the Counseling Center, located at 3911 103rd Street in the Driehaus Center. If this is an emergency, a counselor will speak to the student immediately.
Please remember that the communication between a counselor and client is confidential.
Without written consent from the student, we cannot and do not discuss the details of a student's situation or even the fact that the student is in counseling.
---
For further information, refer to the Students of Concern: A Guide for Faculty and Staff (PDF).
For some quick tips on supporting students and contacting the Counseling Center, download a copy of our Quick Reference Guide (PDF)
Other Campus Resources
Below are links to additional resources here at Saint Xavier University.
The Counseling Center has an extensive list of outside resources for concerns and situations that exceed the scope of current services. Your counselor can discuss referral options to outside providers. Any services outside of the Counseling Center are subject to costs per that provider and may be eligible for health insurance reimbursement.
Explore More Resources
The mission of the Alcohol and Other Drug Education Program (AODEP) is to serve as a leader in the prevention and reduction of alcohol and other drug abuse, and accordingly, partner with stakeholders across the University to cultivate an environment that fosters the development of Saint Xavier University students.
Guided by Saint Xavier's rich Mercy tradition and utilizing the latest research and best practices in the field, the AODEP employs a comprehensive multi-tiered approach to substance abuse prevention that integrates education, environmental management, intervention and institutional assessment.
The AODEP supports and advances the mission and core values of Saint Xavier University by providing information to students, staff and faculty that promotes and respects healthy lifestyle choices and personal growth and development.
The AODEP is an institution-wide collaboration between Academic Affairs and Student Affairs at SXU. Its vision is to educate the SXU community about the impact of alcohol and other drug use as it relates to academic and personal success.
The AODEP:
Serves as a link for students to University support services
Provides information to students, staff and faculty that fosters healthy lifestyle choices
Designs and implements programs in collaboration with other University departments
Recommends changes to University policy regarding alcohol and other drugs
Measures the outcome effectiveness of prevention programs and activities
Creates an atmosphere in which alcohol and other drug use is not the central focus of social events
Screening and Education Days
The Counseling Center sponsors two screening days every academic year for anxiety and for depression. Our goal is to provide wellness information to help students regarding stress and mood and to provide screening services to students who are concerned about their levels of anxiety and/or depression in their lives.
Test Anxiety Workshops
The Counseling Center is holding a series of workshops throughout the semester for students to learn new ways to manage their mental health before tests. Our goal is to provide students with information to identify and change self-defeating thoughts. We offer relaxation techniques to combat anxiety and improve focus and concentration.
Question, Persuade, and Refer
QPR stands for Question, Persuade and Refer: Three simple steps that anyone can learn to help save a life from suicide. Just as people trained in CPR and the Heimlich maneuver help save thousands of lives each year, people trained in QPR learn how to recognize the warning signs of a suicide crisis and how to question, persuade, and refer someone to help.
Disclaimer
The Counseling Center at Saint Xavier University maintains this Internet site as a service to the University community. It is intended as a resource to inform and to educate. Included are direct links to other internet sites that we believe may be helpful. However, this does not imply that the Counseling Center endorses all of the information provided at each of these sites. Furthermore, while we attempt to monitor and update our listings on a regular basis, we cannot make any claims or assume any responsibility as to the reliability or functionality of the Internet addresses (URLs) provided or the information contained at these sites.
Readers are encouraged to evaluate the materials and to use what they find to be helpful. Information provided on our web pages and at other Internet sites are not intended as a substitute for assistance from a qualified mental health professional. For personal assistance, SXU students can complete the online request for services form or come to our office, located at 3911 W. 103rd Street in the Driehaus Center, to complete a Request for Services with one of our counselors.