Clinical services are supervised by speech-language pathologists who hold a professional license from the state of Illinois and the certificate of clinical competence in speech-language pathology and/or audiology from the American Speech-Language-Hearing Association. Saint Xavier University students who are preparing for careers in communication disorders conduct the diagnostic evaluations and treatment sessions.
Grounded in Catholic identity, mission, and heritage, the Saint Xavier University Ludden Speech and Language Clinic is committed to providing an inclusive setting to serve a diverse client community. The clinic is dedicated to providing outstanding and compassionate care to those who seek our services regardless of race, color, ethnicity, creed, religion, gender, gender identity, abilities, age, sexual orientations, nationality, immigration status or ability to pay. The faculty, staff, and students at Ludden Speech and Language Clinic are engaged in cultivating meaningful connections and service to the community.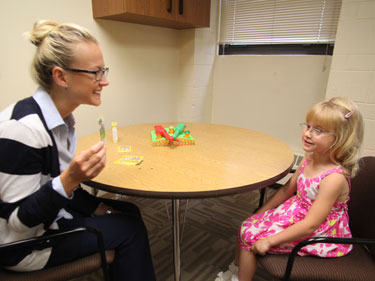 Programs
Two 12-week programs offered in the fall and spring of each year
Specially designed summer programs
Group or individual treatment according to the needs of the client
Treatment sessions scheduled throughout the day from early morning to early evening
Diagnostic evaluations available prior to each program (including summer) and on a limited basis throughout the year
Parent support groups for infants and toddlers with severe language delay
Head and Neck Cancer/Laryngectomy Support Group meets the fourth Tuesday of the month. For information contact Miriam Carroll-Alfano, Ph.D., CCC-SLP/L at alfanoFREESXU.
National Stuttering Association Adult Stuttering Support Group meets the fourth Thursday of the month. For information contact Karen Czarnik, Ph.D., CCC-SLP/L at czarnikFREESXU.
SPEAK OUT!® and LOUD Crowd®, a two-part speech therapy program to help individuals with Parkinson's regain and maintain effective communication is offered. Contact Ludden Clinic at luddenclinicFREESXU.
Clinic Calendar
| | |
| --- | --- |
| September to December | (12 weeks) |
| January to May | (12 weeks) |
| Summer, June /July | (6 weeks) |
Additional Information
New clients are required to have a diagnostic evaluation of speech and language performed at this facility prior to scheduling a therapy program.
Groups are normally 2 or 3 persons. Speech-language clinicians will make recommendations as to type and frequency of clinical sessions.