Advising and Career Success Day
About the Event
On Wednesday, October 4, 2023, from 9 a.m. to 4 p.m. in the Shannon Center, experience a day of transformation at the Advising and Career Success Day event. Connect with advisors, attend professional and personal development sessions focused on academic and career success, network with alumni and mentors, and explore internships and job opportunities at the College-to-Career Expo. Unleash your potential and ignite your future!
By attending, students will learn how to:
Gain and articulate experiences and skills valued by employers
Effectively listen and communicate in the workplace
Manage stress during a job search
Navigate a diverse workplace
Prepare for an interview, develop a resume, navigate a job fair and job search
Network and leverage relationships with career and industry professionals
Please note: Student attendance is required.
General Schedule of Events
Check out the schedule of events. For a more detailed list of events, please see below.
Meet Your Advisor and Concurrent Sessions
9 to 11 a.m. - Meet Your Advisor
9:30 to 11 a.m. - Professional Development Sessions
11 to 11:30 a.m. - Champion Your Career Sessions
Cougar Connections Networking Session
Noon to 1 p.m. - Connect with Alumni and Faculty Mentors
Cougar Connections Networking Session
1 to 4 p.m. - College-to-Career Expo
1:30 to 2 p.m. - Employee Mock Interviews
2:30 p.m. - Career Panel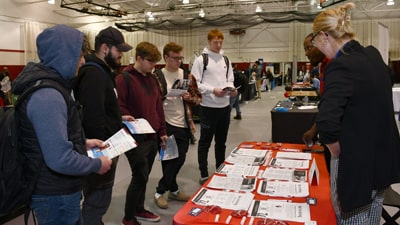 Detailed Schedule of Events
Activities and times are subject to change.


| | | | | | |
| --- | --- | --- | --- | --- | --- |
| Time | Main Activity | Concurrent Activity | Concurrent Activity | Concurrent Activity | Concurrent Activity |
| 9:00 a.m. | Meet Your Advisor - Room: Practice Gym | No Concurrent Activities | No Concurrent Activities | No Concurrent Activities | No Concurrent Activities |
| 9:30 a.m. | Meet Your Advisor - Room: Practice Gym | Gaining and Articulating Your Experiences to Employers (HIPs) - Room: TBD | Effective Listening and Communication in the Workplace - Room: TBD | Taking an Active Approach in your Academic Journey - Room: TBD | Navigating a Diverse Workplace/Workforce - Room: TBD |
| 10:00 a.m. | Meet Your Advisor - Room: Practice Gym | Gaining and Articulating Your Experiences to Employers (HIPs) - Room: TBD | Managing Stress During a Job Search - Room: TBD | Taking an Active Approach in your Academic Journey - Room: TBD | Navigating a Diverse Workplace/Workforce - Room: TBD |
| 10:30 a.m. | Meet Your Advisor - Room: Practice Gym | Gaining and Articulating Your Experiences to Employers (HIPs) - Room: TBD | Developing Leadership Skills Valued by Employers - Room: TBD | Taking an Active Approach in your Academic Journey - Room: TBD | Navigating a Diverse Workplace/Workforce - Room: TBD |
| 11:00 a.m. | Champion Your Career - Concurrent Sessions (Various Locations in the Shannon Center) | Preparing for an Interview (Champion Your Career Session) - Room: TBD | Resume Tips and Suggestions (Champion Your Career Session) - Room: TBD | Preparing for a Career Fair (Champion Your Career Session) - Room: TBD | Job Searching (Champion Your Career Session) - Room: TBD |
| 11:30 a.m. | Champion Your Career - Concurrent Sessions (Various Locations in the Shannon Center) | Preparing for an Interview (Champion Your Career Session) - Room: TBD | Resume Tips and Suggestions (Champion Your Career Session) - Room: TBD | Preparing for a Career Fair (Champion Your Career Session) - Room: TBD | Job Searching (Champion Your Career Session) - Room: TBD |
| Noon | Cougar Connections - Networking Session - Room: Practice Gym | No Concurrent Activities | No Concurrent Activities | No Concurrent Activities | No Concurrent Activities |
| 12:30 p.m. | Cougar Connections - Networking Session - Room: Practice Gym | No Concurrent Activities | No Concurrent Activities | No Concurrent Activities | No Concurrent Activities |
| 1:00 p.m. | College to Career Expo - Room: Main Gym | No Concurrent Activities | No Concurrent Activities | No Concurrent Activities | No Concurrent Activities |
| 1:30 p.m. | College to Career Expo - Room: Main Gym | Employer Mock Interview - Room: TBD | Employer Mock Interview - Room: TBD | Employer Mock Interview - Room: TBD | Employer Mock Interview - Room: TBD |
| 2:00 p.m. | College to Career Expo - Room: Main Gym | Employer Mock Interview - Room: TBD | Employer Mock Interview - Room: TBD | Employer Mock Interview - Room: TBD | Employer Mock Interview - Room: TBD |
| 2:30 p.m. | College to Career Expo - Room: Main Gym | Career Panel - Small Room Near Practice Gym | No Concurrent Activities | No Concurrent Activities | No Concurrent Activities |
| 3:00 p.m. | College to Career Expo - Room: Main Gym | No Concurrent Activities | No Concurrent Activities | No Concurrent Activities | No Concurrent Activities |
| 3:30 p.m. | College to Career Expo - Room: Main Gym | No Concurrent Activities | No Concurrent Activities | No Concurrent Activities | No Concurrent Activities |