MSN - Family Nurse Practitioner
Become an independent licensed advanced practice provider.
FNP's are nationally certified, expert health care providers.
The online Family Nurse Practitioner program from Saint Xavier University prepares professional nurses as advanced practice providers to deliver primary care services to individuals and families in a wide variety of settings.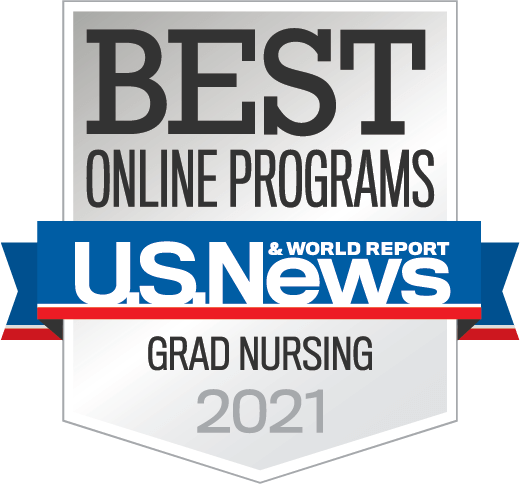 Top 5 Online Graduate Nursing Program
U.S. News & World Report (2014-2021)
Start Date
January 10, 2022
Cost
Tuition Per Credit Hour: $750
Credit Hours to Complete: 47
Approximate Cost: $35,250
Why become an FNP?
An FNP provides comprehensive, high-quality, cost-effective, patient-centered primary healthcare services across the lifespan. FNPs are quickly becoming the health partner of choice for millions of Americans. FNPs have a unique approach to health services, in that they place emphasis on both care and cure. A FNP is prepared to diagnose and manage acute and chronic illness while also focusing on health promotion, wellness, disease prevention, health education and counseling. FNPs are nationally certified and are recognized as expert health care providers across the nation and can prescribe in all 50 states. Among their many services, FNPs can:
Diagnose and treat acute and chronic conditions such as hypertension, diabetes, infections and injuries.
Order, perform and interpret diagnostic tests such as lab work and x-rays.
Prescribe medications and other treatments.
Manage and coordinate a patient's care.
According to an article in CNBC, employment prospects for FNPs are robust, with demand exceeding supply by 31 percent by 2026.
Why SXU?
SXU's online Family Nurse Practitioner program emphasizes health promotion, disease prevention, and management of common and complex health problems across the lifespan.
Practicum experiences occur during the final three semesters of the program. Students are required to complete 600 clinical hours at practice sites which include outpatient clinics and primary care practices. Areas of clinical focus include pediatrics, women's health and family medicine.
Graduates are eligible to take the family nurse practitioner certification exam administered by ANCC or AANP.
The curriculum of the FNP program embodies the Mercy heritage and mission of Saint Xavier University: to educate persons to search for truth, to think critically, to communicate effectively and to serve wisely and compassionately in support of human dignity and the common good
The MSN-FNP program has a history of more than 25 years of educating advanced practice nurses and SXU's nursing program is recognized as an NLN Center of Excellence, 2007-2023.
The baccalaureate degree program in nursing and the master's degree program in nursing at Saint Xavier University are accredited by the Commission on Collegiate Nursing Education (CCNE).
The program can be completed in three years of full-time study. Six credit-hours or more during a semester is considered a full-time courseload.
Small class sizes, most taught by SXU full-time faculty, provide you with more personal attention.
FNP faculty members integrate evidence-based practice throughout the curriculum and maintain active clinical practice.
Our faculty and graduate staff will assist students in identifying appropriate practicum sites and preceptors.
The pass rate on the national FNP certification exam for graduates of SXU's FNP program has consistently exceeded the national average.
FNP students are eligible to apply for a variety of scholarships. Generous tuition discounts are offered to nurses employed by SXU clinical partner agencies.
A post-master's certificate is available for students who already have a master's in nursing. Program of study is individualized.
*Applicants from states outside of Illinois, Indiana, and Wisconsin will be considered for admission based on their state board requirements.
Please view the admission requirements to learn how to enroll and begin the application process.
---


Check Out: "What's the difference between a nurse practitioner (NP) and a physician's assistant (PA)?"
Read Article
Request Information
Want to know more about graduate programs at Saint Xavier University? Please fill out the form below!
Loading...
Would you like to learn more?
Testimonials
Alumna, Ashely Palmieri speaks about her experience in the video below:



"My time in the Family Nurse Practitioner (FNP) program at Saint Xavier University has greatly enhanced my role as a registered nurse. Currently, I work for the University of Chicago Medicine, which is a largely academic-focused organization. With the knowledge I have acquired from my master's program, I have been able to have more confidence in myself when participating in interdisciplinary rounds. I feel that I have acquired a more advanced knowledge set that has allowed me to be an active participant in these rounds. Actively participating in interdisciplinary rounds has strengthened my relationship with the resident physicians and attending physicians, creating a more cohesive interdisciplinary team for the patient. I also feel that I have been able to provide all of my patients with more competent care. My knowledge base regarding certain disease processes has increased throughout my time in the program, and I am able to suggest various treatment options to the care team that I may not have thought of before. Overall, I feel that my time spent at Saint Xavier University has greatly improved my nursing skills and will continue to aid my patients in future practice."