Via First-Year Orientation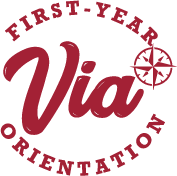 Ready to join the SXU family?
We are so excited to welcome you to Saint Xavier University!
ON THIS PAGE
Contact Us
Phone: 773-298-3123
Email: viaFREESXU
Office: WAC L-103
Hours: M-F: 8:30 a.m. to 5:30 p.m.
As an incoming new student, one of your next steps to secure your spot and enroll at Saint Xavier University is to register for our first-year orientation program called Via.
During Via, you will register for fall classes, learn ways to get involved on campus, gain tools for success, and meet members of the SXU community, including faculty, staff and students
Parents/guardians are also encouraged to attend and participate in Via for Families, an orientation experience for new SXU families.
At Via, students will:
Meet current students, staff and faculty members
Register for fall 2023 classes
Take a campus tour and learn about resources at SXU
Learn about campus involvement opportunities
Meet other incoming students
Tuesday, June 13, 2023
Thursday, June 15, 2023
Wednesday, June 21, 2023
Friday, June 23, 2023
Wednesday, July 12, 2023
Friday, July 14, 2023
Program sessions presented in Spanish for parents/guardians; all sessions offered in English. If your parent/guardian will be attending Via with you and would like to attend sessions in Spanish, please be sure to mark this on your registration form.
Secure Your Spot -- Via Registration and Tuition Deposit
To secure your spot at SXU, submit your tuition deposit and register for a Via session. You can complete both by logging into your Applicant Status Portal. Submitting your $100 tuition deposit and registering for Via confirms you will be attending Saint Xavier University. Your $100 deposit is not an additional fee, but rather a credit toward tuition charges and is refundable until May 1. Via dates for summer 2023 are listed above and registration is now open in your Applicant Status Portal.
Saint Xavier University believes that engaged families are one of the most important aspects to the success of our students. The purpose of the Via for Families program is to connect, educate and advocate for their new SXU Cougar. Via for Families happens alongside your student's Via session. The program welcomes families to the SXU community, provides relevant information, and connects you to resources available to your student's upcoming university experience.
At SXU, we recognize the belief of multi-dimensional families and embrace that family structures include families of origin and families of choice. We are here to serve all families including parents, guardians, grandparents, siblings and other supporters in the lives of our students.
Your session will include presentations from SXU faculty, staff, students and current SXU families! The presentations will feature information on academics, financial aid, available resources and services, how to support your SXU student, and general student life. The Via for Families program runs the same day as your student's session, but is mostly separate from the student sessions. Family programming is held in the morning, with optional afternoon sessions and activities. Students, however, should plan to attend the entire day.
Via for Families Registration
Registration for Via for Families takes place when your student registers themselves for Via. They will add you to their Via registration using your contact information. Students and families will attend Via together on the same day. There is no separate Via for Families registration you need to complete.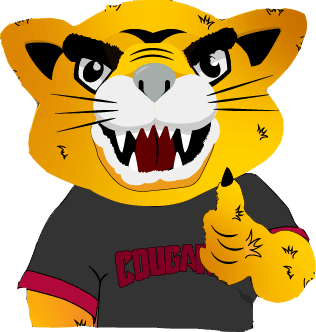 Find your SXU NetID and password
An SXU netID and password are automatically created for all admitted students and sent to them by U.S. Mail along with their admission decision letter. A day or so after you submit your Via registration, you'll receive an email sent to your personal account from clawsFREESXU that reminds you of your netID and temporary password. This communication will also include information on your new SXU email address.
A netID consists of a student's first and last initials followed by five digits (e.g., br99901). Be careful not to confuse the letter "l" and the number one, or the letter "o" and the number zero. Remember that the first two characters of your netID are letters and the last five characters are numbers.
Use your netID and password to access many SXU online tools, such as your new SXU email and the Canvas Learning Management System (LMS).
During Via First-Year Orientation
After Via First-Year Orientation: Cougar Trax
Academics and Campus Resources
Questions?
Contact Via at 773-298-3123 or viaFREESXU.
Meals will begin on Wednesday, August 16, 2023, for residential students.
If you are interested in living on campus, please submit a housing application through eRezLife.
You will log in using your SXU netID and password. You will first be prompted to confirm your profile. Under housing overview, you will begin the application by answering, "No, I do not live on campus at this time." Please be sure to submit all sections and note a "confirmed" status on your application page.
The University continues to receive and review information from the Centers for Disease Control and Prevention (CDC) and the Illinois Department of Public Health (IDPH) that will guide our ongoing planning for the fall 2023 semester.
We want to ensure that we set appropriate parameters according to guidelines for social distancing in classrooms and community living settings. At this time, specific guidelines for operations have not been established. While we don't have definitive timing on making decisions regarding the fall semester, please know that representatives from the following departments and offices are all actively exploring possible scenarios that would allow us to return to on-campus operations that are safe and realistic for our campus community: Academic Affairs, Facilities, Dining Services, Health Services, Athletics and Public Safety.
We understand that there are more questions than answers at this time and will do our best to provide students and families with information as decisions are made. Please stay safe and watch your SXU email for more information.
If you meet someone through Via that you would like to room with and have already submitted a housing application, you may change your roommate preference by updating or creating your roommate group in eRezLife. Please note that we do not guarantee specific roommate placement but will do our best to accommodate requests.
You may contact the Office of Residence Life at 773-298-3977 or reslifeFREESXU with any questions related to housing assignment and roommate requests.
If you are looking to get involved on campus, visit The Den, our student organization management system, to browse the various types of student organizations on campus. If no organization aligns with your interest, the Office of Campus Life can also help you start a new organization. Please visit us at the Student Organization Center, located in L-109B in the Warde Academic Center.
As a first-year student at Saint Xavier University, you will be exposed to several different celebrations and programs in your first semester. Some of the programs you can look forward to are Welcome Week, Spirit Week, Homecoming Weekend, Latinx Heritage Month, Black History Month, and many more.
It's the kickoff to the first 40 days of the semester! It is the students' first opportunity to get acclimated to Saint Xavier University by discovering opportunities to learn, connect and laugh through social, educational and cultural programs. The events are hosted by the Student Activities Board (SAB), registered student organizations (RSOs) and other campus departments.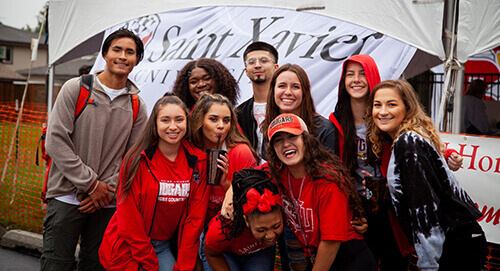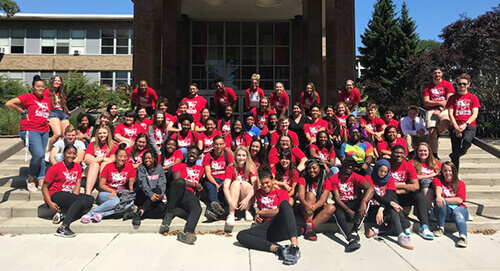 Join the Conversation on Social Media!
#SXUVia #WeAreSXU #SXUBound