Champ's Kitchen is an on-campus food pantry located within the Center for SUCCESS aimed to alleviate hunger on campus so students can continue to focus on their studies and succeed in their chosen academic and career pathways.
The food pantry is located in Room L-208 in the Warde Academic Center and is open Monday through Friday, 8:30 a.m. to 4:30 p.m.
Champ's Kitchen at Saint Xavier University was created in response to a 2019 nationwide survey by Temple University's Hope Center, which determined 39% of students experienced food insecurity. Saint Xavier University has a high number of in-need, Pell-eligible students and Champ's Kitchen provides a way to alleviate hunger on our campus and get students the fuel they need to continue to be successful in their studies.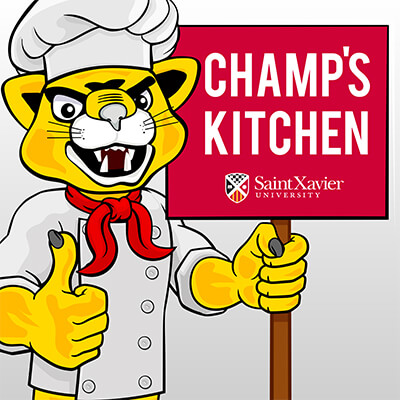 Visiting Champ's Kitchen
Students, staff, faculty and their families may stop by the Center for SUCCESS in WAC L-208, to use Champ's Kitchen Monday through Friday from 8:30 a.m. to 4:30 p.m. No appointments necessary. Individuals may reach out to champskitchenFREESXU for more information. Product availability is dependent on donations and will vary. We try as much as possible to provide for the basic food needs of our users and ask that individuals only take foods they intend to use.
Additional Food Options
Join the Free Food on Campus! GroupMe within the Saint Xavier University community to receive live updates on where to find free food on campus from events, meetings and more!
Donating to Champ's Kitchen
If you are interested in helping us alleviate hunger on our campus, please consider donating! Physical donations can be dropped off at the Center for SUCCESS (Room L-208) or in one of the marked cardboard bins around the University.
We are currently in need of the following items:
Soups
Canned vegetables and beans
Ramen, rice, mac and cheese, pasta and sauce
Boxed meals
Protein (canned meat, tuna, chicken, peanut butter)
Snacks (granola, crackers, chips)
Cereal
Toiletries, feminine products, and hygienic products such as shampoo and soap
If you cannot donate physical items but are interested in donating fiscally, please visit SXU's Make a Gift web page, select "Other" from the "Designation" dropdown menu, and type Champ's Kitchen in the text field that appears below.
More Information and Questions
If you have any questions, don't hesitate to stop by the Center for SUCCESS or reach out to champskitchenFREESXU.